BEST FISH FINDER REVIEWS 2023

Looking to upgrade? Or maybe it's your first fish finder.
Choosing the right product in a sea of fish finders can be quite the task. It's often hard to know what to look for exactly. To make the decision an easier one, we've put together a reviews of the most popular fish finders along with different categories to help narrow your search. Looking for fish finders under $500? Maybe a fish finder for your kayak? Or do you care about the best side imaging fish finder? We got you covered.
We're not in the business of pushing products; we're here to give a clear and honest overview of the best fish finders on the market. If you're still not sure about what you want to spend your hard earned money on after reading our reviews, we recommend that you take the time to do research on your own.
Top Rated
| | | | | |
| --- | --- | --- | --- | --- |
| | | | | |
| GarminECHOMAP USD 94sv | HumminbirdHELIX 10 CHIRP GPS G4N | HumminbirdMEGA 360 | GarminECHOMAP UHD 73cv | LowranceElite-9 Ti² |
| | | | | |
| Screen Size: N/A | Screen Size: N/A | Screen Size: N/A | Screen Size: N/A | Screen Size: N/A |
| Resolution: N/A | Resolution: N/A | Resolution: N/A | Resolution: N/A | Resolution: N/A |
| Imaging: N/A | Imaging: N/A | Imaging: 125' | Imaging: ClearVu 200 ft | Imaging: 300 ft max (300 feet down, 150 per side) |
| Max Depth: Down: 1500 ft. Side: 750 ft. | Max Depth: N/A | Max Depth: Variable | Max Depth: 2,300 max* | Max Depth: 1000 ft max* |
| Transducer: GT56UHD-TM | Transducer: N/A | Transducer: MEGA 360 | Transducer: GT24UHD-TM | Transducer: Active Imaging 3-in-1 |
| Transmit Power: N/A | Transmit Power: N/A | Transmit Power: N/A | Transmit Power: N/A | Transmit Power: N/A |
| Frequency: Dual-Frequency (50/200 kHz) | Frequency: N/A | Frequency: 455 kHz - 1.2 MHz | Frequency: 77 kHz, CHIRP High Wide (150-240 kHz); UHD ClearVü CHIRP 800 kHz (760-880 kHz) | Frequency: 83/200 (Mid/High CHIRP), 455/800 (SideScan/DownScan) |
| | | | | |
Garmin ECHOMAP USD 94sv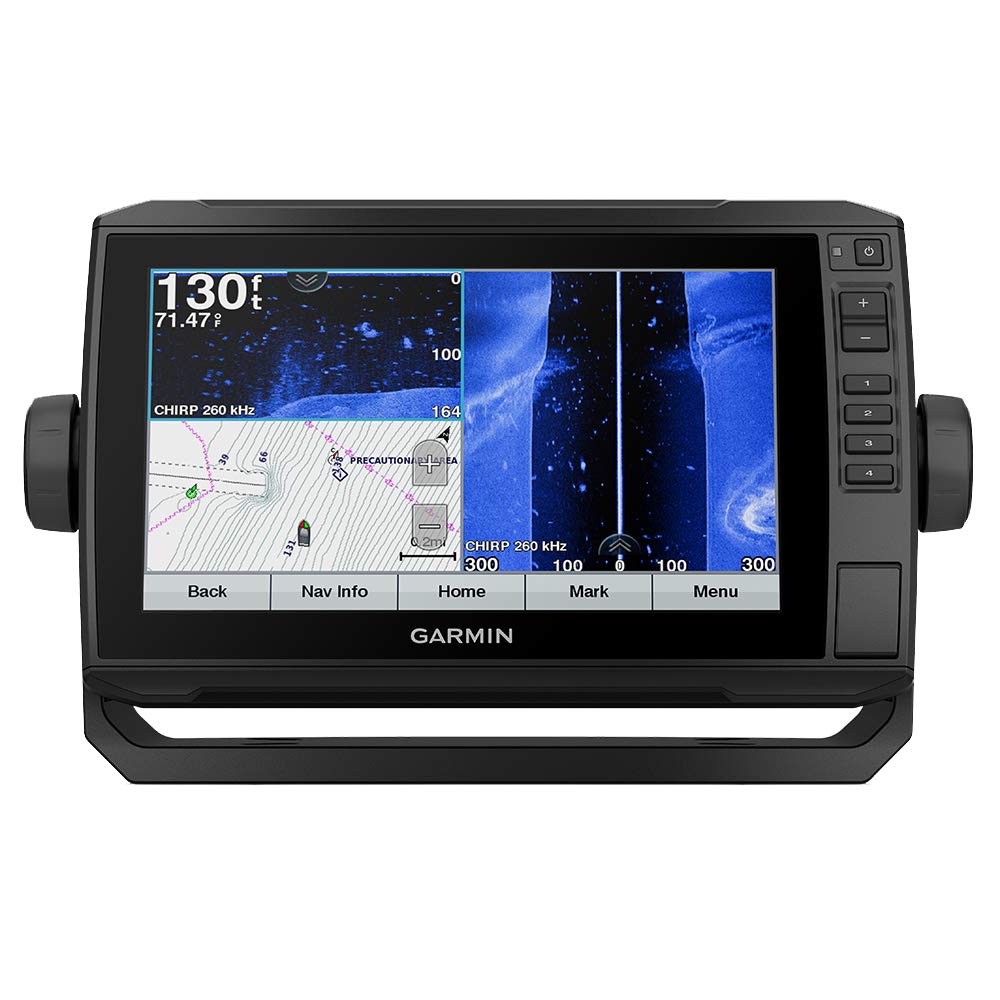 4.88/5
Overall Rating
Imaging

Design

Quality

Price
The Garmin ECHOMAP series never fails to impress us, so we're more than excited to review the ECHOMAP UHD 94sv. Are you hunting for a top-of-the-line fish finder? If your answer is yes, then this is the unit for you. We won't lie to you, this fish finder will definitely set you back a bit, and by "a bit", we mean about a grand. It's a big chunk of change, but when compared to other fish finders, this is a top unit that you can get a lot out of. 
It's easy to install, fairly durable, with a beautiful screen, excellent preloaded charts/maps, and more features than you can imagine. Garmin units are often hit and miss when it comes to networking, but this fish finder/chart plotter comes with impressive networking capabilities and reliable CHIRP sonar. What more could you possibly want? 
We're seriously impressed with the complete design and features of this fish finder. Let's dive into what makes the Garmin ECHOMAP USD 94sv an angler's dream come true:
Humminbird HELIX 10 CHIRP GPS G4N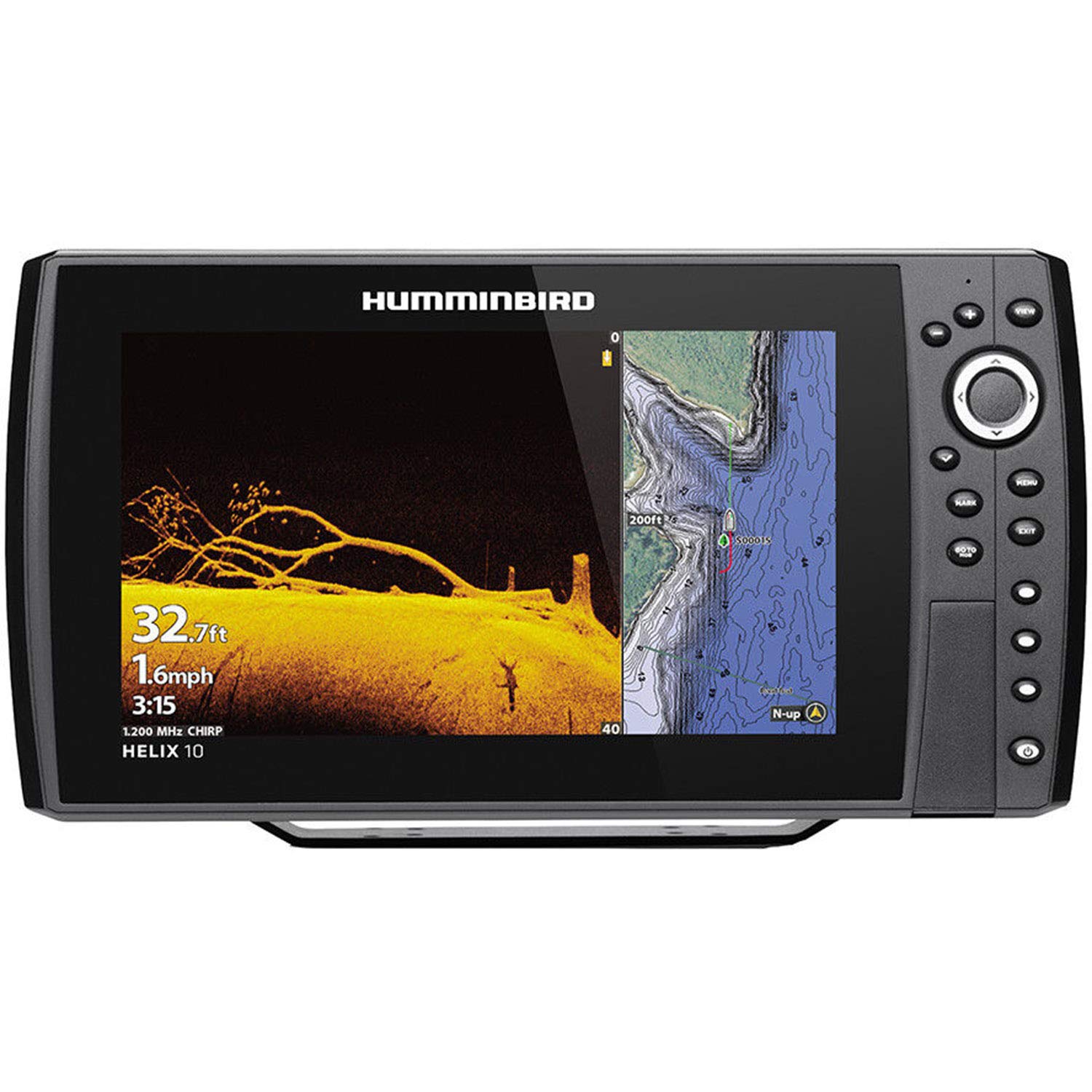 4.88/5
Overall Rating
Imaging

Design

Quality

Price
Long-time readers will know that we're huge fans of Humminbird's HELIX and SOLIX series – you might have even read a review or two that we've posted. This is the latest generation of HELIX 10 – the HELIX 10 G4N. What does G4N stand for? We can't say for sure, but if we were to hazard a guess, we'd say it means "Good for Networking".
As you'll soon learn, networking is one of the things this unit does best – it's like a charismatic business owner looking to make connections. That's not the only great thing about the HELIX 10, though. As we've come to expect from the series, there are incredible features, a gorgeous display, excellent imaging, and a whole lot more, all in one beautiful 10" fish finder.
Humminbird MEGA 360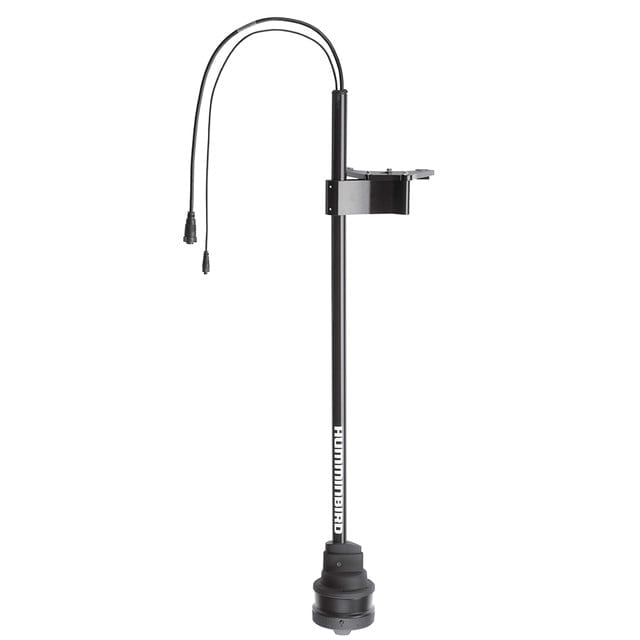 4.75/5
Overall Rating
Imaging

Design

Quality

Price
Today's review is going to be a little different.
Most of our reviews are dedicated to fish finders—and Humminbird's got some of our favorites. The MEGA 360, however, is not a fish finder—though it will definitely help you find fish.
You'd be better off thinking of the MEGA 360 as a kind of transducer, one that unlocks some of the latent potentials of your Humminbird Fish Finder. The MEGA 360 enables MEGA 360 Imaging on compatible fish finders.
What is MEGA 360 Imaging? You can think of it as rotating Side Imaging that gives you a 360° view of what's going on around your boat instead of just showing you what's happening from side to side. It's a lot like the kinds of sonar you see in old war movies—except that it's designed to help you catch fish, not ships!The funny thing is, it will help you find ships—sunken ones, anyway. But we're getting ahead of ourselves.
Garmin ECHOMAP UHD 73cv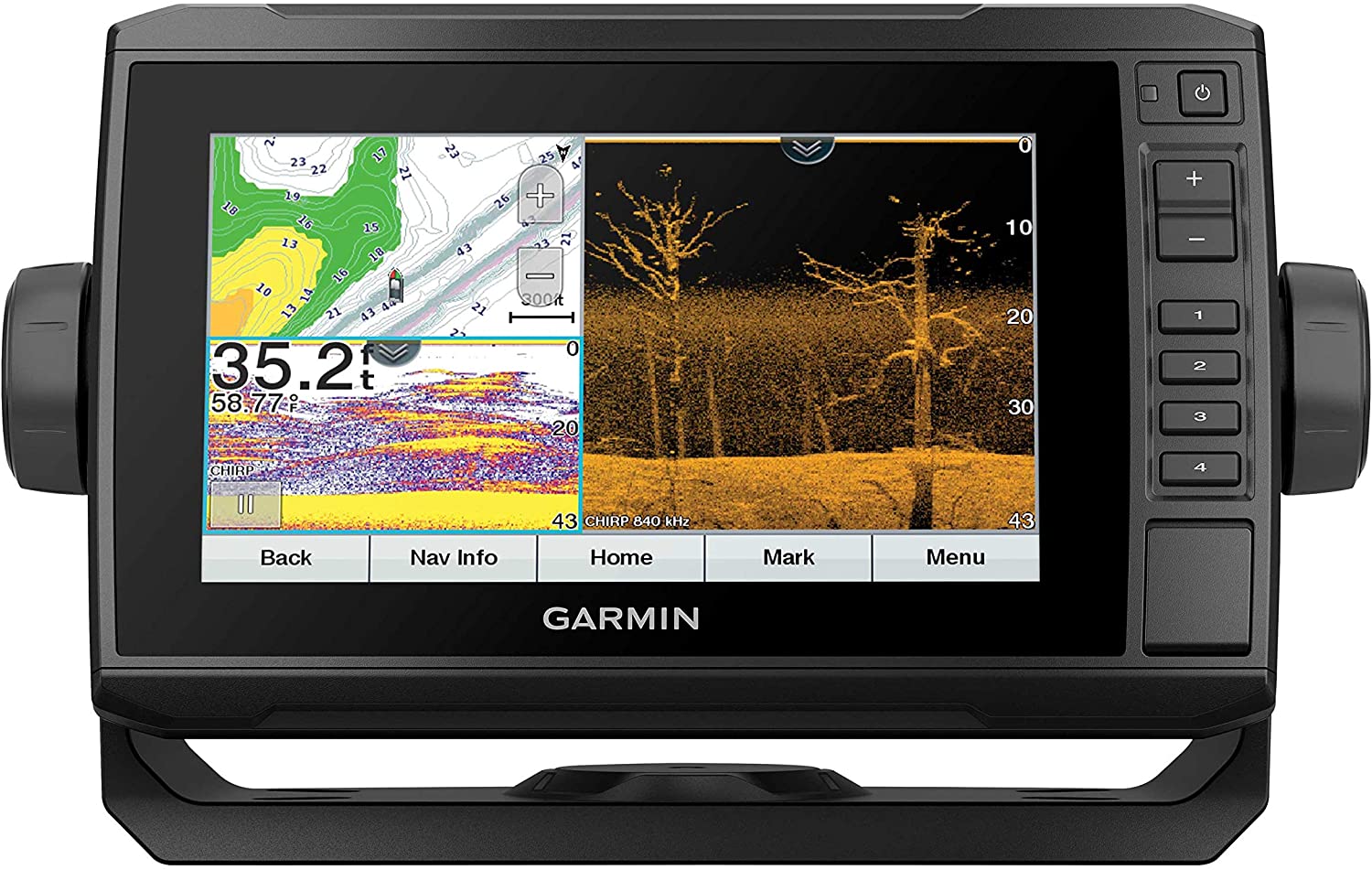 4.75/5
Overall Rating
Imaging

Design

Quality

Price
We are very excited to be reviewing the Garmin ECHOMAP UHD 73cv. The UHD stands for Ultra High Definition – and as we'll see in the Display and Interface section, it's a moniker that's well earned.
Spoiler alert: we're going to gush about this device. It's truly remarkable – you can get it for well under $1000, it's packed with features, and it's designed with competitive anglers in mind. That means you're getting a professional quality device at hobbyist prices.
For us, this device may be the sweet spot between price and functionality – it may be our second favorite device out of the ECHOMAP UHD series. More on that later.
Lowrance Elite-9 Ti²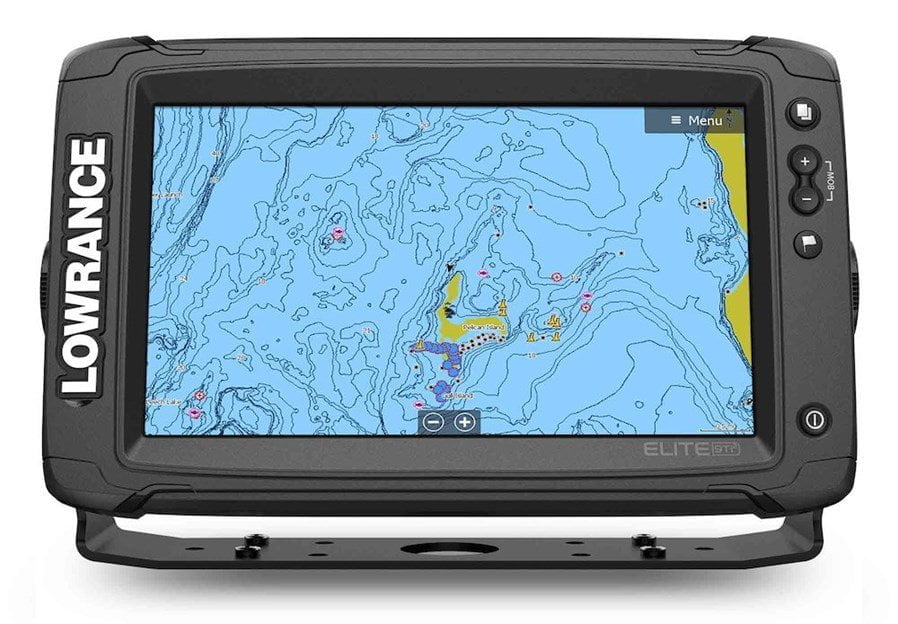 4.75/5
Overall Rating
Imaging

Design

Quality

Price
Lowrance's Elite series of fish finders have always been favorites of ours, so we were extremely excited to get our hands on the next generation of Elite Ti fish finders – the Elite Ti² series. 
It does not disappoint.
The Elite-9 Ti² is one of the best fish finders we've ever found for the price. We can't believe that this unit costs well under $1000 – a 9" screen for under $1000 with this many features is otherwise unheard of. We'll tell you in advance – this is going to be an absolutely glowing review. This is one of our favorite fish finders of 2021. 
What Types Are Available?
Often a fish finder or depth finders can be quite an unwieldy device. Many products come with different parts which can make setting them up and taking them off a real hassle. On the other hand, portable fish finders are very easy to carry around. When installed, they are self-contained, they run on batteries, and the transducer is attached to a suction cup. That way you can start finding fish in a matter of minutes.
Portable fish finders usually consist of a few pieces which make them stand out. But, using two different parts doesn't mean that you have to sacrifice quality or space. This is possible with systems that have quick attaching mechanisms. That way you can connect devices with head units or ones that come with a separate transducer. Some transducers even attach to the end of your fishing rod and go underwater.
Portable fish finders or depth finders sometimes need to be connected to the bottom of your boat. But, even if that's the case, you can do it with an attachment system that doesn't require screws or drilling of the hull. This way of installing fish finders is ideal if you don't own your boat or don't want to damage your vessel.
---
Having a fish finder with GPS can make a huge difference. If your fishing trips are on big lakes, for example, and getting lost is easy, then you'll be glad to have a way to know your exact location. Besides that, with a GPS fish finder, you'll be able to keep track of all your favorite places to fish at.
First of all, you should take a look at what kind of maps come with the device you want to buy. Maps come in different forms, but all in all, they let you know where you are and where you're going. Another important thing to consider is getting a GPS fish finder which offers upgrades and updates to its software. One more thing to be aware of is a unit's accuracy. You will want to know where you are within a dozen or so feet.
Finally, a GPS-ready device is going to be either internal or external in its form. If you buy one that has an external unit, you will need to attach it to your boat. Attachment can be a problem if you own a smaller boat or need a portable fish finder which doesn't need installation.
---
When it comes to making a kayak fish finder, manufacturers take into account specific conditions. One of which is a profound lack of space in comparison to a regular boat. A person who is in the market for kayak fish finders needs a light, waterproof and sturdy unit. These help to find fish without leaving owners worried about damaging their device. A kayak fish finder also needs to be light, so it doesn't make rowing harder.
One more thing to consider is choosing a device that will mount on your kayak with ease, a device that doesn't need external parts. With such a small vessel, a transducer made for installation on the outside can cause problems.
Another thing to think about is whether you will need GPS. Getting lost on a kayak can happen to anyone in large bodies of water or unfamiliar places. That's why knowing your exact location and where you are going can make a huge difference. After all, you are relying on your strength when out fishing in a kayak. When in a kayak staying on course is crucial; you won't be able to start a motor when you get tired.
---
How Does A Fish Finder Work
Although many anglers and fishermen know about fish finders or have used them, not everyone understands how they exactly work. They are somewhat complicated devices. But knowing the basics of how they operate will help you use them with greater success. Money can buy the best fish finders, but you will need to invest some time as well if you want to learn how to use them the right way. That's why we have put together this article. We want to show you how a fish finder works and get you acquainted with the most important parts.
The transducer on a fish finder is what does most of the work. The transducer sends out reads sonar waves. That way it determines the size, shape and distance of various objects in the water as these waves bounce off of them. Transducers create sonar waves with a crystal that vibrates under electrical current. These vibrations produce sound waves. You can find a few different types of transducers in fish finders that all have pros and cons to them. The application of a fish finder determines the type of transducer you will need.
The other critical component to every fish finder is the display. You will be spending much of your time looking at and interacting with it. What information the transducer collects, the display will be showing. When it comes to screens on fish finders, there's a huge variety. While some are only in black and white, other fish finders come with full-color displays. A full-color screen can give you a refresh rate of up 30 frames per second and a full HD resolution. Some units show gathered information in a rudimentary form, as lines or arches. Other advanced devices use recognizable icons to display different kinds of objects.
Choosing The Best Fish Finder
If you want to choose the best fish finder for you, there're a few things you should do. First of all, you need to know what you are looking for. Most fish finders come with a few essential parts. Learning the basics of how these different parts work separately and together is crucial. With a basic understanding of how these components operate, you can then take advantage of all our reviews. That way you will avoid buying something that doesn't suit your needs.
Fish finders can come in a variety of different specifications. Some have basic features while others have many advanced ones. Some fish finders are for professional use, while others are entry-level devices aimed at people who want to try the technology out. Most importantly of all, the price can vary to a great extent. That's why you should arm yourself with knowledge before spending your hard earned money.