BEST FISH FINDER REVIEWS 2021

Choosing the right product for you in a sea of fish finders can be quite the task. It's often hard to know what to look for exactly. To make the decision an easier one, we've put together a list which will save everyone precious time, time that's better spent out on the water.
Lots of people tend to argue over their favorite device and create confusion, but our reviews will set the record straight. In any case, you should start by setting a budget which will narrow down your search.
We're not in the business of pushing products; we're here to give a clear and honest overview of the best fish finders on the market. If you're still not sure about what you want to spend your hard earned money on after reading our reviews, we recommend that you take the time to do research on your own.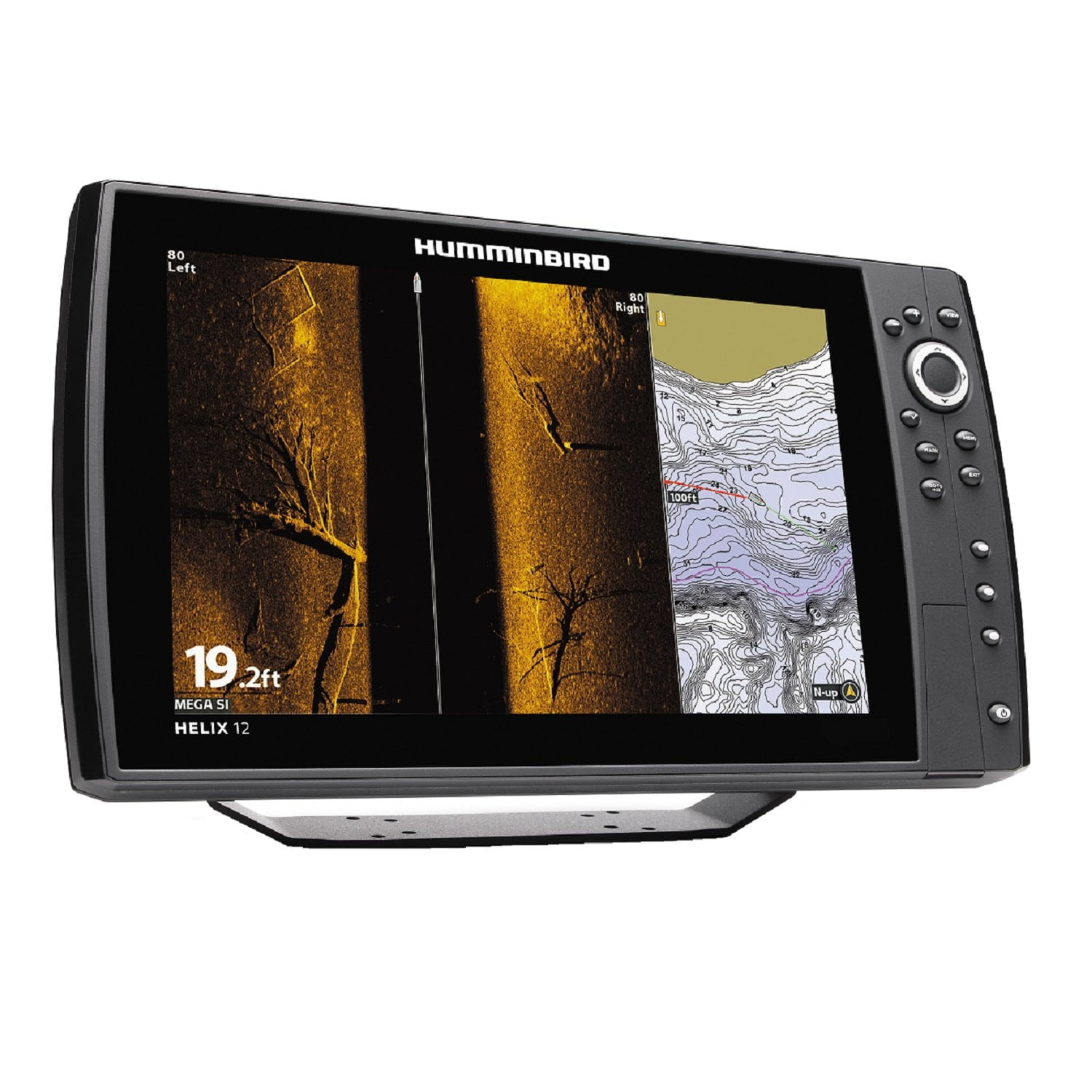 Helix 12 G3 GPS Fish Finder

Screen Size: 12.1 inch

Screen Resolution: 1280H x 800V ft pixel resolution

Imaging: MEGA + Imaging, Down Imaging +, Side Imaging +, High Resolution

Transducer: XM 9 HW MSI T

Sonar Frequency: Sonar 50/83/200/455/800 kHz & 1.2 MHz CHIRP - 140-200/150-220/180-240 kHz

Maximum Depth: 1200 ft (Standard Transducer)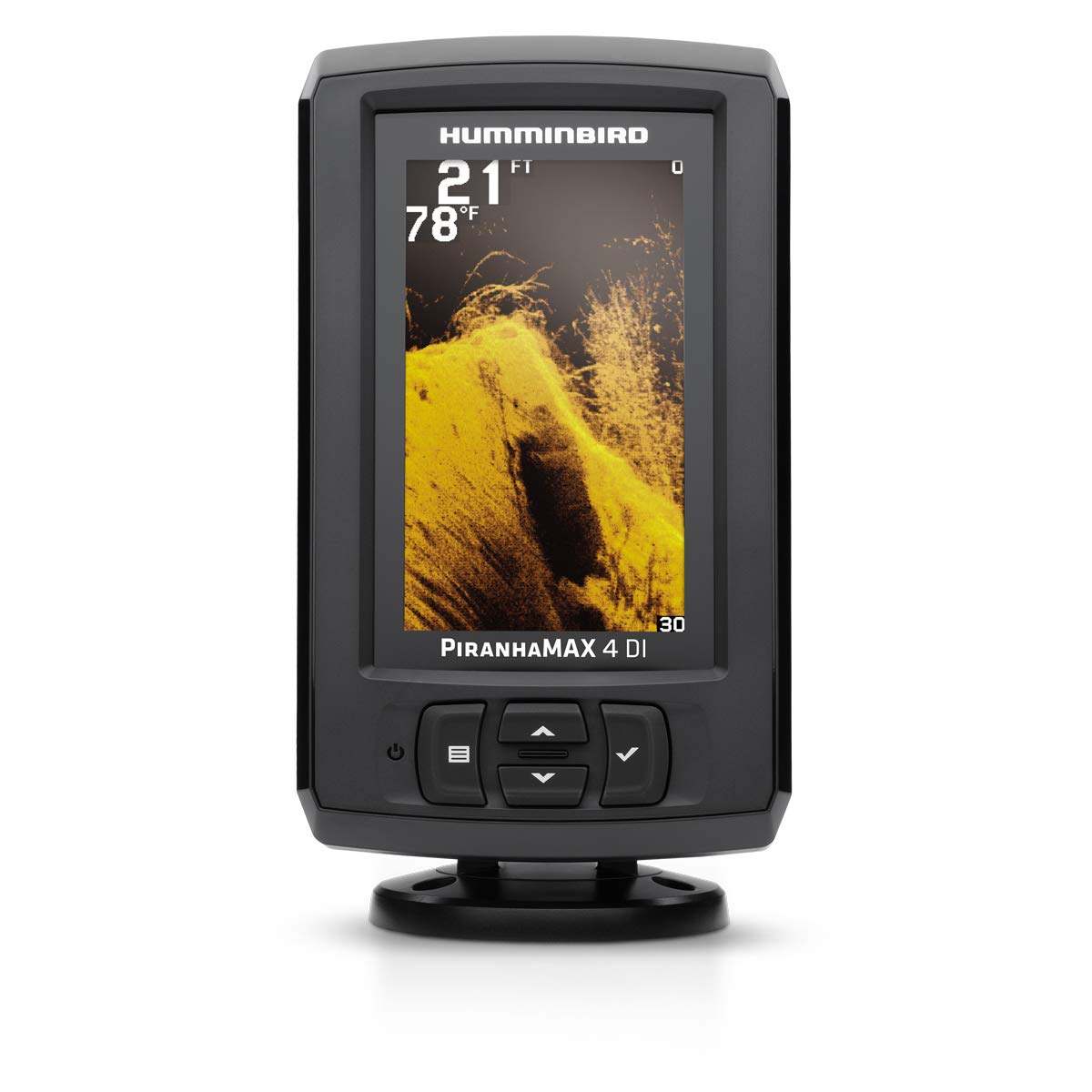 Screen Size: 4.3 inch color

Screen Resolution: - 272H x 480V resolution

Imaging: - DualBeam sonar

Transmit Power: - N/A

Sonar Frequency: 455 kHz cone for clear bottom imaging, and a 28° wide, 200 kHz cone.

Maximum Depth: 600 ft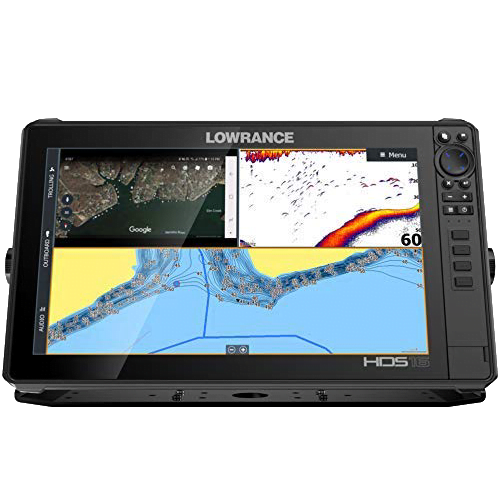 HDS 16 LIVE GPS Fish Finder

Screen Size: 16 in

Screen Resolution: 1920H x 1080V Full HD pixel resolution, LED backlit

Imaging: DownScan and SideScan

Operating Frequencies Supported: Medium and High CHIRP 83/200kHz + 455/800kHz

Imaging-Range: 150 ft. Down/Per Side (800 kHz) 300 ft. Down/Per Side (455 kHz)

Maximum Depth: 1000 ft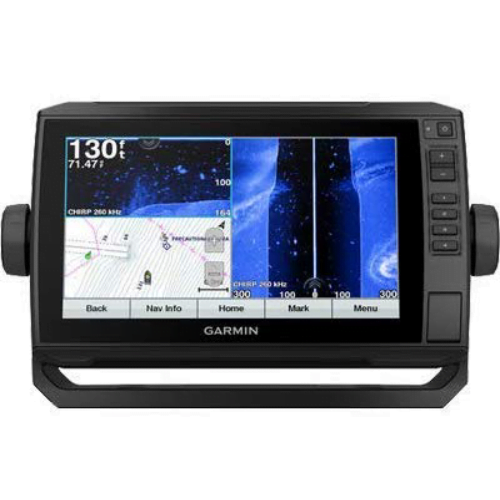 ECHOMAP Plus 94 Fish Finder

Screen Size: 9 in

Screen Resolution: 400 x 800 pixels, WVGA, LED backlit

Imaging: SideVü and ClearVü

Transducer: GT51M-TM

Sonar Frequency: Mid-band Chirp (85-165 kHz) ClearVü/SideVü/ CHIRP 260 kHz (245-275) 455 kHz (445-465)

Maximum Depth: 2300 ft. (fresh) 1100 ft. (salt)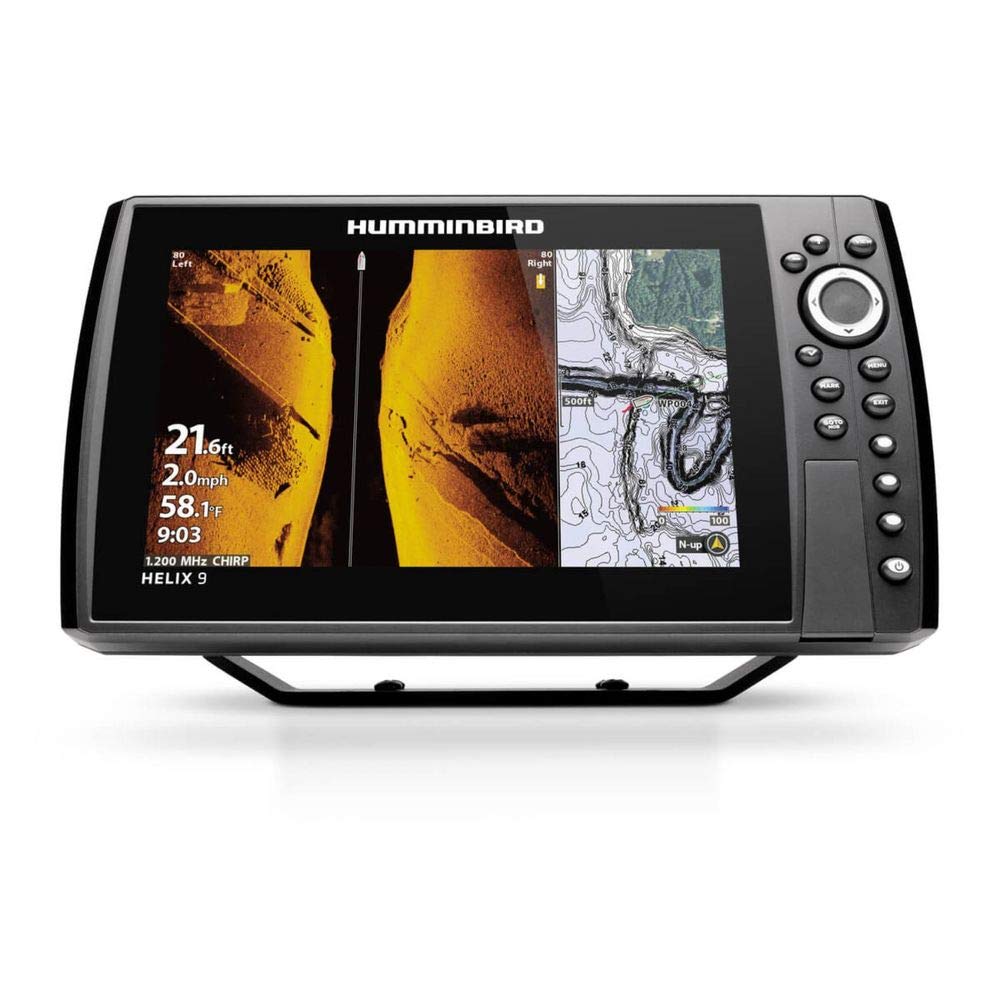 Screen Size: 9 in

Screen Resolution: 1024H x 600 V pixel resolution, 256 colour TFT, backlit

Imaging: DI- 125 ft (800 kHz), 200 ft (MEGA), 400 ft (455 kHz) SI - 250 ft (800 kHz), 400 ft (MEGA), 800 ft (455 kHz)

Transducer: XM 9 HW MSI T

Sonar Frequency: Sonar 50/83/200/455/800 kHz & 1.2 MHz CHIRP - 140-200/150-220/180-240 kHz

Maximum Depth: 1200 ft (Standard Transducer)
Helix 7 G3 GPS Fish Finder
Humminbird is well-renowned as one of the biggest innovators in the fish finding market and they continue to find ways of improving the accuracy of their transducers with the clarity of their screens and the functionality of their software. The third generation of their beloved HELIX series is here, and the HELIX 7 is one of the finders we're most excited about. Why? Well, it's an excellent compromise between price and functionality and we will delve into all the details in this review.
There are quite a few different members of the HELIX 7 club. In this review, we will be looking at the third generation model. In the comparison chart below, we'll look at the difference between three versions: the CHIRP, the Down Imaging+, and the Side Imaging+. You should know that the HELIX 7 is a bit different than its larger cousins because networking does not come standard with these models. You can add networking to any one of them for a small fee. We'll elaborate on that in the networking section of the review. It can be a very worthwhile add-on if you have an elaborate setup.
HDS 9 LIVE GPS Fish Finder
We really liked the HDS Carbon series, so when we heard Lowrance was back with the next generation, we were quite excited. After all, fish finding technology is improving at a rapid clip, and Lowrance is known as one of the leading innovators in this space, owing in part to their ownership by Navico. It's fair to say the HDS-9 LIVE has lived up to and even exceeded our somewhat lofty expectations; the gorgeous HD display we've come to expect from the series is here, along with an incredible interface, great compatibility with transducers and other marine technologies, and a ton of great fish finding features. Enthusiast anglers are the target market here, and for good reason: this thing will help you catch a lot of fish.
We're always impressed with how many features Lowrance is able to pack into a device of this size. They manage to program in these many features, a GPS, and as much processing power as they have with this little space
Lowrance, the much revered fish finding innovator, is back again with the newest line of their well loved HDS series. The new models have a lot to like, from easy-to-use interfaces, gorgeous, high resolution displays, compatibility with some of those most ingenious transducers on the market, and loads of features. The HDS-7 LIVE is the smallest of the bunch, but that doesn't mean it's not packing an incredible punch; this finder is perfect for anglers who might be low on space, but want the highest end technology.
The HDS-7 LIVE is a pretty remarkable; they've packed a lot of features into its smaller size. We recommend purchasing it with the Active Imaging 3-in-1 transducer, and there are other transducers you can purchase as well (we'll take a look at those in a later section).
PiranhaMAX 4 GPS Fish Finder
When we see the Humminbird name, we always get excited; these guys are known for making some of the best on the market. They always find a way to improve the quality of life and usability of their finders while keeping the price competitive, and the PiranhaMAX 4 is no exception. For the price, this is one of the best fish finders you'll find.
This is a fantastic entry level fish finder, because it gives you what you need without a lot of bells and whistles. Does it come with GPS, waypoints, live mapping, and contour drawing? No. Will it help you find fish? An emphatic yes. With its DualBeam sonar, you'll get images of depths up to 600 feet, and with its 4.3 inch display featuring a 480V x 272H pixel matrix, those fish will be easy to see.
ECHOMAP Ultra 126 Fish Finder
The latest rendition of Garmin's ECHOMAP series of chartplotters has arrived, and this, the Ultra 126, is the biggest and baddest the line has ever had to offer. There's a lot of good things to be said about the Ultra 126 - it's got a marvelous WXGA display, an incredibly intuitive user interface, great connectivity, and some of the best software on the market. Most of the improvements over the "Plus" line come from better hardware, while the things we liked about it's older cousins remain. Unfortunately, one of the things that really turned us off of the Plus line is still present in the Ultra line. We're going to delve into all the details about what's good and bad about the 126 in this review - this is a product for enthusiast anglers, and for those who it's designed for, it can be well worth the cost.
​The HDS Live series, the sequel to Lowrance's HDS Carbon series, is a group of top-of-the-line fish finders that we've absolutely fallen in love with (we were big fans of the Carbon series to begin with). The HDS-16 is the top of that top of the line series, the granddaddy, the big one, the best of the best. The screen is massive, the display, crystal clear. The user interface is top notch (as it is with this whole line), the processor is one of the speediest we've ever seen on a fish finder, there's a ton of options to suit all kinds of anglers and weather conditions, incredible features, and an awesome transducer. We were excited just to get our hands on this one, and boy was it worth it.
We're going to show you the specs for the HDS-16 + the Active Imaging 3-in-1 transducer - it's the one Lowrance recommends, and it gives you a lot of features (though the HDS 16 is compatible with a number of different transducers).
What Types Are Available?
Often a fish finder or depth finders can be quite an unwieldy device. Many products come with different parts which can make setting them up and taking them off a real hassle. On the other hand, portable fish finders are very easy to carry around. When installed, they are self-contained, they run on batteries, and the transducer is attached to a suction cup. That way you can start finding fish in a matter of minutes.
Portable fish finders usually consist of a few pieces which make them stand out. But, using two different parts doesn't mean that you have to sacrifice quality or space. This is possible with systems that have quick attaching mechanisms. That way you can connect devices with head units or ones that come with a separate transducer. Some transducers even attach to the end of your fishing rod and go underwater.
Portable fish finders or depth finders sometimes need to be connected to the bottom of your boat. But, even if that's the case, you can do it with an attachment system that doesn't require screws or drilling of the hull. This way of installing fish finders is ideal if you don't own your boat or don't want to damage your vessel.
---
Having a fish finder with GPS can make a huge difference. If your fishing trips are on big lakes, for example, and getting lost is easy, then you'll be glad to have a way to know your exact location. Besides that, with a GPS fish finder, you'll be able to keep track of all your favorite places to fish at.
First of all, you should take a look at what kind of maps come with the device you want to buy. Maps come in different forms, but all in all, they let you know where you are and where you're going. Another important thing to consider is getting a GPS fish finder which offers upgrades and updates to its software. One more thing to be aware of is a unit's accuracy. You will want to know where you are within a dozen or so feet.
Finally, a GPS-ready device is going to be either internal or external in its form. If you buy one that has an external unit, you will need to attach it to your boat. Attachment can be a problem if you own a smaller boat or need a portable fish finder which doesn't need installation.
---
When it comes to making a kayak fish finder, manufacturers take into account specific conditions. One of which is a profound lack of space in comparison to a regular boat. A person who is in the market for kayak fish finders needs a light, waterproof and sturdy unit. These help to find fish without leaving owners worried about damaging their device. A kayak fish finder also needs to be light, so it doesn't make rowing harder.
One more thing to consider is choosing a device that will mount on your kayak with ease, a device that doesn't need external parts. With such a small vessel, a transducer made for installation on the outside can cause problems.
Another thing to think about is whether you will need GPS. Getting lost on a kayak can happen to anyone in large bodies of water or unfamiliar places. That's why knowing your exact location and where you are going can make a huge difference. After all, you are relying on your strength when out fishing in a kayak. When in a kayak staying on course is crucial; you won't be able to start a motor when you get tired.
---
How Does A Fish Finder Work
Although many anglers and fishermen know about fish finders or have used them, not everyone understands how they exactly work. They are somewhat complicated devices. But knowing the basics of how they operate will help you use them with greater success. Money can buy the best fish finders, but you will need to invest some time as well if you want to learn how to use them the right way. That's why we have put together this article. We want to show you how you how a fish finder works and get you acquainted with the most important parts.
The transducer on a fish finder is what does most of the work. The transducer sends out reads sonar waves. That way it determines the size, shape and distance of various objects in the water as these waves bounce off of them. Transducers create sonar waves with a crystal that vibrates under electrical current. These vibrations produce sound waves. You can find a few different types of transducers in fish finders that all have pros and cons to them. The application of a fish finder determines the type of transducer you will need.
The other critical component to every fish finder is the display. You will be spending much of your time looking at and interacting with it. What information the transducer collects, the display will be showing. When it comes to screens on fish finders, there's a huge variety. While some are only in black and white, other fish finders come with full-color displays. A full-color screen can give you a refresh rate of up 30 frames per second and a full HD resolution. Some units show gathered information in a rudimentary form, as lines or arches. Other advanced devices use recognizable icons to display different kinds of objects.
Choosing The Best Fish Finder
If you want to choose the best fish finder for you, there're a few things you should do. First of all, you need to know what you are looking for. Most fish finders come with a few essential parts. Learning the basics of how these different parts work separately and together is crucial. With a basic understanding of how these components operate, you can then take advantage of all our reviews. That way you will avoid buying something that doesn't suit your needs.
Fish finders can come in a variety of different specifications. Some have basic features while others have many advanced ones. Some fish finders are for professional use, while others are entry-level devices aimed at people who want to try the technology out. Most importantly of all, the price can vary to a great extent. That's why you should arm yourself with knowledge before spending your hard earned money.