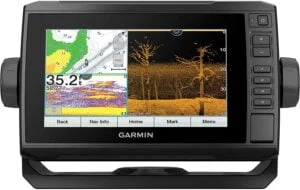 Best Price Bass Pro
Best Price Amazon
4.75/5
Overall Rating
Imaging

Design

Quality

Price
We are very excited to be reviewing the Garmin ECHOMAP UHD 73cv. The UHD stands for Ultra High Definition – and as we'll see in the Display and Interface section, it's a moniker that's well earned.
Spoiler alert: we're going to gush about this device. It's truly remarkable – you can get it for well under $1000, it's packed with features, and it's designed with competitive anglers in mind. That means you're getting a professional quality device at hobbyist prices.
For us, this device may be the sweet spot between price and functionality – it may be our second favorite device out of the ECHOMAP UHD series. More on that later.
Pros
Incredible display
Great interface
Feature dense
Top-of-the-line mapping
One of the best fish finders for the price
Cons
No side imaging
No Ethernet port
As you can see, the only problems we have worth mentioning in the "cons" section are the lack of side imaging - and we'll talk about that in the imaging section - and the lack of an Ethernet port. Not too shabby. 
With that in mind, we're going to look at the specs, and we think you'll agree - for a unit that will probably cost you under $750 after tax (if you can find it), the ECHOMAP UHD 73cv really brings the heat.
Technical Specifications
Max Depth
2,300 max*
Transducer
GT24UHD-TM
Frequency
77 kHz, CHIRP High Wide (150-240 kHz)
UHD ClearVü CHIRP 800 kHz (760-880 kHz)
Screen
7", 400 x 800 pixels, HD, backlit display
Imaging
ClearVu 200 ft
GPS
Internal, high precision
Max Waypoints
5,000, 100, 50/50,000
Memory Card Slots
1 microSD (32 GB max)
*A 77 kHz transducer must be purchased separately for max depth - the out of the box transducer offers up to 800 feet.
Display and Interface
We'll start, as always, with the display. Let's get all the standard goodies out of the way, the stuff you'd expect of a high-end fish finder.
The screen is beautiful – HD, backlit, 7". That means it can be viewed from a ton of different angles, perfect if you've got a lot of anglers in your vessel. The backlight means you can use the UHD 73 in all kinds of different weather – rain or shine, day or night, and even in fog. There's also a sensor on the device that automatically detects the level of illumination outside and adjusts the backlight accordingly. 
You can also program combination screens on the unit, in all kinds of different orientations. That means you can display up to three views simultaneously – we like using ClearVu down imaging, traditional sonar, and our chart simultaneously, but you can choose whatever three views best suit your needs.
The wide variety of display tools you expect from a high-end fish finder are here. You can choose between several different color modes. You can customize your home screen for easy access to your favorite options and views. Standard stuff, but it's all useful.
Now, some of you are probably chomping at the bit – when are we going to talk about UHD? Don't worry, we'll get to that – but only in the Imaging section. Yes, the menu displays are bright and easy to read – but that's not what has got us so excited about the device.
Let's talk about the interface on the UHD 73cv. Garmin did a really wonderful job here. Navigation is primarily done via touchscreen, and with a customizable main menu, it's extremely easy to access your most frequently used features and views.
Touchscreens alone aren't the best form of navigation, however. You see, when touchscreens get wet, they don't respond to touch very well, which can make navigating a pain. Garmin has mitigated this problem on the ECHOMAP UHD 73cv by including shortcut buttons so you can automatically switch to your preferred views or combination screens.
There are also + and – buttons for when you want to zoom in and out. The power button is also a shortcut button that can help you adjust the backlight and color settings of the device. With so few buttons, Garmin did a great job making the interface extremely easy to use. 
Altogether, this makes the UHD 73cv's interface one of the best we've ever seen. The only slight improvement we would recommend is the inclusion of a joystick and a select button. Aside from that, they've done an absolutely excellent job. We recommend taking a look at the Owner's Manual for more in-depth knowledge on how to navigate every menu. The device is feature dense, but it's quite easy to get the hang of, and the menus are well thought out.
In short, the display and interface on this device get top marks. Garmin did an excellent job. 
Sonar
Looking for feature-dense, multi-frequency sonar with a number of different display options? The Garmin ECHOMAP UHD 73cv delivers. Let's dive in.
For starters, the display options here are excellent. There's split-screen zoom, a variety of different color display options, and a flasher mode. There's even a split frequency view, so you can see readouts from multiple different sonar frequencies simultaneously. You can adjust depth, adjust the zoom, and lock onto the bottom – all the things you would expect from a high-end fish finder.
Of course, a fish finder's sonar is only as good as its transducer. Fortunately, the out-of-the-box transducer, the GT24UHD-TM, is extremely powerful. It offers CHIRP (Compressed High-Intensity Radiated Pulse), which means it sends out a pulse of frequencies instead of a single frequency.
That's why you see so many frequencies in brackets in the Technical Specifications section. Practically, it means superior target separation and definition, and clearer readouts. At this point, CHIRP is standard on high-end fish finders, but it's always worth talking about.
The variety of frequencies means you can use the UHD 73cv to fish in all kinds of different water, shallow or deep. You can even use the unit for ice fishing – just be sure you buy a protective pack for it first. Devices like this don't do well in the cold.
Garmin managed to pack a few other great sonar-related features into this device, too – you can read your sonar history, share sonar charts, and record your sonar to transfer onto another device. Powerful, feature-dense sonar – that's what we love to see. 
Mapping
The maps on the ECHOMAP UHD 73cv are great out of the box. Coverage for over 18,000 U.S. Inland Lakes, with 1' contours for most of them. That makes it easy to find where you want to fish. The maps come with a ton of other details, too: points of interest like marinas and campgrounds, shallow water shading, depth range shading, and more.
The UHD 73cv is a chartplotter, after all, and that means you can use all kinds of navigational features. You can set waypoints, tracks, and routes. You can use auto guidance features to automatically determine the best route to a place of interest. 
One point that sometimes comes when discussing fish finder/chartplotter hybrids is whether or not they're worth the money if you already have a GPS system. In the case of the ECHOMAP UHD 73cv, the answer is a resounding YES. First, your GPS won't give you contour maps. Second, the UHD 73cv lets you create maps of your own. 
That's because of a feature called Quickdraw Contours. With it, you can create your own 1' contour maps of the bodies of water you're fishing. That makes the device perfect for pre-fishing lakes before a tournament. You can add your own points of interest to the maps, too. In other words, you won't need to purchase maps for every lake you want to fish – you can create your own.
Best of all, you can share those maps with other Garmin users through an app known as ActiveCaptain, or by transferring your maps to your PC. We'll talk more about ActiveCaptain in the Other Features section.
If you do decide to purchase maps, Garmin has a wide variety of charts available. All in all, the mapping features on this unit are incredibly powerful, and it makes for an excellent chartplotter. 
Networking
There are four ways of networking using the ECHOMAP UHD 73cv. You can use Bluetooth to connect to some devices, Wi-Fi to connect to other devices, the NMEA 2000 port to connect to NMEA 2000 devices, and the blue and brown wires to connect to NMEA 0183 devices.
That's pretty excellent networking, and when coupled with the SD card, it makes transferring data fairly straightforward. The device can connect to other Echomap UHD and Ultra devices as well, which makes sharing information between fish finders a breeze. The only knock against the networking is the lack of Ethernet port, but overall the features here are solid.
NMEA 2000 compatibility means you can use the UHD 73cv as a sort of hub for other devices on your vessel. You can connect the device to radar, VHF radio, or an AIS receiver – and the list goes on.
You can also use the Wi-Fi on the device to connect to other devices, like Garmin's Force trolling motor, which enables autopilot on your boat. 
All in all, if connectivity is a concern for you, the ECHOMAP UHD 73cv will have almost everything you need. If you really need an Ethernet port, then you might pick a different device, but in this day and age, Wi-Fi can connect you to just about anything. 
Imaging
We may have buried the lede here a little bit, but it's finally time to talk about UHD. That's right – let's talk about imaging.
The imaging on this device is absolutely spectacular. You can choose between a wide range of color palettes. You can customize them to find the right contrast for your eyes, allowing you to easily spot bottom structure and fish.
What you get is some of the clearest imaging we've ever seen – and at 200 feet down, it will serve you well in all but some of the deepest water columns. The imaging sonar is CHIRP, which means you're getting the same high precision and target separation that you got in the traditional sonar.
That means you'll have a beautiful, customizable display that helps you pre-fish lakes, and gives you an accurate idea of where the best fishing spots may be. One of the only knocks against this unit is that it only offers down imaging.
Here's the tricky thing – you may be able to find an ECHOMAP UHD 73sv for around the same price as the 73cv – or maybe for $100-$200 more. If you can, it may be worth the extra price. The 73sv gives you side imaging and down imaging (or, as Garmin calls them, ClearVu and SideVu). You'll also get a more powerful transducer out of the box – one that offers up to 1 mHz frequencies.
The higher the frequency, the more accurate the imaging, so if you want to get the absolute most out of the UHD and you can find one for a good price, the UHD 73sv might be the way to go. 
Other Features
There are so many other features on this device that it would be impossible to talk about them all. Do you love sail racing? There are a whole suite of features for sailboats. Want to listen to XM Radio? If you have a compatible device, you can connect it to the ECHOMAP UHD and use it to control the radio. Want to connect the ECHOMAP to your cell phone? You can receive cell phone notifications on your chartplotter.
These features are all fantastic, but what we really want to talk about is ActiveCaptain. ActiveCaptain has a ton of features – you can use it to download Quickdraw Contour maps, or you can use the built-in ActiveCaptain map.
You can also use ActiveCaptain to chart routes at home, then transfer them to your fish finder. The app also allows you to control your UHD 73cv remotely. It's an incredibly handy app with a lot of features, and you can easily connect it to your fish finder using Wi-Fi. 
The Bottom Line
This is, undoubtedly, one of the best fish finders on the market. For the price, it's almost unbeatable, and there are few fish finders that can outdo it even at higher prices. 
If you're a serious hobbyist or a competitive angler, and you want a feature-dense device with a brilliant display, great mapping, and excellent imaging, you really can't go wrong with the ECHOMAP UHD 73cv. The only things missing are an Ethernet port and side imaging. If you don't need either of those things, and the 7" screen suits your needs, then this fish finder is pretty much unbeatable.