The Best Fish Finders 2021
Choosing the right product for you in a sea of fish finders can be quite the task. It's often hard to know what to look for exactly. To make the decision an easier one, we've put together a list which will save everyone precious time, time that's better spent out on the water.

Lots of people tend to argue over their favorite device and create confusion, but our reviews will set the record state. In any case, you should start by setting a budget which will narrow down your search.
Best Overall Fish Finders for Your Money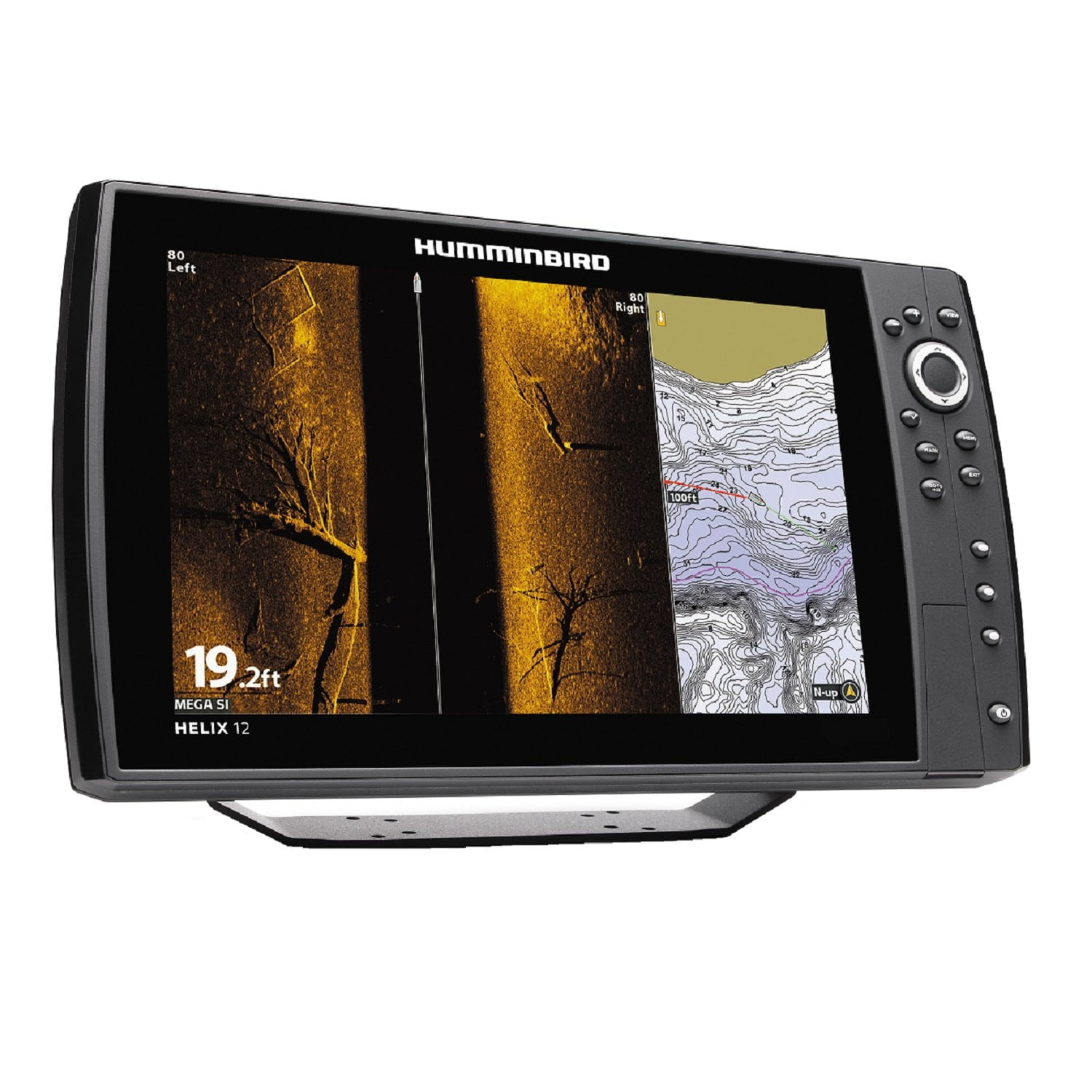 Screen Size: 7 inch

Screen Resolution: 800H x 480V

Imaging: 480 ft (455 kHz), 75 ft (MEGA)

Transducer: XM 9 HW MDI T

Frequency: Sonar - 50/83/200/455 kHz CHIRP - 140-200/150-220/180-240 kHz

Maximum Depth: 1200 ft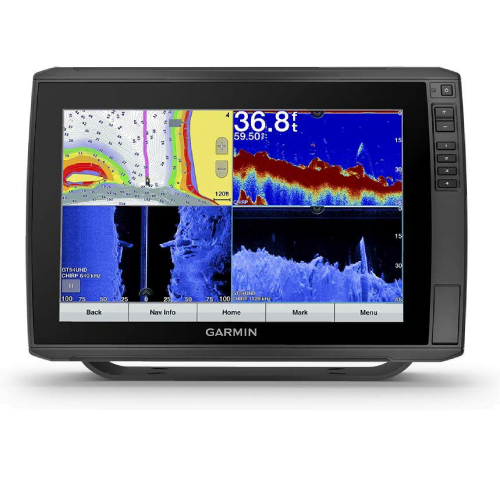 Screen Size: 12.1 inch

Screen Resolution: 1280H x 800V

Imaging: 125 ft (800 kHz), 200 ft (MEGA), 400 ft (455 kHz)

Transducer: XM 9 HW MDI T

Frequency: Sonar - 50/83/200/455/800 kHz & 1.2 MHz CHIRP - 140-200/150-220/180-240 kHz

Maximum Depth: 1200 ft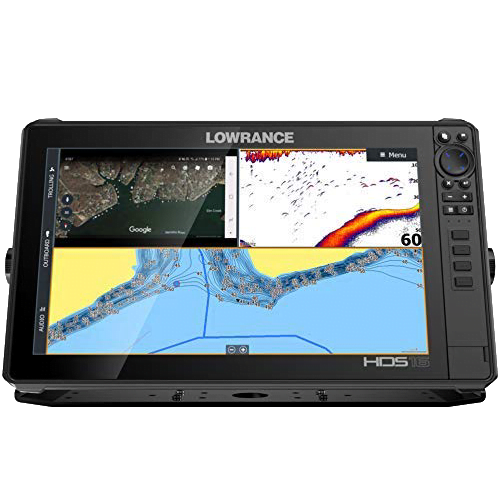 Screen Size: 3.5 in

Screen Resolution: 480H x 320V

Imaging: N/A

Transducer: 77/200 kHz CHIRP

Coverage and frequency: 2D Sonar: 200 kHz / 15° and 77 kHz / 45°

Maximum Depth: 750 feet (saltwater) / 1,600 feet (freshwater)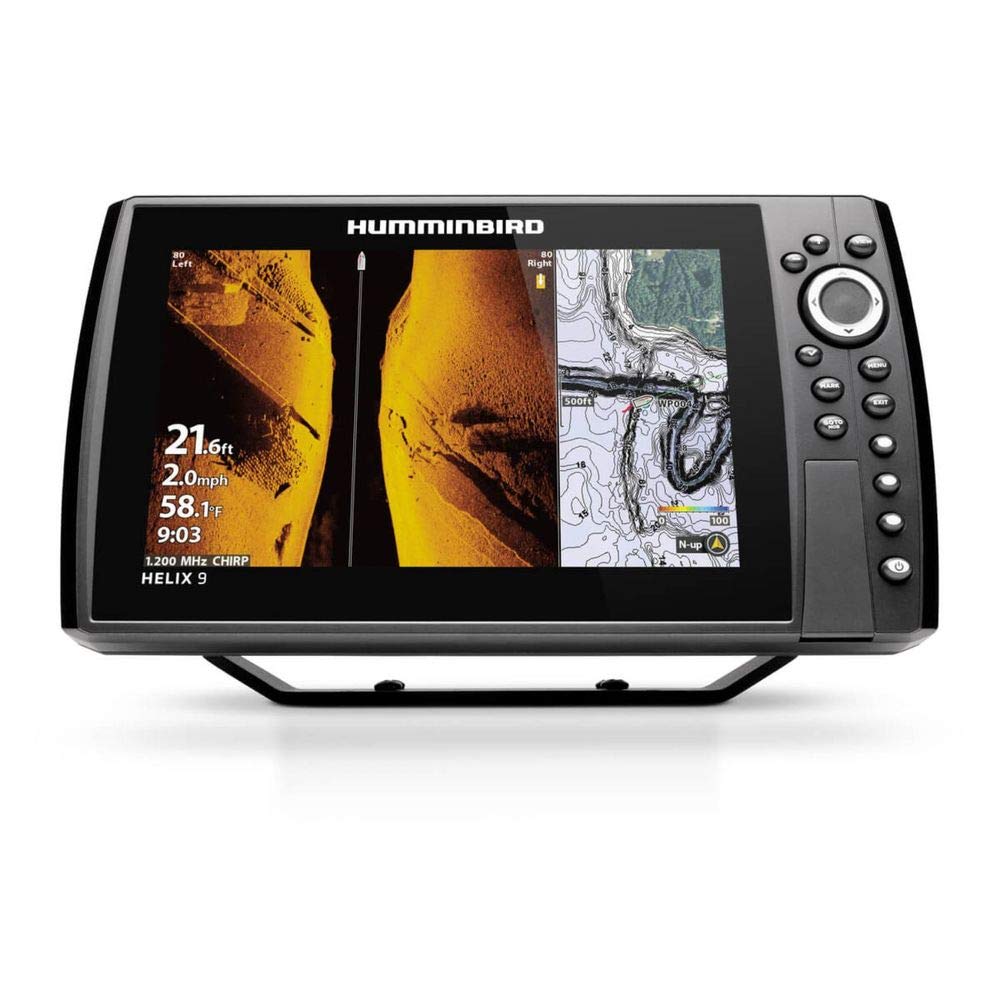 Screen Size: 9 in

Screen Resolution: 1024H x 600 V pixel resolution, 256 colour TFT, backlit

Imaging: DI- 125 ft (800 kHz), 200 ft (MEGA), 400 ft (455 kHz) SI - 250 ft (800 kHz), 400 ft (MEGA), 800 ft (455 kHz)

Transducer: XM 9 HW MSI T

Sonar Frequency: Sonar 50/83/200/455/800 kHz & 1.2 MHz CHIRP - 140-200/150-220/180-240 kHz

Maximum Depth: 1200 ft (Standard Transducer)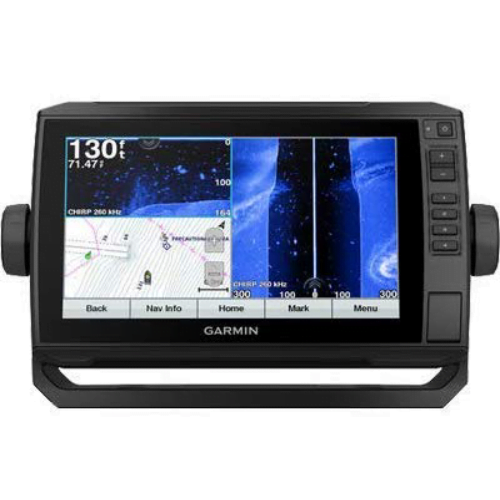 ECHOMAP Plus 94 Fish Finder

Screen Size: 9 in

Screen Resolution: 400 x 800 pixels, WVGA, LED backlit

Imaging: SideVü and ClearVü

Transducer: GT51M-TM

Sonar Frequency: Mid-band Chirp (85-165 kHz) ClearVü/SideVü/ CHIRP 260 kHz (245-275) 455 kHz (445-465)

Maximum Depth: 2300 ft. (fresh) 1100 ft. (salt)
A Mid-Sized Fish Finder with Big Technology

Humminbird is well-renowned as one of the biggest innovators in the fish finding market and they continue to find ways of improving the accuracy of their transducers with the clarity of their screens and the functionality of their software. The third generation of their beloved HELIX series is here, and the HELIX 7 fish finder is one of the finders we're most excited about. Why? Well, it's an excellent compromise between price and functionality and we will delve into all the details in this review.
There are quite a few different members of the HELIX 7 club. In our review, we will be looking at the third generation model. In the included comparison chart, we'll look at the difference between three versions: the CHIRP, the Down Imaging +, and the Side Imaging +.
Legendary fishing tech company Humminbird is back with the third-generation of their much beloved HELIX series fish finder, and we love it. The new models are loaded with features, have crystal clear displays, some of the most accurate transducers we've seen, and plenty of different options for all your fishing needs. The HELIX 12 is the biggest and baddest of the series, a dream for the most die-hard fishing enthusiasts.
There are three different versions of the HELIX 12, each providing different imaging options based on your preferences. There's the CHIRP model, the Down Imagining + model, and the Side Imaging + model.
The Striker 4 GPS/Fish Finder from Garmin comes equipped from the factory with the 010-10249-20 dual beam transducer and uses a 4-pin connector. This transducer is 77/200 kHz capable and uses two cone shaped beams. One 45° beam for 77 kHz, and one 15° beam for 200 kHz. If you need to search through bigger depths, you can use the control unit with a 50/200 kHz transducer. That's because it is capable of 50/77/200 kHz. You should also know that the control unit is capable of only using High and Mid CHIRP sonar.
This fish finder will let you scan to a top depth of 750 feet or 228 meters in saltwater. In freshwater, its limited to 1,600 feet or 487 meters. But, this is possible only if you possess a transducer capable of 50 kHz. The transducer that comes out of the box has a top depth of about 800 feet or 244 meters.
The Humminbird HELIX 9 offers a 9" screen; that gives you a couple of great advantages over other fish finders. The first is that the unit is big enough that you can see a lot of information displayed on the screen, but small enough to fit in setups that wouldn't accommodate larger HELIX units. That's a fantastic compromise, because the HELIX 9 still has a lot of the display features you'd look for in a fish finder of this size, like the ability to use split screen views. This allows you to display multiple views simultaneously; you might, for example, have the sonar on the left side and the contour map on the right side.

You can adjust the display so that it perfectly suits your needs. When you're fishing at dawn or dusk, you can adjust the brightness to reduce glare. You can also up the contrast so you can make it easier to tell the difference between strong and weak readouts. You can change the display colour, you can zoom in and out - basically, you can customize this to suit your environment.
There are three different versions of the HELIX 12 offering various options including: the CHIRP model, the Side Imaging + model and the Down Imaging model.
The size of the display on this fish finder well worth talking about. The display is 9" diagonally, which means it's going to be small enough to fit into most (but not all) setups. The screen is also large enough that you can use combination views while maintaining clarity. For those of you who haven't used large fish finder/GPS devices, combo views are one of the killer apps - they let you see a lot of information simultaneously. For example, you might use the SideVü, CHIRP GPS, and a map at the same time, so you can get the best picture of the water. You can get up to four different views on screen at the same time, the combinations are customizable, and you can choose whether or not the view is placed horizontally or vertically - it's one of the better combination views on the fish finder market. All of these features come together to create not just one of the best Portable Fish Finders, but one of the best fish finders overall.
There are many advantages to a fish finder.
They are the best choice for a fisherman who requires a mobile device and options when fishing.
These units can pack away into a tackle box and cast off from many different locations.
These units are usually cheaper and smaller than mounted devices but offer lots of value for the price.
A lot of them are used with a phone or a tablet by way of Wi-Fi or Bluetooth.
We hope that these reviews will be a valuable resource in choosing the best device for you and help you choose a fish finder you need. Whether you're going to be casting off from the shore, into holes in the ice, or using a kayak, these units will prove useful. A a proper depth finder with sonar technology is sure to make your fishing trip successful.
There are many fish finder options available with affordable price tags. They are all easy to use but have distinct drawbacks and advantages. That's why you should choose the best fish finder for your needs. If you're more comfortable with buying and using a portable sonar fish finder after reading our articles, then we have been successful.