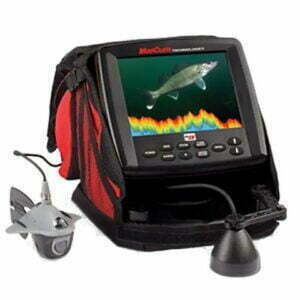 Best Price Bass Pro
Best Price Amazon
3.9/5
Overall Rating
Imaging

Design

Quality

Price
With fish finder companies such as Humminbird, Garmin, and Vexilar producing quality devices, we're always excited to see what MarCum can create in comparison. For any ice fishing enthusiast, the LX-9 is a handy little fish finder that provides a dynamic underwater viewing experience like no other. This incredibly lightweight device is jam-packed with jaw-dropping sonar and battery power capabilities allowing you to ice fish for extended periods without interruption or the need for hole hopping. 
Staying out on the ice for extended periods can be tiring and cold, especially if there's no luck catching any fish. Why not step up your advantage with this reliable fish finder? It will give you a better look at what's going on beneath the ice and make a fine addition to your tackle box. 
Does this unit have its flaws? Yes. But we think the good outweighs the bad. 
Let's take a deep dive into what makes this sonar underwater camera system so appealing:
Pros
Dynamic sonar underewater viewing
Exclusive dynamic depth/range
Exclusive sonar footprint display
Adjustable scrolling
Target adjust image magnifier/night-vision backlight
Video playback
Minimal setup required
Snow shield faceplate
Cons
Low camera resolution
No CHIRP
Lackluster menu navigation
No 'back' button
Steep price
Technical Specifications
| | |
| --- | --- |
| Max Depth | 300 ft. |
| Transducer | Dual Beam 8/20 Degree Ice Transducer |
| Frequency | 200 kHz |
| Transmit Power | N/A |
| Screen | LCD |
| Screen Size | 8 in. |
| Resolution | 800 x 600 |
| Backlit | Yes |
| Imaging | N/A |
| GPS | N/A |
| Max Waypoints | N/A |
| Memory Card Slots | Micro-SD slot |
Display and Interface
For the first time, anglers can now view fish, underwater structures, and cover through digital sonar and an underwater camera system. The LX-9's panoramic 8-inch split-screen LCD display plays live underwater video and multiple user-defined sonar displays. The best part is that you can view both simultaneously. You can merge the readouts into a single, viewable image, making it easier to keep track of what's happening below the ice. How? With industry-exclusive Sonar Footprint Technology that provides detailed looks at bottom coverage at almost any depth. 
The screen is large, bright, and crisp but the resolution could be a bit better. This unit uses a Sony Super HAD II CCD, so the resolution is under 2.0 megapixels. Even in the best lighting, there's some pixelation going on, but overall, MarCum's sonar underwater camera system provides a decent look at what's happening below. Anglers can compare sonar signals with live video footage side-by-side on a roomy display screen. What this does is offer a "big picture" underwater analysis. You can quickly distill pertinent structure, lure, and fish details that yield positive results for your next ice fishing expedition. 
The menu leaves a little more to be desired, as there's a lack of a "back" button, which means it's much more of a hassle to change settings. You'll have to start from the main menu, select the changes you want, and then go back to the main menu to repeat for the next set of changes. Let's say you wanted to tweak the camera color or lights. You'll have to power through a few layers of menus to get the appropriate results. 
The dashboard is fairly straightforward, showing digital depth, battery voltage, range, sensitivity, and interference rejection, as well as on-camera screen displays for water temperature, camera depth, and relative camera direction. 
Features
It's a shame the menu couldn't be better because this ice-fishing fish finder unit has a wide array of MarCum's patented, fan-favorite features. 
Another addition to the MarCum technologies breakthrough. Why? Because the LX-9 is the industry's first sonar/underwater viewing system. The standout feature of this unit should be the addition of the camera, but sadly, the camera isn't the most defined. As we mentioned, the overall resolution quality could be better for a high-priced sonar underwater camera system. You can certainly see under the ice with this unit, but a larger sensor and better resolution would have been ideal to allow more light for underwater analysis. To fix this issue, you might have to adjust the camera sensitivity, but going through the settings can prove difficult and time-consuming. 
The unit's auto camera panner is something to admire, as it allows you to see 360 degrees underwater. However, the standout feature of this fish finder device is the integrated digital video recorder (DVR). You can record what you see underwater and upload your videos. This is a genius inclusion, as many anglers can easily share their ice-fishing hot spots. A bonus is that this unit can record to a separate SD card or via video-out/in, and there are also instant on-screen playback capabilities. 
We all know that ice fishing in the winter can be cruel, especially with those frigid winds. Luckily, the LX-9 comes sheathed in a special padded case with a rechargeable 12-volt 9-amp battery, automatic charger, and an impressive snow shield faceplate. 
Transducer
The transducer on the MarCum LX-9 is fantastic, which comes as no surprise to us. The dual-beam transducer works well alongside the color camera, but you can switch it out with a high-speed transducer. 
The dual-beam goes between 8 and 20 degrees, and if you're fishing in deeper water or want the clearest readouts, you'll find the best luck when using 8. However, if you're fishing in shallow regions and want to do some fish finding, the wider 20-degree angle will help you find the perfect ice spot to drill a hole. 
Sonar
The LX-9 provides dynamic sonar underwater viewing. Prepare to easily capture surface temperatures and camera depth like never before. As well, the advanced sonar feature list is more than eye-catching, such as user-defined multifaceted sonar display/dashboard and patented infinitely adjustable zoom, bottom lock zoom, and interference rejection. 
The only disadvantage the sonar has is during the split screen mode. It can be highly convenient to see both live video footage next to your sonar layout, but the minimized sonar display can be challenging for far-sighted anglers. 
The Bottom Line
Overall, this is an impressive piece of fish finder tech. It may not be the most flawless device on the market, but its sonar capabilities and camera features can prove beneficial on your next ice fishing trip. While we think the price point is much too high, it's well worth the purchase if you're serious about ice fishing.