Ice Fishing Fish Finders 2021
With ice fishing becoming more and more popular, there are lots of options on the market right now to choose from. How do you know which one you really need? With ice fishing, since you don't fish on a boat, you don't really need a fish finder that mounts to one. For the most part, the portable fish finders are more than acceptable to use however there are specific fish finders made for ice fishing. In this post we will review some of the top ice fishing fish finders/ice fishing flasher/sonar unit(s), and provide you with information on where to purchase them.
Best Ice Fishing Fish Finders for Your Money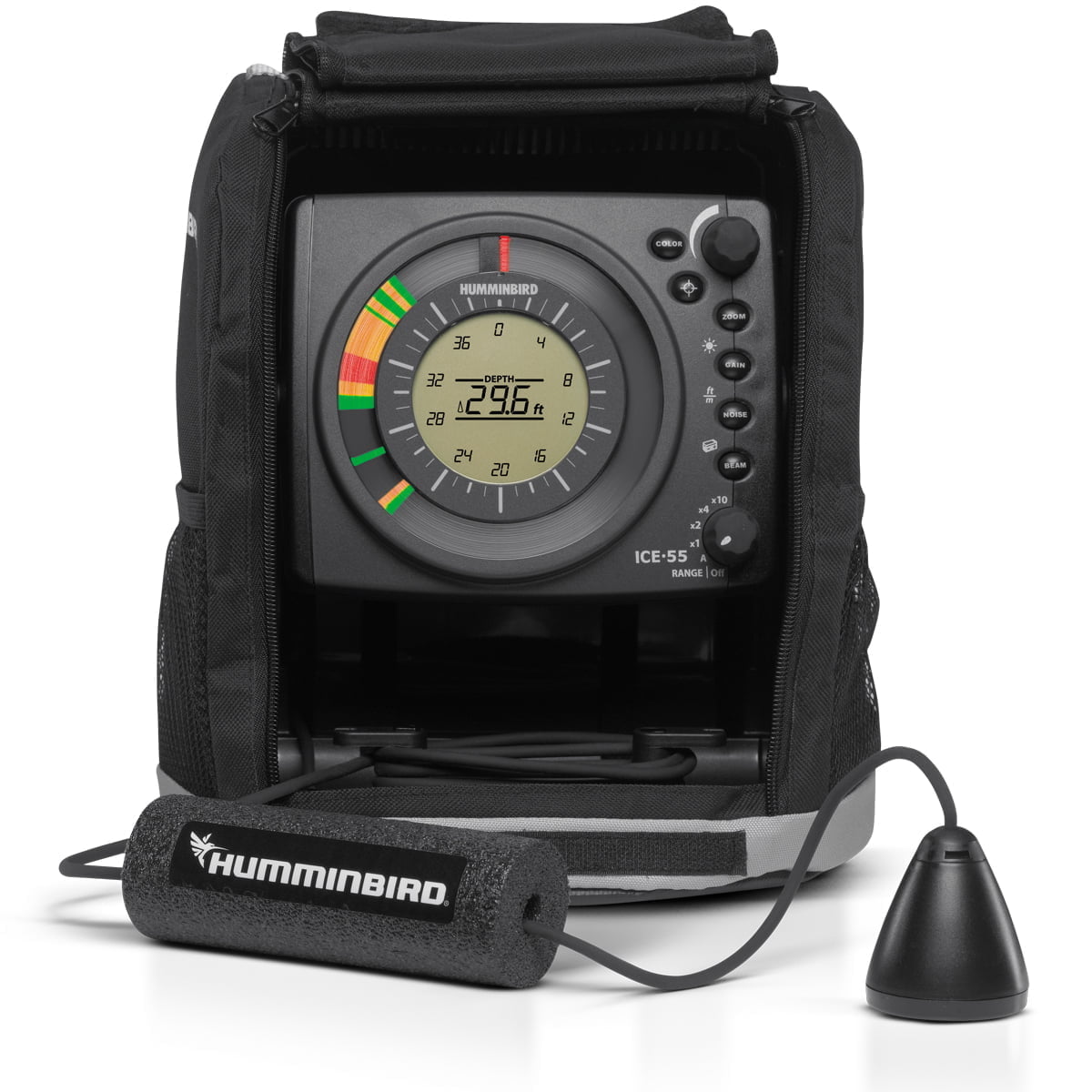 Maximum Depth: 200ft

Operating Frequencies Supported: 240/455 kHz

Transducer: XI 9 19

Screen: 526 Segment, 6-color fiber optic, LCD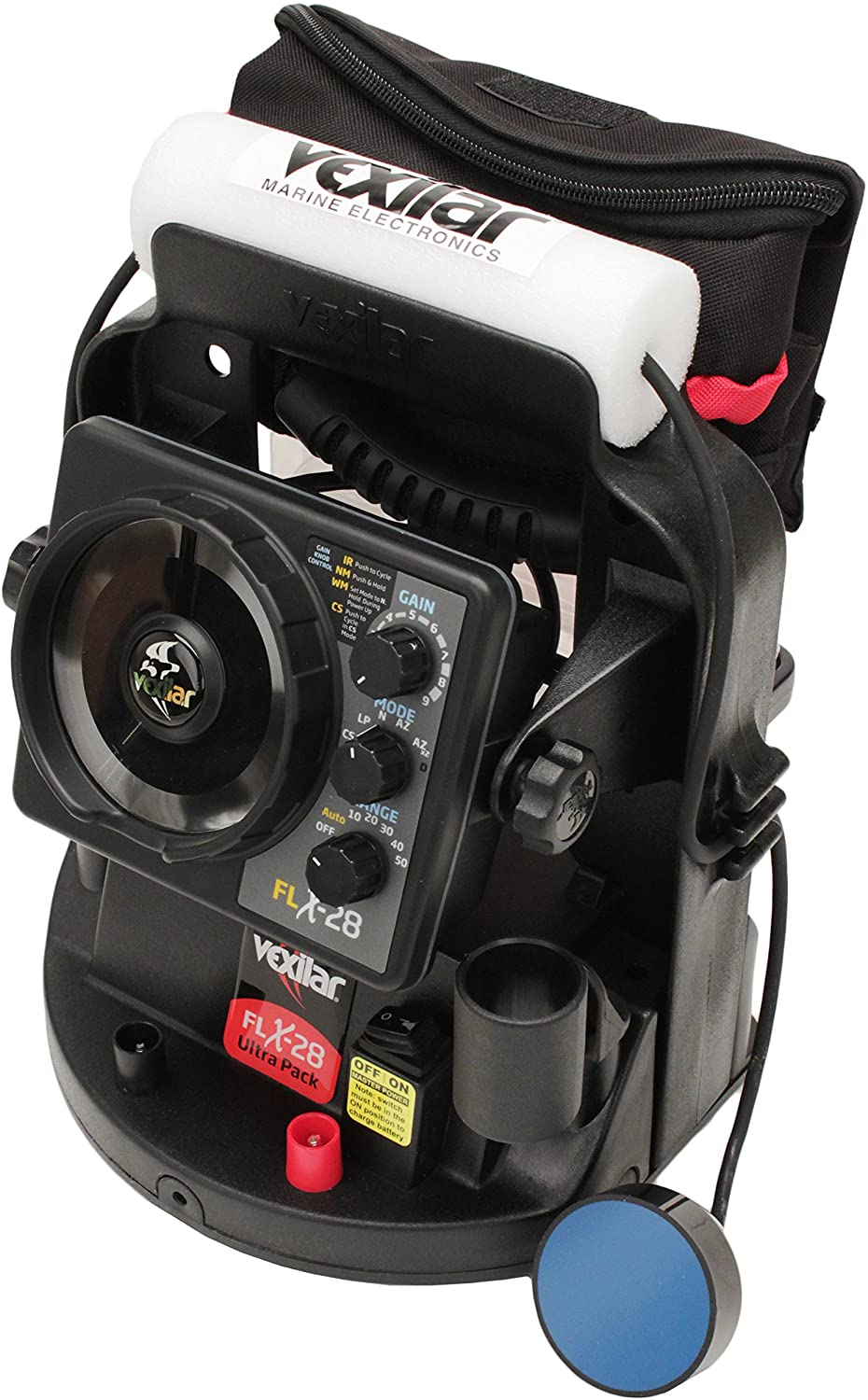 Maximum Depth: 300ft

Operating Frequencies Supported: 200 kHz

Transducer: Pro-View

Screen: Weatherproof 5-colour LED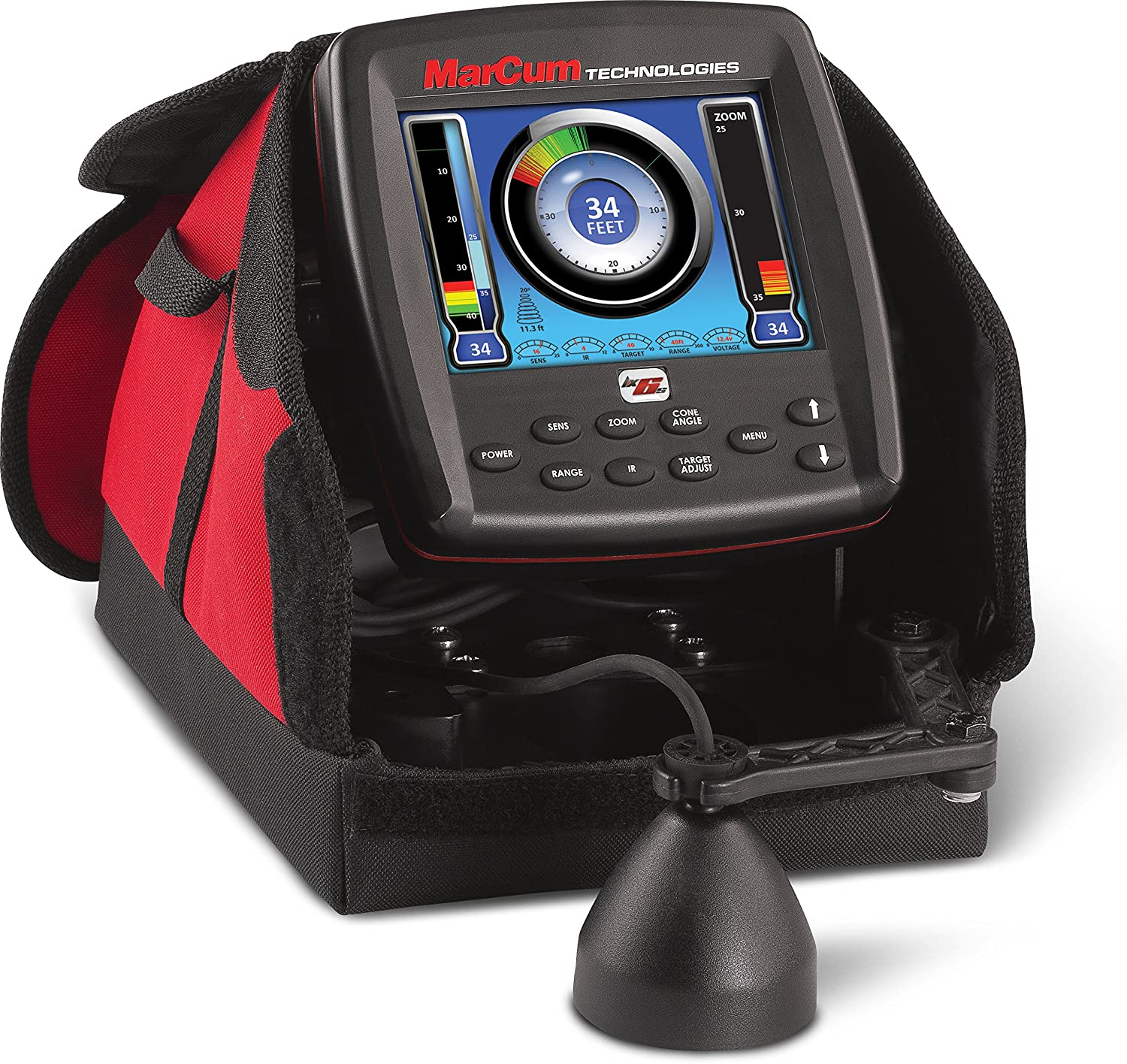 Maximum Depth: 300ft

Operating Frequencies Supported: 50/200 kHz

Transducer: LX-Series Dual Beam 8/20 Degree Ice Transducer

Screen: 640x480 6" LCD, backlit
Snow has just fallen where we live; we're looking outside and seeing blankets of white stuff along with felled trees from an unseasonably early winter storm. We wonder if writing reviews of flashers brought on the weather; we hope not, because here's another one. The Humminbird ICE 55 is the best flasher Humminbird has ever come up with and one of the best flashers on the market. It's loaded with nifty features, it's got a great display, and there's a pretty decent transducer to boot. All of this for a very reasonable price, too. This is the most impressed we've been with a Humminbird flasher and we're happy to get out on the ice with it, even if it does mean early winter storms.
Ice transducers and flashers are a bit outside of Humminbird's regular wheelhouse; they're more known for finders like those in the HELIX series, made for mounting to a boat and featuring dual core processors and sophisticated graphics. That all said, they've done a fantastic job creating a flasher that, while less powerful, remains technically impressive.
We noticed it's getting a bit chilly out, so we figured it was about time to review our favourite flasher. Vexilar has long been a favourite of ice fishers everywhere; they perfected the design on simple, three-colour flasher technology decades ago and a lot of companies have followed their lead when it comes to innovation. We're always cheering for Vexilar because they're one of the smaller marine technology companies out there and they always find a way to punch way above their weight, with others prone to follow where they lead. The FLX-28 is no exception; this product has been on the market for a few years now, and it's still, without a doubt, one of the best fish finders you can get if you're an ice fishing enthusiast.
Designing fish finders for ice fishing is a tough business but it's a business that Vexilar does well; we chalk that up to their being based in Minnesota. The company doesn't bother with some of the bells and whistles you might see on other ice flashers - you won't find any maps here, no contour tracing, no way to wirelessly connect your phone.
What you'll find instead, is a straightforward flasher with excellent technology in it - a great transducer, and a few knobs that you can twist and turn to get your settings to exactly where they need to be.
MarCum LX-6S Digital Sonar 6" LCD Dual Beam
Based on the Norcross F33P Fish Finder, this unit is an updated version. It works much the same way as its predecessor, but with a few changes. It has some great new features that make it more attractive.
This portable finder is somewhat more expensive but makes up for it with improvements. It can measure water temperature, and its screen is easier to read. With a Dot Matrix display, you can see everything on it, even in bright, sunny conditions. On some cheaper devices glare can make a screen unreadable, but not on this HawkEye.
It has dual-beam FishTrax Intelligent Sonar and auto-switching, as well as multi-level depth ranges. The auto-zoom tracking function is for better targeting of prey. You can place the sonar sensor can in the hull of your vessel or underwater. It provides a transducer that's portable or boat mountable.
This is perhaps the best portable finder for fish with a cable connection. Even if Wi-Fi models can seem less restrictive, this unit is a joy to work with. If you're a fisherman that likes to cast off from a boat or Kayak, this is the option for you.
When we think about ice fishing, we think of Vexilar. There are a lot of marine tech companies that have dipped their toes into the (very frigid) waters of flashers and ice fish finders, but few have matched Vexilar's innovations. The company was the progenitor of the original three-color flasher, and they've continued to innovate on their core concept. Instead of adding a lot of bells and whistles, they've opted to streamline all of the features in their product to three knobs that control the entire unit. The FLX-20, while not as feature-loaded as it's big brother the FLX-28, is a wonderful flasher that's going to improve your ice fishing.
There are a lot of challenges that come with creating a fish finder for ice fishing. How do you secure the transducer? How do you make a long-lasting transducer when it's going to continually be exposed to sub-zero temperatures? How do you make a relatively simple graphical interface that gives anglers the maximum amount of information?
When the temperature starts dropping towards zero, we start thinking about ice fishing - actually, we pretty much always have fishing on the brain. For us, it's impossible to think of ice fishing without thinking of Vexilar who we're pretty sure more or less invented the flasher. Today's review is on the FLX-12, an upgraded version of the FL-12 that's been in their line for quite a few years. The FLX-12 is a very straightforward flasher; it's quite basic, and what it does, it does extremely well. This flasher is perfect for anglers who want an affordable flasher and are happy to twist a few knobs to get the settings exactly where they need to be.
This is one of the most stripped down fish finders you'll find on the market, but that's not a bad thing. Here's an analogy for you - you can get a computer with a gigantic case full of flashing lights and interesting start-up noises but if the processor is trash and it doesn't have a video card, it's not going to run well regardless.
MarCum LX-7 Digital Sonar 8" LCD Duel Beam
MarCum is one of the newest players on the flasher market; the company was created by two military engineers who loved fishing and sonar. They've been working hard to make a name for themselves in the flasher game and they've done a tremendous job so far by giving their main competitors, who have been established for decades, a run for their money. The LX-7 is their flagship flasher and they've made it stand out from the competitors with a number of innovative features. From the scrolling graph display to the all digital readout, the LX-7 does things that no other flasher on the market does and that makes it worth taking a close look at if you're in the market for a new flasher. Our review does just that, so read on!
Those of you who have read some of our other reviews know we care a lot about specs. While having a feature-loaded, ultra functional fish finder is wonderful, if you don't have the hardware to back it up, it doesn't mean much. We've found that flashers generally have much lower specs than traditional fish finders owing in part to how difficult it is to design a device that operates efficiently under the ice and in temperatures far below zero.
We love ice fishing, and we love sonar/GPS combo units, so you'd better believe we were excited to get our hands on MarCum's new MX-7GPSLI. MarCum is one of the biggest names in ice fishing tech, along with its rival, Vexilar. And while other companies, like Humminbird, have come up with ice fishing fish finder/GPS combos, we were really excited to see what MarCum could come up with.
Aside from a few fumbles, we were not disappointed.
And it's no surprise there were some fumbles - this is MarCum's first foray into the world of sonar/GPS combos. Those faults aside, if you're looking for a powerful GPS unit that can help you ice fish with minimal interference and next-to-no lag, the MX-7GPSLI is for you.
A quick note before we start: the LI here stands for Lithium, and if you buy this unit you'll get a Lithium Shuttle with the fish finder. You can find versions without the Lithium Shuttle, but if you're on the ice for as long as we are, you're going to want it.
Benefits of Ice Fishing Fish Finders
There are many advantages to a ice fishing fish finder.
They are the best choice for a fisherman who requires a mobile device and options when fishing.
These units can pack away into a tackle box and cast off from many different locations.
These units are usually cheaper and smaller than mounted devices but offer lots of value for the price.
A lot of them are used with a phone or a tablet by way of Wi-Fi or Bluetooth.
Things to Consider
Find out things you should look for when buying a ice fishing fish finder...
We hope that these reviews will be a valuable resource in choosing the best device for you and help you choose a fish finder you need. Whether you're going to be casting off from the shore, into holes in the ice, or using a kayak, these units will prove useful.
There are many models available with affordable price tags. They are all easy to use but have distinct drawbacks and advantages. That's why you should choose the one that best suits your needs. If you're more comfortable with buying and using a portable sonar fish finder after reading our articles, then we have been successful.