Garmin
Garmin ECHOMAP USD 94sv Review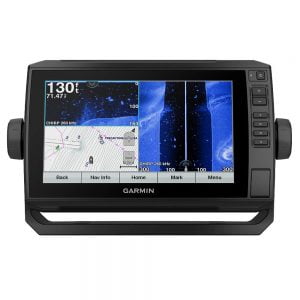 4.88/5
Overall Rating
Imaging

Design

Quality

Price
The Garmin ECHOMAP series never fails to impress us, so we're more than excited to review the ECHOMAP UHD 94sv. Are you hunting for a top-of-the-line fish finder? If your answer is yes, then this is the unit for you. We won't lie to you, this fish finder will definitely set you back a bit, and by "a bit", we mean about a grand. It's a big chunk of change, but when compared to other fish finders, this is a top unit that you can get a lot out of. 
It's easy to install, fairly durable, with a beautiful screen, excellent preloaded charts/maps, and more features than you can imagine. Garmin units are often hit and miss when it comes to networking, but this fish finder/chart plotter comes with impressive networking capabilities and reliable CHIRP sonar. What more could you possibly want? 
We're seriously impressed with the complete design and features of this fish finder. Let's dive into what makes the Garmin ECHOMAP USD 94sv an angler's dream come true:
Pros
Touchscreen
Built-in GPS
SideVü and ClearVü scanning sonar
User-friendly
Long-range sonar
Easy to install
Great networking
Technical Specifications 
Checking out the specs on fish finders is a good way to determine what type of features may benefit you on your next trip to the lake. You'll be happy to know that the specs on the Garmin ECHOMAP UHD 94sv are pretty solid. While there are some minor drawbacks, this fish finder device has a lot to like.
Let's review the specs:
Technical Specifications
| | |
| --- | --- |
| Max Depth | Down: 1500 ft. Side: 750 ft. |
| Transducer | GT56UHD-TM |
| Frequency | Dual-Frequency (50/200 kHz) |
| Screen | 9-inch 800 x 480 |
| GPS | Internal, High Precision |
| Max Waypoints | 5000 |
| Memory Card Slots | Micro SD |
Display & Interface
The display on this Garmin ECHOMAP UHD fish finder is out of this world. You get 9 inches of vivid, crystal clear images that make it easier to tell the difference between fish and other objects underwater. The best part is that the high resolution is so bright and crisp, you'll be able to see what's happening on screen, even in direct sunlight. 
The size of the screen isn't too small or too large, which is helpful when using the touch screen to access the multiple features this bad boy has. However, one thing we have noticed is that the screen isn't always as responsive as it could be, but it still works just fine. Along with the touch screen, you can also use a keypad to access a specific feature which adds some versatility to the interface accessibility. You can even customize the information displayed on the screen.
The Garmin ECHOMAP USD 94sv is advertised as "the power of simple", and overall, the display and interface are easy to use, so it isn't too challenging for first-time anglers. The screen sizes on most Garmin devices do the trick, but this 9-inch screen is the perfect size for the capabilities of this specific fish finder.  
CHIRP Sonar 
The sonar options on this fish finder are a dream. The sonar runs incredibly fast, you get picture-perfect images, and it comes loaded with three built-in sonar technologies. The traditional CHIRP sonar has a killer high frequency, but the ClearVü and SideVü are where this device soars.  
The traditional CHIRP sonar is always a treat, but we cannot resist the high-definition ClearVü that comes with this piece of tech. The transducer comes with ClearVü, which provides a detailed look at the depth of the water and can detect fish, structures, and other underwater objects. 
The SideVü scanning is a pretty good accompaniment to the ClearVü and allows you to scan an area without having to rotate. Why is this important? Well, we're glad you asked. This feature is vital because it covers wider areas of water, which is a bonus because it will help locate more fish. The frequencies aren't as high as some of the other Garmin fish finders, so it's not always perfectly accurate, but it will still scan well enough. 
The color palettes on this Garmin unit provide excellent views of the fish and underwater surfaces. Seriously, we cannot get enough of the resolution and imaging features on this device. It shows you as many details as possible in great depth, which is perfect for finding the best fishing spots. 
Mapping
One of the best features of the Garmin ECHOMAP UHD 94sv is the mapping capability. This device comes loaded with BlueChart G3 coastal charts, which provide detailed information on the waterways in the U.S. and Canada. The maps are so clear that it almost looks like someone took a picture and uploaded it. 
We're insanely impressed with how detailed the mapping is on this unit, as it's a huge step up from the previous BlueChart generation. Not only is the image near-perfect, but the BlueChart G3 provides some of the best data and information for lakes, inland waters, canals, ocean water, and coastal fishing compared to other fish finders. You get access to preloaded charts from waters along the East and West coasts of the U.S., the Gulf of Mexico, and the great lakes of the U.S./Canada. 
We love a fish finder that gives you the ability to customize, and the ECHOMAP UHD 94sv allows you to create custom maps with Quickdraw contours. The Quickdraw community is continually going strong, thanks to Garmin. Not having the Quickdraw contours on the ECHOMAP UHD 94sv just wouldn't seem right. Quickdraw provides you with the option of marking points of interest for future fishing trips. You can also pick and choose your favorite charts, alter them for your specific fishing needs, save them, and share them with other anglers. 
Networking 
Fish finders that don't include networking potential often lose some points with us. However, the Garmin ECHOMAP UHD 94sv has some incredible networking capacities. This unit contains an NMEA 2000 and NMEA 0183 port, which is essential if you want some connectivity options. 
The unit also comes with built-in Wi-Fi and Bluetooth, so it's easy to connect to the internet. The internet connection gets you the most out of the networking potential. You can use it to download software updates and access Garmin Connect, which gives you the ability to share your waypoints and keep track of your fishing trips. 
You can also access the ActiveCaptain app and use Raster Cartography. This feature shows a paper-like view of the water and land masses surrounding it, making it easier for captains that need to map out paths for long-distance travel.
Other Features
We got so caught up in the brilliance of the BlueChart G3 charts that we didn't fully discuss the versatility of the mapping feature in our review. The LakeVü HD maps are a good backup to the BlueChart G3 maps. They're also clear and detailed enough if you prefer switching it up, and they offer up to ten different depth ranges. Different colors indicate the safest depth for you to travel through and help identify drop-offs or unexpected fishing spots. It also shows points of interest such as roads, highways, bridges, campgrounds, boat launches, and more. However, at the end of the day, we still prefer BlueChart for its jaw-dropping imaging alone.
What surprised us most was the auto guidance and GPS system. We weren't entirely sure how it would work before this review, but we're happy to say that it's quite reliable. We haven't run into any issues when using the auto guidance GPS functions. A cool surprise is that you can time the expected length of your boating trip. 
An excellent addition is that the GPS waypoint function makes traveling your usual routes a lot easier because it can find your frequently visited locations. So, if you've had enough of adventuring to new areas and want to hit that special spot on the lake that you've been to many times before, the GPS will have your route primed and ready. 
If you're looking for a little extra something from the Garmin ECHOMAP UHD 94sv, we got just the thing for you. While playing around with this device, we found that it's compatible with any Fusion-Link audio system. You can even control it right through this fish finder. It won't interfere with any settings or features you already have, and you can connect it with your mobile phone. 
Overall, the Garmin ECHOMAP UHD 94sv is a sophisticated fish finder. Yes, it's quite the investment, but if you're looking for the best of the best, you will certainly find it here. It's a solid piece of tech that's definitely worth the higher price point if you're a seasoned angler. The charting is outstanding, the sonar is extensive, the touchscreen is a welcome addition, and the networking potential is the cherry on top. We know that's some high praise, but we wouldn't be talking up this fish finder in our review if we didn't think it was worth it.