Trolling Motors
MotorGuide
Xi5 Trolling Motor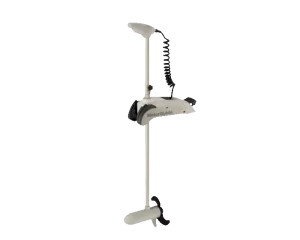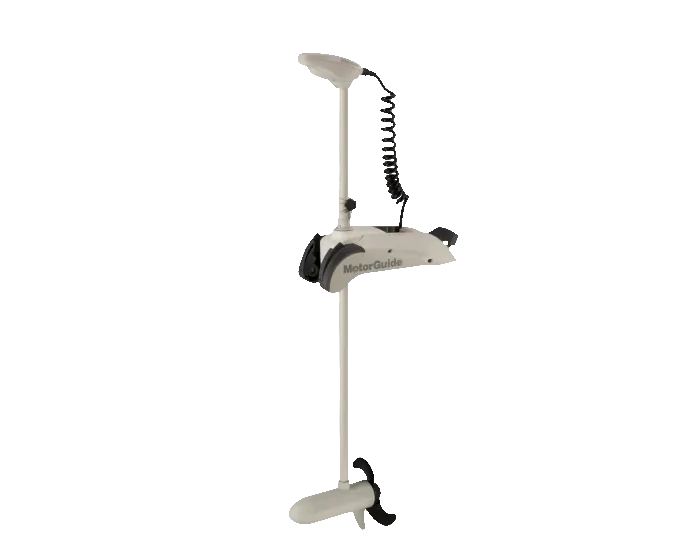 Best Price Bass Pro
Best Price Amazon
3.2/5
Overall Rating
Thrust

Voltage

Battery Life

Speed

Noise Level
MotorGuide's Xi5 is a powerful trolling motor with a lot of different options. You can choose the shaft length (it's a sturdy composite shaft), vary the power and speed (it has a variable speed system, and the 105 lb thrust model has a ton of kick), and get freshwater or saltwater compatibility.
What really makes this motor stand out is the power GPS-enabled motor functions—functions like a GPS anchor (most people call it Spot-Lock) and anchor jogging.
The motor isn't perfect—it's noisier than some models, and it's not easy to stow or deploy—but it comes jam-packed with features like a built-in transducer, and it's a breeze to use. It's one of our favorite trolling motors on the market—read our full trolling motor review below to learn why!
Pros
Incredible GPS features
Excellent warranty (a lifetime warranty on the composite shaft)
Tons of options
Powerful
Easy to install (for a bow-mount motor)
Fish finder connectivity
Fantastic battery life
Cons
Noisier than some similar models
Hard to stow and deploy
Fewer networking options than its direct competitors
Technical Specifications
| | |
| --- | --- |
| Water Compatibility | Freshwater or Saltwater |
| Thrust | 55 lbs / 80 lbs / 105 lbs |
| Voltage | 12V |
| Speed Control | Variable |
| Control Type | Wireless foot pedal (heel-toe) or wireless remote |
| Mount Type | Bow |
| Shaft Length | 45" / 48" / 54" / 60" / 72" |
| Shaft Material | Composite |
| Propeller Type | 2-blade Safari Propeller/3-Blade Machete Propeller |
| Battery Capacity | N/A |
| Maximum Amp Draw | 41A / 52A / 56A |
| Warranty | 2-years - lifetime for shaft |
| Spot Lock | Yes (PinPoint GPS anchor) |
| Fish Finder Connectivity | Yes |
Installation
Installing the Xi5 is relatively simple if you already have experience installing bow-mount trolling motors. We recommend purchasing a quick-release mounting bracket (the one sold by MotorGuide for the Xi5 is a great option). You'll also need a number of tools, including power tools, to successfully install the motor. An impact driver and a friend to hold the motor will both be incredibly useful.
We can break installation down into three parts: Installing the trolling motor, wiring the batteries, and syncing the foot pedal and wireless remote. We highly recommend reading the Xi5 owner's manual for detailed installation instructions. 
Installing the Xi5 trolling motor
All in all, we found installing the Xi5 to be fairly straightforward—we've drilled enough holes in enough bows to know how the process is done. For those of you who are new to installing a bow-mount trolling motor, we highly recommend checking out this Xi5 installation guide by YouTuber Grift Co. (we swear it's not a grift despite the name).
We're not going to bore you with the details of how to install a trolling motor—this is a review, after all—but we will give you some tips that have always made our life easier:
Use anti-seize:

When metal-on-metal is involved, you don't want to risk the chance of welding bits together when installing your trolling motor using an impact driver. Anti-seize can help.

Use marine-grade sealant:

You're not going to be penetrating the hull of your boat, but you are making holes in the bow. The bow of your boat isn't likely to get water in it, but we're a "better safe than sorry" crew here at Fish Finder Tech. Marine-grade sealant costs next to nothing, and it can help protect your boat and your trolling motor.

Ask a friend for help:

The Xi5 might not be the heaviest trolling motor on the planet—but it is a trolling motor, and it is heavy. You'll want a friend to hold it in place while you install it on your boat; this is not a job for only two hands.

Trust the experts:

If you've never installed a bow-mount trolling motor before, consider going to a marine shop for help. This isn't

nearly

as easy as clamping on a transom-mount trolling motor; it takes expertise that you may not have.
Wiring the Xi5 trolling motor
This is an electric motor, and that means you'll need battery power to get it moving. That's how most modern trolling motors work, and we've found the Xi5 is just as simple to wire as any of them.
Our advice? Use deep cycle marine batteries with high amp hours—12V batteries wired together. 
When your motor runs on battery power, it's important to look at the max amp draw. Imagine you've got a 50 Ah battery; any of the Xi5 models would only last for about an hour at the max draw. You're not going to be moving at full throttle for an hour, but when you consider features like heading lock and the GPS anchor, you might be expending more battery power than you expect—especially given that it's easy to stop paying attention when you're not actively controlling the motor.
The wiring is easy if you follow the guide (and if you've done this kind of thing before)—just follow our advice on the type of batteries to get (we recommend at least 100 Ah), and you'll be fine. 
Syncing the wireless remote and foot pedal
MotorGuide made this very easy—though there's one thing missing. In order to sync the remote and foot pedal, you need to disconnect your motor from the battery, then reconnect it and sync within 10 seconds. 
Seriously guys—just add a sync button and an LED indicator to let us know we're in sync mode next time. 
Aside from that hiccup, all you have to do to sync is press down on the left and right arrows of the remote or the left and right bottommost "fins" of the foot pedal within 10 seconds of connecting the motor. Have a friend help you to get the timing right, and you'll be fine. Aside from the problem mentioned above, this is pretty easy. 
Using the Trolling Motor
When it comes to using the Xi5, there's some good and some bad—with very little ugly (unless you really hate how the motor looks for some reason). Let's start with the bad, then get to the good stuff:
The bad—stowing and deploying
Depending on the model you've purchased, the Xi5 can weigh up to about 50 lbs. That's not the heaviest trolling motor we've ever used, but stowing and deploying it can be a bit of a pain—there's not much in the way of lift assist on this model.
To stow or deploy the motor, you'll have to loosen one knob, then slide a collar, then tighten the knob, then press down on a lever, then manually pull and tilt the motor while rotating the motor or the depth collar around. You'll do all of this while jumping on one foot and touching your nose.
The last part was a bit of an exaggeration, but it really does feel that way sometimes—lots of steps to get this thing in or out of the water. We hope that MotorGuide will improve its stowing and deploying technology in the next build.
The good—controlling the MotorGuide Xi5
For controls, MotorGuide offers two options: A wireless foot pedal and a remote control.
You'll set these up when you first get your motor out on the water—it's fairly easy, and MotorGuide offers some simple guides to help you do it (see the Installation section for more details). The wireless functionality is really handy—you can set up your foot pedal or remote to steer from anywhere.
We use both the remote and the foot pedal in different situations. When we're actively steering, we prefer the foot pedal; we love the heel-toe design, and it gives us more accurate control over where we're steering while keeping our hands free for fishing. You can set up an anchor lock (Spot-Lock), change the speed, and move your boat around all with your foot—it's great. 
The foot pedal also has both a temporary propeller on button and a constant on button; these features are fairly standard on units like this, but it's nice to have them located so ergonomically on the foot pedal. 
The remote is best for some of the unit's key functions. These are the features that rely on PinPoint GPS technology; features like heading lock, recording your route, cruise control, or anchor jogging (moving around and then re-anchoring in one place). We'll use it anytime we're staying in anchor mode or auto-piloting. Here's a handy diagram of the Xi5 PinPoint GPS remote controls.
The rest—fish finder connectivity
The Xi5 has a built-in 200/83 kHz sonar transducer that connects to fish finder/chartplotters with a 6-pin Lowrance plug. You may need to purchase an adapter to connect it with other fish finders, but once you do, you'll be able to control your motor from your fish finder. 
Obviously, at a place called "Fish Finder Tech", we find fish finder connectivity to be both useful and fun, and we've wired up and controlled our Xi5 from a few fish finders. Most of the time, the PinPoint GPS remote is all we need—and our fish finders are hooked up to better transducers—but we've still found it handy from time to time.
Comparable Trolling Motors
Minn Kota Terrova: The Terrova is the trolling motor that's most similar to the Xi5—it has Spot-Lock (Minn Kota is the granddaddy of GPS anchor trolling motors), comes in similar thrusts and shaft lengths, and offers foot pedal controls. Its foot pedal is programmable, and there's better networking, given Minn Kota's wider range of marine products and its well-designed One-Boat Network app.
Garmin Force: The Garmin Force is a trolling motor with GPS anchoring, a wireless foot pedal and remote, and both 80 lb and 100 lb thrust models. It's equipped with a particularly powerful transducer (it can even handle side and down imaging), and it's got a great warranty.
Lowrance Ghost: Another top-of-the-line trolling motor, the Ghost offers GPS anchoring, an extremely powerful sonar (even better than the one offered by the Force), and ultra-quiet operation considering its power (that's why they called it the Ghost). 
What Sets the MotorGuide Xi5 Apart From Comparable Motors
All of the comparable trolling motors we've listed have their advantages—they offer better networking, more powerful transducers, or quieter operation. There are a number of reasons to opt for the Xi5, though:
Better price:

Aside from the Terrova, the MotorGuide Xi5 is less expensive than the other comparable trolling motors. We wouldn't call it a budget choice, but if a powerful transducer and better networking aren't priorities, the MotorGuide Xi5 may be the way to go.

Wireless foot pedal:

The Xi5's wireless foot pedal is among the best we've used—it's not wired like the Terrova's foot pedal, and its heel-toe configuration is well laid out and extremely easy to get the hang of.

Lots of options:

With variable shaft lengths, thrusts, and both saltwater and freshwater models, there's an Xi5 that can fit almost anyone's needs—with all the GPS anchoring and jogging features that come standard on the model. 
Other Features
Digital Power Management:

The digital power management feature means better battery life—MotorGuide claims it improves battery life by up to 5x. We don't exactly know the physics behind it, but it seems similar to features offered by Minn Kota, and we have found the battery life on the Xi5 to withstand the test of fishing on the lake for hours.

LED Dashboard:

The LED dashboard at the top of the Xi5 makes it easy to monitor your motor at a glance. There are four LED lights used as indicators:
Power on/off

Propeller on/off

GPS Navigation on/off

A battery indicator
These two features (especially the LED Dashboard) make the Xi5 a breeze to use, even if you don't have a fish finder connected to it. 
Conclusion
The Xi5 is one of the best trolling motors on the market. The GPS anchoring features are top-of-the-line, there are models available for both freshwater and saltwater, and the variations in thrust make the Xi5 suitable for pontoons, bass boats, bay boats, and a whole lot more—even boats over 4000 lbs can benefit from the Xi5's thrust.
The controls are fantastic, and the price is better than most motors in this category. The only real drawbacks to this motor are its (relative) lack of networking features, its louder-than-some-models motor, and the lack of easy-to-use stow and deploy features.
All in all, if you're looking for a motor with excellent GPS features, excellent construction, and a great wireless foot pedal—all at a reasonable price—the MotorGuide Xi5 might be the motor for you. Try it out!
Looking for more guidance on selecting the ideal trolling motor? First read our comprehensive trolling motor buyer's guide covering key factors like thrust, control, mounting, and functionlity to evaluate when shopping for your optimal motor. Then use this in-depth Motorguide Xi5 review to see how it stacks up against your needs.
FAQ
What is PinPoint GPS anchoring, and how does it work?
PinPoint GPS anchoring uses the motor's GPS to automatically correct your boat's location—the motor will turn, and the propeller will activate and deactivate to maintain your position, allowing you to pick a fishing spot and stick to it, even in choppy conditions. SteveChen Fishing has an excellent video demonstrating the accuracy of PinPoint GPS in a variety of conditions; though he's using an Xi3 motor, the PinPoint GPS technology is the same as the Xi5. 
How quiet is the MotorGuide Xi5 compared to other trolling motors?
The Xi5 isn't quite as quiet as other models like the Lowrance Ghost—though the motor is obviously quieter if you're trolling at a lower speed. We haven't scared too many fish away with the motor, but its noise levels are one thing MotorGuide could improve on. 
Does the MotorGuide Xi5 mount firmly to the boat's bow without jittering?
Yes—as long as you install it properly. We recommend getting a quick-release bracket—you can't go wrong with MotorGuide's own Xi series quick-release bracket—and following the instruction manual as well as the tips we went over in the installation section of this review.
What types of batteries does the MotorGuide Xi5 work with?
MotorGuide recommends using deep-cycle 12V marine batteries for your Xi5; opt for batteries with higher amp-hour ratings for better battery life, and only use batteries of the same make, model, and age in tandem with each other. 
Does the MotorGuide Xi5 offer integration with specific fish finder brands?
With adapters, the Xi5 can integrate with most fish finders—it's easiest to integrate with Lowrance brand fish finders, but it can also be integrated with Humminbird, Garmin, and other popular fish finder brands. You may need to purchase an adapter in order to connect your Xi5.