Trolling Motors
Minn Kota Terrova i-Pilot Review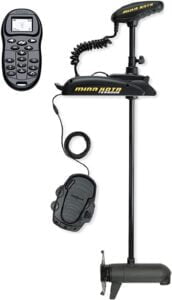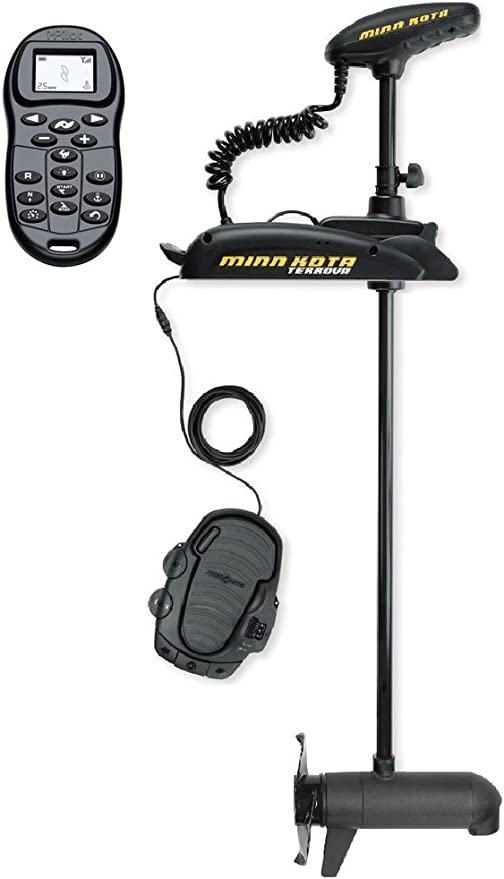 Best Price
4.6/5
Overall Rating
Thrust

Voltage

Battery Life

Speed

Noise Level
The Minn Kota Terrova trolling motor is one of the best on the market. Produced by the venerable Minn Kota—the inventors of Spot-Lock motors—this trolling motor offers the perfect balance of features, power, and price. It's (relatively) quiet, extremely easy to use, and comes loaded with handy features.
In our Minn Kota Terrova review, we're going to cover the good and the bad—and we're happy to say it's mostly good. This motor is designed for anglers who want to troll around one spot for fish—and we think you're going to love it.
Pros
Affordable
Loaded with features
Compatible with Humminbird fish finders
Spot-Lock
Variable thrust and shaft size
Great warranty
Technical Specifications
| | |
| --- | --- |
| Water Compatibility | Freshwater |
| Thrust | 55 lbs / 80 lbs / 112 lbs |
| Voltage | 12 V / 24 V / 36 V |
| Speed Control | Variable |
| Control Type | Control Type Foot pedal, remote |
| Mount Type | Bow |
| Shaft Length | 45" / 54" / 60" / 72" |
| Shaft Material | Composite |
| Propeller Type | 2-blade weedless wedge prop (MKP-32/33) |
| Battery Capacity | Variable |
| Maximum Amp Draw | 50A/56A/52A |
| Warranty | Lifetime (shaft), Limited 2-year (rest of motor) |
| Spot Lock | Yes |
| Fish Finder Connectivity | Yes (Humminbird with i-Pilot Link) |
Installation
Installing the Minn Kota Terrova isn't easy—this is a powerful, complicated motor with a lot of moving parts. Bow mounting always tends to be more complex than transom mounting, and with extra electronics like the heading sensor used for Spot-Lock Jog, you'll need to know how to wire batteries, fuses, circuit breakers, and more. 
We recommend purchasing one of Minn Kota's quick-release mounting brackets—the RTA 17 for the two lower thrust models and the RTA-54 for the 112 lbs thrust model. We also recommend you buy a lock to go along with your quick-release bracket—we've heard too many horror stories of anglers parking on a dock, running up to a store to buy something, and coming back to find their trolling motor gone—quick release for you means quick release for thieves, too.
Teaching you how to install this trolling motor through text would be an exercise in futility—this is the kind of installation that it's best to learn by watching. We recommend:
Be sure to review these videos, as well as Minn Kota's installation guides, before you purchase this motor; it takes a lot of technical know-how, power tools, and components.
Alternatively, you can just ask someone to install it for you—many marine, fishing, and outdoor shops will offer motor installation services. 
Using the Trolling Motor
While installing the Minn Kota Terrova might be tough, using it once it's installed is an absolute breeze.
Stow and Deploy
Minn Kota uses a Stow and Deploy lever with a spring-loaded assembly (called Lift Assist) on the Terrova—it makes getting your motor into the water and stowing it when you're done light work, even though these motors are pretty heavy.
Once you're in the water, you have two different options to control your motor: The foot pedal and the wireless i-Pilot remote. 
Using the Foot Pedal
The foot pedal is super simple; you can steer left and right using your heel and toe, freeing up your hands (and your other foot) for fishing, grabbing supplies, gesturing while you talk—anything you'd like. There's a button you can press with your foot to power the motor on and off, a wheel you can rotate up and down with your foot to vary your speed, and buttons below the pedal to give you another way to steer.
You can also engage the AutoPilot and Cruise Control through the foot pedal. 
Using the i-Pilot Remote
There are two separate i-Pilot remotes, depending on which version of the Terrova you purchase. The standard i-Pilot simply controls your motor, while the i-Pilot Link allows you to connect your motor to a compatible Humminbird fish finder.
Rather than tell you what the i-Pilot remote can do, we figured we'd show you, courtesy of this image from Minn Kota: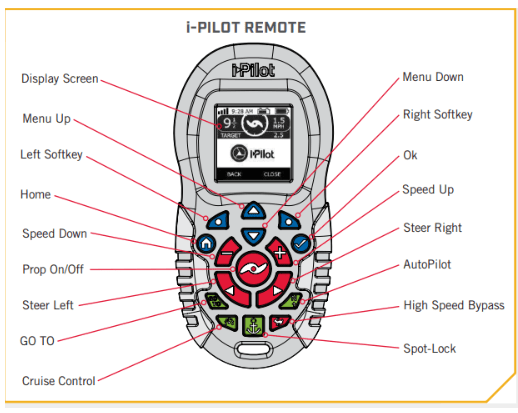 The i-Pilot link also allows you to control your motor directly from your compatible Humminbird fish finder. You're on a site called Fish Finder Tech, so you'd better believe we're going to elaborate more on fish finder connectivity later on in this review.
Our Final Thoughts on Using the Trolling Motor
The Minn Kota Terrova is extremely easy to use and offers all the features you could ask for on a trolling motor, including:
Spot-Lock

Spot-Lock Jog (where you move from one spot you've locked to another)

Variable speeds

A high-speed bypass button to quickly move as fast as possible

Cruise control

AutoPilot

And more
The AutoPilot and Spot-Lock features are particularly nice. With AutoPilot, you simply point your motor in a direction, and your boat will continue to move in that direction, correcting for winds, waves, and more. Spot-Lock is similar, but instead of moving you in a particular direction, it automatically keeps you in the same place.
These features are all incredibly easy to use, and the foot pedal controls are super intuitive. Whether you want to stay in one place to catch fish or you've got your sights on a particular fishing spot, this motor will help. 
Comparable Trolling Motors
MotorGuide Xi5:  The MotorGuide Xi5 is another spot-locking trolling motor (technically, Spot-Locking is Minn Kota's proprietary name for this feature, but we're going to use it generically). In terms of power, noise, and Spot-Lock functionality, the two motors are similar. Where the Minn Kota Terrova wins out is in its features, specifically with the i-Pilot Link.
Power-Pole MOVE: Power-Pole has been a big name in motors for a while now, and it recently introduced a line of trolling motors—MOVE. There are two different motors in the line, each with variations in shaft length and thrust. Like Minn Kota, it offers a lifetime warranty on its trolling motor shafts. These motors are also much quieter, using a brushless design. They are, however, much newer to the market and more expensive.
Minn Kota Ultrex: Minn Kota offers a number of different trolling motors—the Ultrex is similar to the Terrova. Both have Spot-Lock and similar options for thrust. The Ultrex offers an electric steer motor and has automatic stow and deploy, as opposed to the Terrova's manual lift assist technology. The Ultrex is more expensive—it all depends on the tradeoff of features to the price you're looking for.
Lowrance Ghost: This trolling motor has Spot-Lock and a brushless design while still offering 120 pounds of thrust. That's pretty impressive, but the Ghost is quite a bit more expensive than the Terrova.
What Sets the Terrova Apart From Its Competitors
There are a lot of bow-mounted, Spot-Locking trolling motors with an electric foot pedal and remote control on the market. Why choose the Terrova?
It's affordable:

While there are other trolling motors that offer superior, brushless designs (

excellent

for anglers who don't want to scare away the fish) and some that offer perks like automatic stow and deploy, the Terrova offers an

excellent

balance of features and affordability. This motor has been quiet enough for our needs, its variable speeds give you a great degree of control, and while you can find other motors for less money, they won't match the quality. 
It's been on the market for ages:

Minn Kota is already one of the most well-known names in motors—it

invented

Spot-Lock, one of the features anglers care the most about. The Terrova has been on the market for over a decade, and Minn Kota has basically perfected the design, making it more durable and affordable than ever.
It's loaded with features:

We've already talked about Spot-Lock, Spot-Lock Jog, AutoPilot, and fish finder connectivity—and that's just scratching the surface. We'll talk more about some of the other features this motor has available—all great for anglers who have Humminbird fish finders.
It's got a good warranty:

This is one solidly built motor—that's part of the reason it's so heavy! The lifetime warranty on the shaft is a huge relief, and the 2-year limited warranty on everything else covers a lot of potential problems. 
Other Features
With the i-Pilot Link, the Terrova has a number of other features that we haven't mentioned yet. If you're not looking to connect your Terrova with a Humminbird fish finder, the upgrade to Link probably isn't worth it for you.
We, of course, love fish finders, so we're super into the Link. Here are some of the additional features you can get with Link:
Mobile connectivity: Connect your motor with your Apple or Android device! Honestly, we prefer driving with the foot pedal, but hey, if you're into it, you're into it.
Circle Mode: This one's for the hardcore anglers. It's a variation on Spot-Lock, where you cast to a spot, then circle around it to slowly troll around for fish. Only available if you have a Humminbird device, but

wow,

is it good!
Follow the Contour: Okay, most of you aren't going to be able to use this feature—you need LakeMaster maps, a Humminbird fish finder, and the Terrova motor. But if you've got all three, it's a killer combo—you can tell your motor to follow along a certain contour or even follow based on bottom hardness. An

exceptional

way to scout for and then troll for fish!
Conclusion
We honestly think the Minn Kota Terrova is the best Spot-Lock trolling motor at its price point. It's built to last, it has a ton of useful features, it's easy to control, and the variable speed function gives you precise control.
The only downsides to the motor are that it's difficult to install and that it's heavy. The heaviness is mitigated a bit by Lift Assist, but it's still a bit of a pain.
All in all, we highly recommend the Terrova to anyone looking to get a Spot-Lock motor without breaking the bank. There are more powerful, quieter, and more feature-dense options on the market—but the Minn Kota Terrova strikes an excellent balance between power, functionality, and price.
FAQ
How long does the battery last on a single charge?
The motor doesn't come with a battery, so this depends on a number of different factors:
The type of battery you're using

The speed and frequency at which you use the motor

The weather conditions when you use your motor

And more
With an amp draw of 50A, you can expect these motors to last for around an hour—usually a little less. That's assuming max draw, however, so they'll usually last a little longer. On the other hand, you want to recharge your batteries before they're fully depleted.
There's a handy power gauge on the motor that will tell you how much juice your battery has left. 
What type of battery is recommended for use with this trolling motor?
We recommend 12 V deep-cycle marine batteries—wire 2 or more 12 V together for 24 V or 36 V motors. A 100 Ah rating is a great idea—that will give you plenty of time out on the water. 
Does the trolling motor come with a mounting kit, or is it sold separately?
The Terrova comes with some mounting equipment, but you'll need to buy or make a mounting bracket—and you'll need the tools to install it. 
How does the trolling motor perform in windy or choppy conditions?
With its variable speeds and durable construction, coupled with the weight of the motor, the Terrova has no problem in wind or chop. It can chew through weeds pretty well, too. The sheer power and heft of this thing is one of its biggest advantages.