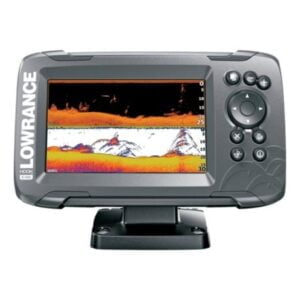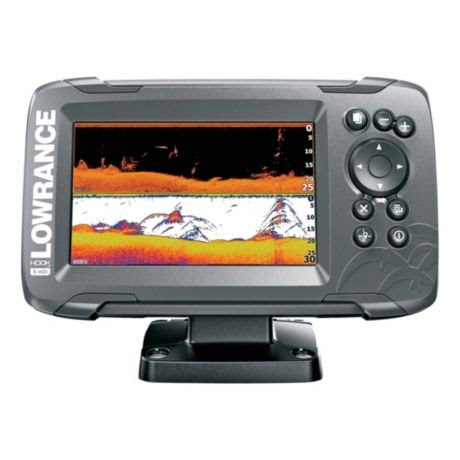 4/5
Overall Rating
Imaging

Design

Quality

Price
The HOOK² models from Lowrance have become notable for their user-friendly design compared to previous units. After carefully reviewing the HOOK² 5, we are happy to say that this is one of the top fish finders on the market. Not only does it feature advanced CHIRP sonar and excellent DownScan imaging, but this unit also has some serious versatility that can be useful to anglers everywhere. 
Of all the fish finder manufacturers on the market, Lowrance is considered to be on the side of the high-end units. Thankfully, this model has a fair price hovering around the $300-$400 range. This is a benefit to those who might be new to fishing or experienced anglers who want to get their hands on the HOOK² 5's quality features and easy-to-use design.
Pros
Easy to use
Inexpensive
Advanced CHIRP sonar capabilities
Excellent mapping
Plenty of features
Cons
No SideScan included
No touchscreen
No networking
Technical Specifications
| | |
| --- | --- |
| Max Depth | 500 ft. CHIRP, 300 ft. DownScan |
| Transducer | SplitShot and TripleShot |
| Frequency | CHIRP 200 kHz, DownScan 455/800 kHz |
| Screen Size | 5" |
| Resolution | 800x480 |
| GPS | Internal, High Precision |
| Max Waypoints | 3000 |
| Memory Card Slots | Micro SD |
Display and Interface 
You get a 5-inch display with the Lowrance HOOK² 5, and while the screen size may not be the biggest, it provides enough clarity and durability while you're out on the lake. The SolarMAX LED backlighting and 800H x 480W pixel screen resolution can produce clearer images during brighter light levels. 
Anglers can shift the viewing angle right or left or top to bottom at 50 or 70 degrees. The split screen view is something we're most pleased with as it allows you to see up to three panels at the same time. The interface itself is simple to use. You can easily access the menus using the small keyboard on the right side of the display screen. 
We admit that the small screen size may take some getting used to if you're accustomed to larger, more detailed display sizes. However, the HOOK² 5 has an IPX7 waterproof rating which is helpful for rainy conditions. 
The HOOK² 5 comes with a quick-release bracket and panel mounts which are useful for hands-off possibilities, but it, unfortunately, doesn't feature a sun cover. Another downside is that this unit doesn't come with any wireless connectivity possibilities or Ethernet ports, so you can't expand its use. The only connections available are for the power and transducer cables. However, it does come with a Micro SD slot for transferring data or extending the unit's software functionalities. 
CHIRP Sonar
The Lowrance HOOK² 5 comes with CHIRP sonar that can provide water depth readings up to 500 feet and 300 feet when using DownScan imaging. What's so great about the sonar is that the CHIRP uses a cone-shaped beam, while the 455/800 kHz frequency can take slices of images and reassemble them for your display. Unfortunately, you won't get much use out of SideScan as it isn't equipped with this particular Lowrance model. 
As we mentioned earlier, the transducer you purchase with this device may change some features. With the SplitShot transducer, you won't be able to get SideScan. However, with TripleShot, you should be able to access SideScan. There will be a price difference, but of course, that will only matter to you if you're looking to expand the scanning capabilities of your fish finder.
While the sonar power on the HOOK² 5 makes it much easier for the transducer to show clear images of what's happening beneath the lake, you're still limited to a 5-inch display screen. Yes, the display is small, and it might affect how you observe the fish finder's sonar readings, but the CHIRP still manages to be one of the best on the market.
Mapping 
The chart plotter that accompanies the Lowrance HOOK² 5 allows up to 3000 waypoints, 100 individual routes, and 10,000 points per track. With your purchase, you get a set of C-MAP charts for over 3000 U.S. lakes. The charts aren't always the most detailed, but they've proven to be quite accurate for most major waterways. 
The Lowrance HOOK² 5 is compatible with other charting systems. The C-MAP provides details for tides and currents, as well as safety depths, filters, and more. If you have the TripleShot transducer, you'll have access to C-MAP Genesis and Navionics. C-MAP Genesis allows you to create custom, high-definition maps from sonar data recorded from your fish finder sonar/GPS. Navionics gives you the advantage of using SonarChart Live to create maps based on your sonar readings in real-time.  
Since the unit is equipped with an internal GPS system, it can access WAAS, MSAS, and EGNOS satellites for updates. When it comes to GPS mapping, you can use the fish finder's Micro SD slot to upload maps of your own. You can set waypoint markers and save maps of specific lakes that you enjoy, making it more convenient the next time you want to take the boat out on the next fishing trip. 
Networking 
If you're hoping for a fish finder equipped with networking capabilities, the Lowrance HOOK² 5 isn't the model for you. This unit isn't compatible with Wi-Fi or Bluetooth features for those tech-savvy anglers who may be looking for more advanced fish finders. 
As we mentioned, there is no Ethernet port, but there is a Micro SD slot for additional maps and chart upgrades that you can purchase separately. This adds some more versatility for your fish finder when you hit new lakes to find more fish. 
Active Imaging 
What we truly love about the Lowrance HOOK² 5 is the overlay DownScan which allows you to receive clearer DownScan imaging. Why is that important? You get a better perspective of the fish and differentiate them from underwater structures or vegetation. 
Sadly, SideScan isn't a feature unless you go with the TripleShot transducer. Having that additional range can assist in identifying fish and determining what spots on the water are ripe for fishing. 
Other Features
Perks with this Lowrance model are the sonar recording settings. This feature allows you to record a sonar log and refer to it again later whenever you need it. This is beneficial for anglers that want to review specific spots, and you can save it to your memory or Micro SD card. 
If you have the TripleShot feature, you may use StructureMap as an alternative. You can overlay your SideScan sonar images onto your maps and receive clear images from under the shoreline. This feature will help any angler differentiate a submerged object from a fish. 
Conclusion 
As you can tell from our review, we're quite jazzed about the Lowrance HOOK² 5. While it features a smaller display screen, and you may have to upgrade to the TripleShot for side scanning capabilities, this particular unit comes with a lot of value. 
All the features, from the CHIRP sonar performance to the crisp, clear imaging capabilities, are notable standouts for the HOOK² 5. The unit does have its limitations, but compared to other fish finders, this device does its job and then some. Whether you're ice fishing or hitting the nearest lake, we believe this particular fish finder model has the right sonar power and features necessary for your next fishing trip.