HawkEye
FishTrax 1 Portable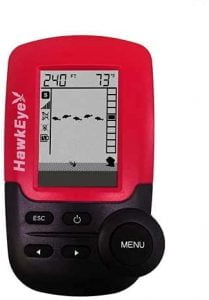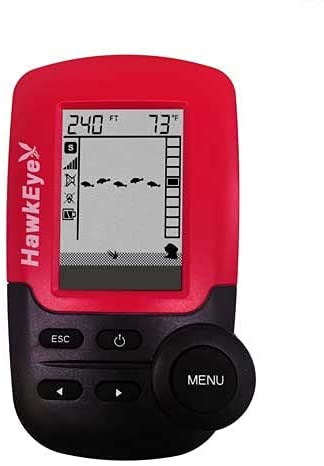 Best Price
3/5
Overall Rating
Imaging

Design

Quality

Price
Let's get something out of the way right now.  The HawkEye FishTrax 1 is one of the least expensive fish finders on the market. It will cost you less than $100. It's incredibly small – about the size of a Game Boy (for all you retro gamers out there). 
It finds fish. That's all it does. No maps, no high-tech imaging, no calling your life partner from your fish finder, no XM Satellite Radio. It's a fish finder – nothing else. 
Pros
It's incredibly inexpensive
Perfect for small setups
As you'll see in the technical specifications, this unit is not very powerful at all, but it's definitely serviceable - it has a fairly decent maximum depth for a unit of this size. During this review, we'll hint at who we think the FishTrax 1 was designed for - HawkEye is serving a few very real niches with this one.
One of the best things about the unit is its incredibly small size - you can use it in a kayak or another small vessel without any problems. It's also extremely portable. That means if you want to do some solo fishing in a new area, you're in luck - the FishTrax 1 is easy to set up, and easy to take with you wherever you go. 
Technical Specifications
| | |
| --- | --- |
| Max Depth | 240 ft |
| Transducer | FishTrax™ Intelligent Sonar |
| Frequency | 200 kHz |
| Screen | 2" x 1.6" backlit LCD |
Display and Interface
The display on this unit is unremarkable, though effective. It's quite small, so don't expect to share the display with a lot of other anglers – in most cases, this is a one or two-person fish finder.
HawkEye provides a decent amount of overlay information on the FishTrax 1 – at a glance, you can see the temperature of the water, the depth of the water column, your battery life, the sensitivity of the unit, and whether or not you have any active alarms. 
It's worth noting that the display is black and white only – this is not a unit with a color display. 
The interface is incredibly simple. You've got a menu button, arrows for navigating the menus, an exit button, and a power on/off button.
HawkEye can get away with such a simple interface because this is an incredibly simple fish finder. There aren't very many features at all, which makes setup a breeze.
The manual included with the unit can help you through navigation – it's not always intuitive. For example, simulation mode can only be started by holding the power button for three seconds while the unit is off. 
All in all, there isn't a lot to say about the interface or display because neither are that complicated. We'll talk more about the display in the sonar section because the way the FishTrax 1 displays sonar is pretty unusual. 
Sonar
Let's talk about the sonar on this unit – and, to be generous, let's call it the most unique sonar we've ever seen.
Here's how it works. You don't get a traditional sonar chart. You don't get to switch to flasher mode. You get icons.
There are icons to tell you if there are fish in the water. There are icons to tell you if there are rocks or other structure at the bottom. There are also icons to tell you if there are weeds at the bottom. 
Where are the fish located? There are no numbers hovering above the fish icons to indicate depth. Instead, the water column is split between 10 bars – you need to divide the depth you're fishing in by 10, then calculate where the fish are based on the bar the icons are located in. 
Here's an example: you're swimming in 100 feet of water. The fish are swimming in bar 4. 100/10 is 10, times 4 is 40 – that means the fish are swimming around forty feet deep.
That might take a bit of getting used to for seasoned pros, but it's probably quite nice for folks who are new to the world of fish finders.
One huge knock against the sonar on this thing – you can't manually zoom in. The unit auto finds and locks on bottom – no tinkering with the settings here. Again, that's great for new users who don't want to be bogged down in settings menus, but bordering on unacceptable for folks who know the power of custom zoom, split-screen, and other advanced sonar settings.
Mapping
There are no mapping features on this unit. 
Networking
There are no networking features on this unit. 
Imaging
There are no imaging features on this unit. 
Other Features
There aren't really a lot of other features we can talk about – again, the FishTrax 1 is incredibly simple. You can set alarms to go off when fish appear, which is always handy. You can also adjust the sensitivity for when you're fishing in shallow water – that can be pretty useful too. 
The Bottom Line
Who is the HawkEye FishTrax 1 designed for? In our estimation, it serves three niches:
People without a lot of cash to spend on fish finders who still want to improve their fishing game

People who are new to angling/fish finding

People who want an extremely portable device
If you find yourself in any one of these groups, or in two or more of them, then the FishTrax 1 might be for you. 
We will say that if you have a bit more cash to spend, and portability is your main concern, there are other devices that may better suit your needs: the FishTrax 1C is a good example of this, as is the Garmin STRIKER Cast. 
For those of you who want a very inexpensive, portable, and beginner-friendly fish finder, however, it's hard to beat the HawkEye FishTrax 1.