HawkEye
FishTrax 1C Color Handheld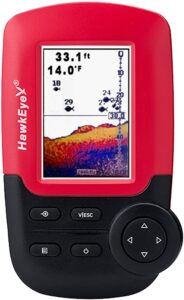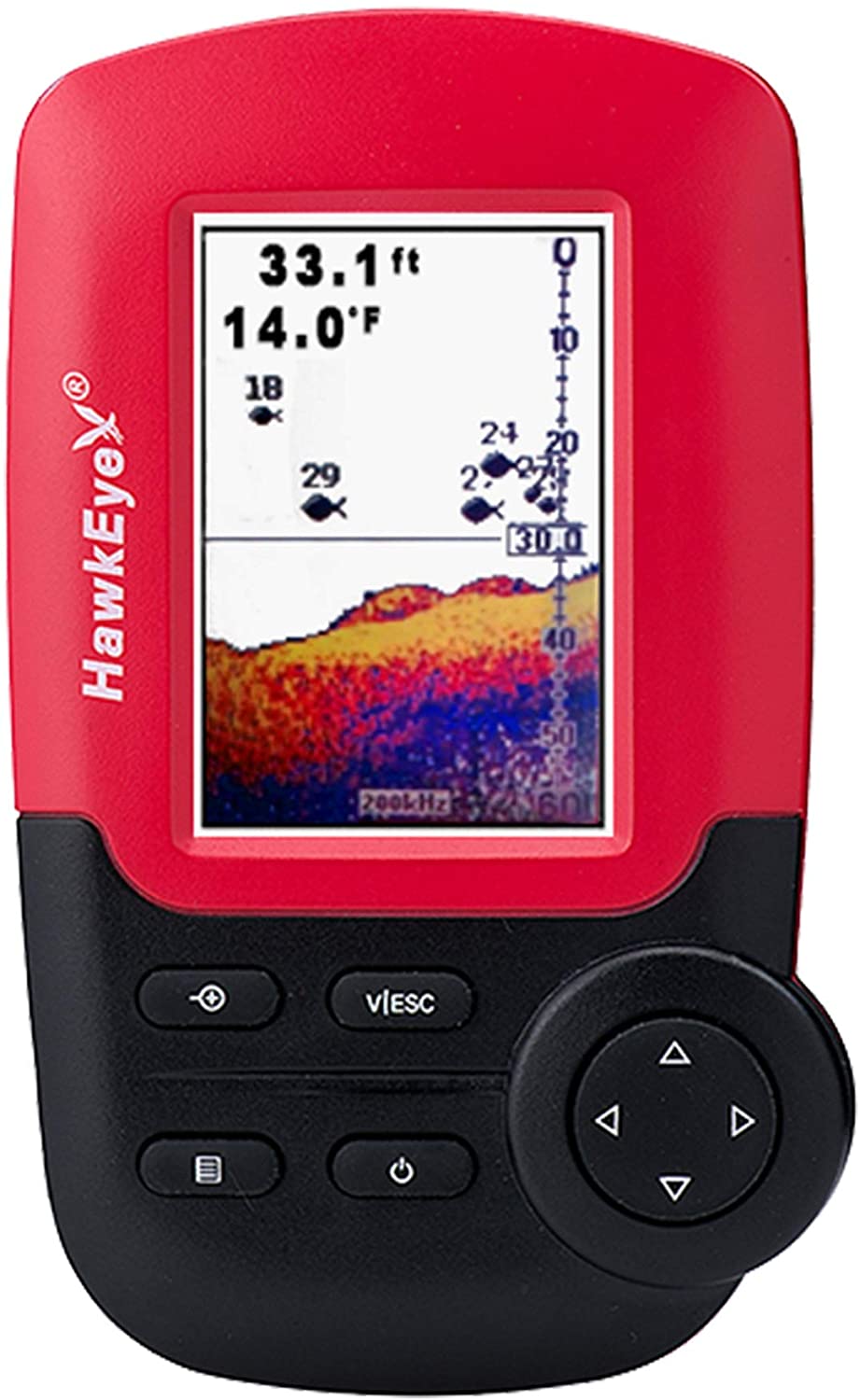 Best Price
4.7/5
Overall Rating
Imaging

Design

Quality

Price
The HawkEye FishTrax 1C Color Handheld (from here on simply called the FishTrax 1C) is a device that's a bit tricky to review.
Look, we love our tech here at Fish Finder Tech. We're big fans of feature-dense fish finder/chartplotter combos, capable of imaging, routeing, and a whole lot more.
The FishTrax 1C does none of these things. You're not getting CHIRP Sonar. You're not getting bells and whistles.
What you are getting is a simple device, about the size of a GameBoy. You can use it in almost any setup, from a large vessel to a kayak.
This thing finds fish. It does that well – not in any mind-blowing ways, not in any spectacularly innovative ways – but well…that's what you're getting – a portable fish finder.
Pros
It finds fish (and it's got a versatile transducer)
Technical Specifications
| | |
| --- | --- |
| Transducer | FishTrax™ Intelligent Sonar |
| Frequency | 83/200 kHz |
| Screen | High Definition |
| Screen Size | 2" x 1.6" |
Display & Interface
Now let's talk about the display. The screen is 3.2" diagonally, so don't expect to be able to share this device with other anglers easily. If you're far away, the device is a bit hard to read.
When you're close by, however, the display is pretty good. It's got LED backlighting and it's designed to be used in any weather condition. Light or dark, rain or shine, you can keep on fishing.
At a glance, you can see temperature readings and the overall depth of the water column you're in. You can also swap to Data Mode to get a better idea of how much battery life you have left. The unit will also display the sonar frequency you're currently using.
To our surprise, this unit even has a sort of split screen mode – you can display sonar charts for both the 83 kHz and 200 kHz frequencies simultaneously. We'll explain that in greater depth in the sonar section.
You can also swap to a couple of useful display modes. For beginner anglers, there's the FishTarget system. When the fish finder detects a fish, it replaces the sonar arch with a fish symbol. You can also choose between 3 background color schemes, and adjust the transparency of the data overlays.
The interface on this thing is nothing to write home about – but it's fine to write about for a fish finder review site.
There are 8 buttons:
Zoom/Enter
Frequency Select/Exit
Menu/Feature Setup
Power On/Off
4 Arrow Keys
That's it. As you can imagine, they've kept the menu options incredibly scarce on this device. To break it down for you, there are three modes:
Fish Finder Mode
Data Mode
Flasher Mode (known as Ice-Mode Digital Flasher in the manual)
Fish Finder Mode is a traditional sonar chart. Data Mode is a traditional sonar chart with a really big data overlay blocking most of the column. Flasher Mode looks like a flasher – perfect for ice fishing (though we recommend you get a case for the unit). You toggle between the modes using the left and right arrows.
Apart from that, there are a whopping 18 menu options split between 3 menus.
You will get the hang of this device very quickly. One of the virtues of being so uncomplicated is that it's incredibly easy to use. That makes this a wonderful beginner fish finder – it's not nearly as daunting as, say, a new SOLIX unit.
SONAR
We've talked a bit about the versatility of the FishTrax Intelligent Sonar transducer. It's a transom-mounted unit! It's a floating unit!
But versatility doesn't mean a lot if the transducer isn't good.
Fortunately, this transducer is good! Great? No. But it does have a couple of frequencies.
With the 83 kHz frequency, you get more depth. With the 200 kHz frequency, you get a narrower cone, and less depth, but a sharper, more accurate image. You'll want to toggle between the two frequencies – using the 83 kHz to find fish, and the 200 kHz to target them.
Now, there is, as we mentioned, a dual screen option. Practically, we didn't find a lot of use in splitting between 83 kHz and 200 kHz. They're both put to the best use in different scenarios. That said, no two anglers are alike, and if you like the two-frequency mode, use it.
The sonar chart comes with a lot of the standard options. You can zoom in on certain points of the water column. You can adjust the unit's depth. There are also a ton of different sensitivity modes, but we found the Auto sensitivity usually works fine. It also comes with adjustable noise rejection, and a depth cursor.
Simple, functional sonar. That's what you're getting.
Mapping
There are no mapping features.
Networking
There are no networking features.
Imaging
There are no imaging features.
Other Features
There are other features!
Mostly, alarms! There's an alarm to let you know when you're approaching shallow water. There's an alarm to alert you to the presence of fish – big fish, big and medium fish, or fish of any size.
There's also an alarm to let you know when you're running low on battery life. The unit uses 4 AAA batteries, and the alarm will let you know when you fall below a certain voltage.
A quick note on those AAA batteries – we recommend using rechargeable AAAs so you don't end up spending a fortune on batteries. After all, this is a budget fish finder – if you end up spending hundreds on batteries, you might as well get a higher-priced model!
The Bottom Line
For what it is – an extremely portable fish finder that's easy to use and easy to set up – the FishTrax 1C is fantastic.
This is a budget model. It's designed for people who have never used a fish finder before, and for people with small setups. If that's you, this is probably worth a buy! If you want bells and whistles, look elsewhere.