Trolling Motors
Watersnake
Asp Saltwater Trolling Motor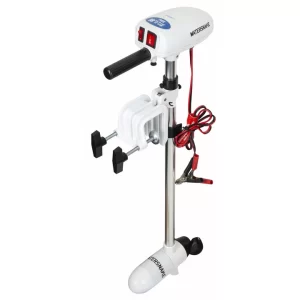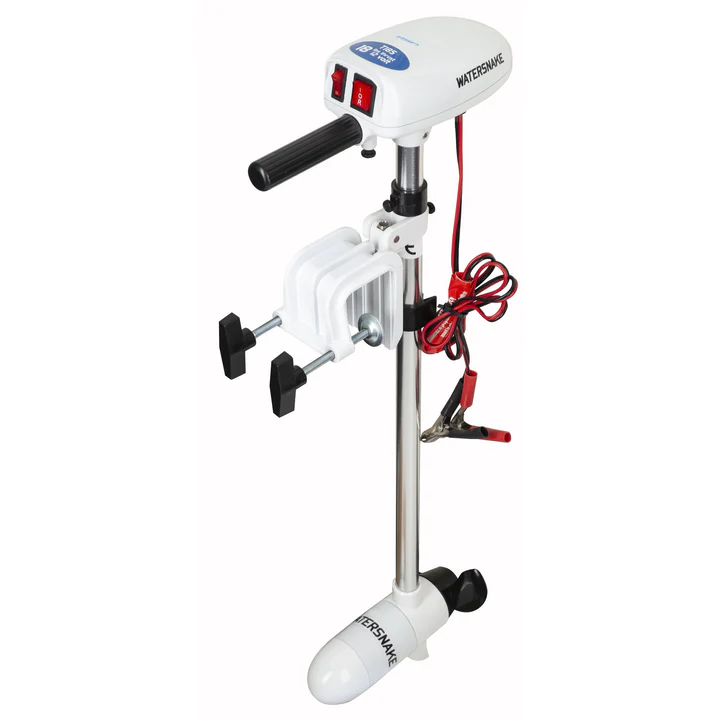 Best Price Amazon
4.4/5
Overall Rating
Thrust

Voltage

Battery Life

Speed

Noise Level
Looking for an affordable electric trolling motor for small vessels like inflatable boats and kayaks? Something that will help you catch more fish but won't break the bank? Something ultra-simple, designed for saltwater use?
The Watersnake Asp might be the perfect motor for you. There's not a lot going on here—a forward and reverse switch, a high-speed and low-speed switch, and a handle for turning the motor. A simple transom or kayak mount makes it easy to install.
The motor isn't perfect—we'll talk about a few of its flaws—but it is unbelievably affordable. Despite its low cost, it's fairly well constructed. We like it a lot!
Pros
Very inexpensive
Easy to install
Ultra lightweight
Fairly durable
Cons
Very few features
The depth collar is a little loose for our liking
Technical Specifications
| | |
| --- | --- |
| Water Compatibility | Saltwater |
| Thrust | 18 lbs / 24 lbs |
| Voltage | 12 V |
| Speed Control | 2-forward, 2-reverse (low/high) |
| Control Type | Hand-tiller |
| Mount Type | Transom/Kayak |
| Shaft Length | 24" |
| Shaft Material | Alloy |
| Propeller Type | 2-blade |
| Battery Capacity | Varies |
| Maximum Amp Draw | 15A / 20A |
| Warranty | 1-year |
| Spot Lock | No |
| Fish Finder Connectivity | No |
Installation
The Watersnake is an absolute breeze to assemble and install, and you'll be slithering out onto the water in no time flat—that is if you choose the transom mount (kayak mounting is a little more complex).
Transom Mounting Your Watersnake Asp
When you choose the transom mount style, you'll get an assembly that many anglers are familiar with—clamps that you tighten onto your transom. Clamp it in, swivel it down to ensure you've got enough clearance, bring it back up, then wire it to a 12 V deep-cycle marine battery (using a 50 Amp circuit breaker is highly recommended).
Kayak Mounting Your Watersnake Asp
The kayak mount is a bit more complex—you'll have to find a sturdy spot on your kayak and drill holes to install the mounting bracket. You want to ensure that there's enough clearance so that you can still paddle your kayak, all while being able to access the motor with ease. Be sure to use high-quality marine-grade sealant on any holes you drill. 
To help you install your Watersnake using the kayak mounting bracket, check out this CKW Outdoors video. It's a bit long, and he makes a couple of mistakes along the way, but he covers a lot of the dos and don'ts of installing a trolling motor on your kayak.
Our Final Thoughts on Installation
One of the things we like the most about the Watersnake Asp is just how darn lightweight the thing is. The 24 lbs model weighs about 10 lbs, with the 18 lbs weighing something more like 8 lbs. That means installation can be a one-person job—perfect for solo adventurers. We found setting these motors up was easy as pie—and with only 12 V required, there are no complex battery configurations you need to rig.
The 24 lbs model comes with a tilting metal bracket to help you adjust your motor—buyers should be warned that the 18 lbs model does not have a tilting metal bracket (which we consider a big miss). The depth adjustment collar is easy to use, and you can quickly get your motor to exactly where you want it in the water—though it is looser than we'd like (more on that later).
Aside from the 18 lbs model missing a tilting bracket, we're really impressed with how easy the Watersnake Asp is to install.
Using the Trolling Motor
The Watersnake Asp is ultra-simple—a switch for low and high speeds and another to toggle between forward, off, and reverse. There's a hand-tiller you can use to steer left and right—and that's all!
There are advantages and disadvantages to such a simple motor. On the one hand, it's almost impossible to mess up when operating this thing—there are no bells and whistles to speak of.
On the other hand, it can get a little awkward; you have to turn to face the motor anytime you want to toggle speeds or change from forward to reverse (or vice versa). There are also only two speeds on this thing—low and high. That might mean "too slow and too fast".
Those of you who are handy with electronics can solve both of these problems with a little tinkering. We'd encourage you to take some recommendations from Everyday Fishkeeping:
Use a pulse-width modulator to control the amount of power your motor receives, giving you variable speed.

Install a forward-reverse switch for the motor at the front of your boat or another convenient location.
Another modification that Everyday Fishkeeping makes is to install a screw to secure the depth adjustment collar. We love this modification.
The depth adjustment collar, you see, is a real problem—it tends to move, which you absolutely do not want when you're out on the water. By modifying it, you can tighten it to lock it in place—something we highly recommend. 
The power on this motor is more than enough to keep kayaks, canoes, and other small boats moving at quite a decent pace—even if you pick the 18 lbs thrust model. You know your boat, its weight, and how quickly you like to troll—adjust your purchase accordingly!
Comparable Trolling Motors
Minn Kota Riptide:

This is another hand-controlled transom-mounted saltwater trolling motor by the venerable Minn Kota. With the Riptide, you get a few more features, variable speeds, a better warranty, and a more powerful motor with a longer shaft. The downside? These models are heavier, and they tend to be quite a bit pricier.

Newport Kayak:

This motor by Newport is probably the most one-to-one comparison with the Watersnake—at least in terms of price. They're both electric trolling motors built for small boats—the Newport Kayak, however, offers much more thrust (though it's much heavier). We

really

like the Kayak—it's got more speeds and a better warranty—but its weight can be a huge factor for some anglers.
What Sets the Watersnake Asp Saltwater Apart
There are two factors that really set the Watersnake apart: Its price and its weight (it's easy to install, too, but most transom-mounted trolling motors are).
Price:

This is by far one of the least expensive saltwater electric trolling motors on the market. Despite its low price, the construction is solid (aside from the depth collar), and it's easy to use—perfect for anyone wanting to troll for fish in kayaks, canoes, or inflatable boats.

Weight

: Watersnake Motors has designed an incredibly lightweight device in the Asp—this is the lightest electric outboard motor we've ever used.
Other Features
There are really no other features to speak of on this motor—no bells and whistles is a plus for us. It has a high and low speed and a forward and reverse switch, along with a handle for steering—what more do you need? 
Conclusion
We like the Watersnake Asp trolling motor—it's incredibly lightweight, the transom mount clamp makes it easy to install, and wow, is it ever affordable—you can buy this thing for less than a fancy dinner for two!
There are problems, though. The loose depth collar can lead to some wobbling, and you need to face the motor to adjust its speed or toggle between forward and reverse.
That aside, this is the ideal trolling motor for kayakers and other anglers with small vessels—people who are looking for a saltwater motor without breaking the bank. A simple two-blade motor with a durable shaft—sometimes, that's all you need, and if that sounds like you, then the Watersnake Asp might be the perfect motor.
FAQ
How long does the battery last on a single charge?
The motor doesn't come with a battery, so this depends on a number of different factors:
The type of battery you're using

The speed and frequency at which you use the motor

The weather conditions when you use your motor

And more
You can expect a max 20 A draw from the 24 lbs thrust model at its top speed. With a 20 Ah battery, you can expect the motor to last 1 hour—simple enough!
What type of battery is recommended for use with this trolling motor?
You'll need a deep cycle battery to operate your Watersnake Asp—the company specifically warns against using lithium batteries. Deep cycle marine batteries are easy enough to come by—we recommend one with 12 V and 20 Ah to 40 Ah. 
Does the trolling motor come with a mounting kit, or is it sold separately?
The Asp comes with a mounting bracket—a transom clamp mount or a kayak-mounting bracket. These mounting brackets are pretty easy to use, though you'll need to do a bit of extra drilling to mount the device to your kayak. 
How does the trolling motor perform in windy or choppy conditions?
Fairly well, though keep in mind that these motors have limited thrust—18 lbs or 24 lbs isn't a lot in still water, let alone in chop. 
Can the Watersnake Asp Saltwater Trolling Motor be used in freshwater?
We wouldn't recommend it.