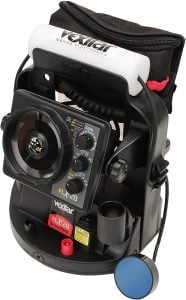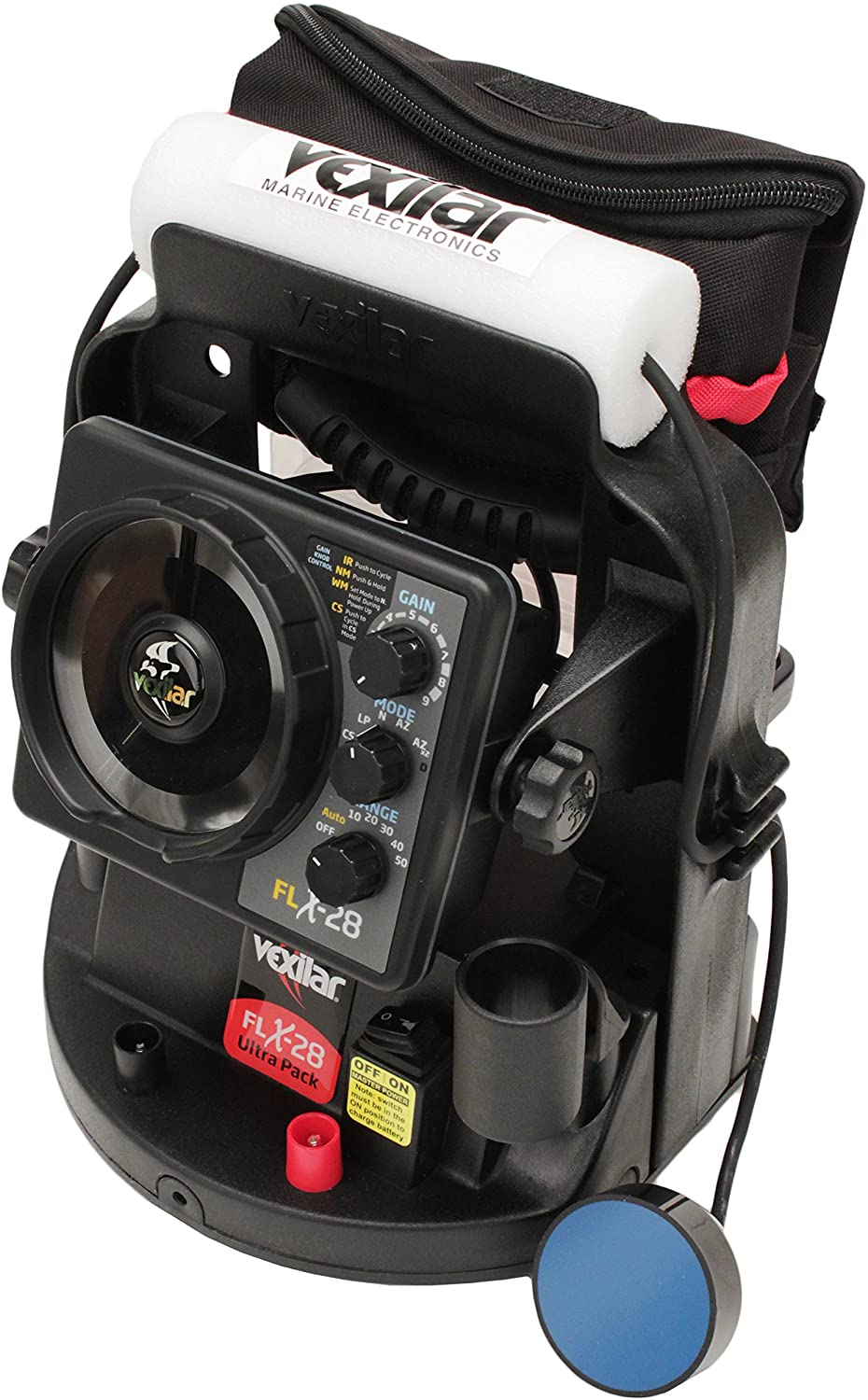 Best Price
4.7/5
Overall Rating
Imaging

Design

Quality

Price
We noticed it's getting a bit chilly out, so we figured it was about time to review our favourite flasher. Vexilar has long been a favourite of ice fishers everywhere; they perfected the design on simple, three-colour flasher technology decades ago and a lot of companies have followed their lead when it comes to innovation. We're always cheering for Vexilar because they're one of the smaller marine technology companies out there and they always find a way to punch way above their weight, with others prone to follow where they lead. The FLX-28 is no exception; this product has been on the market for a few years now, and it's still, without a doubt, one of the best fish finders you can get if you're an ice fishing enthusiast.
Pros
Super Bright Display
1/2" Target Separation
Auto Range
Auto Zoom
Weed Fishing Mode
Low Power Mode
6' and 12' Split Screen
Fantastic Interference Rejection
Technical Specifications
Designing fish finders for ice fishing is a tough business but it's a business that Vexilar does well; we chalk that up to their being based in Minnesota. The company doesn't bother with some of the bells and whistles you might see on other ice flashers - you won't find any maps here, no contour tracing, no way to wirelessly connect your phone. What you'll find instead, is a straightforward flasher with excellent technology in it - a great transducer, and a few knobs that you can twist and turn to get your settings to exactly where they need to be.
| | |
| --- | --- |
| Max Depth | 300 ft. |
| Transducer | Pro-View |
| Frequency | 200 kHz |
Display & Interface
The FLX-28 has what can only be described as a fantastic display – for a flasher. We mention that because we want to be absolutely clear that you shouldn't purchase this with an expectation that you'll get down imaging or any sort of life-like graphics. What you do get is a clear flasher with very bright LED lights.
That's not to say that Vexilar hasn't innovated with their flashers. Far removed from their original FL-8, the FLX-28 offers a flat screen flasher, which means you can see the display clearly from a number of different viewing angles. That's perfect if you're fishing with a few of your buddies.
One of the nicest features on the FLX-28 is the variety of colour palettes you can use. This isn't just an aesthetic change on a device that uses colours to guide your fishing – it's incredibly functional. The first colour palette is your standard Vexilar green-yellow-red flasher system, where green means a weak return and red means a strong return. The next palette eliminates the green, perfect if you're getting a lot of weak signals from the bottom late at night. The third mode adds white to distinguish large targets, while the fourth mode adds blue in order to see very small targets – especially useful if you're using very small bait. The fifth mode is for people with colour deficiency who would otherwise not be able to use the standard GYR flasher. We're huge fans of this system – it's an incredibly innovative way of working within the confines of the display to bring you substantially more information and customizability.
Another nifty feature on the device is the night mode. The LEDs on this thing are really bright, and if you're fishing in low light or dark conditions, they can be pretty blinding. Night mode dims the lights – it's as simple as that, but it's saved us a lot of headaches.
The last display feature we want to talk about is the digital range display. Inside the perimeter of the flasher, you'll find a clear digital read-out of what depth you're in. Pretty handy!
Now let's talk about the interface. There are no touch screens on this thing nor keypad navigation – Vexilar opted for a minimal approach, putting their resources into some of the features we'll describe below. What you get instead is three knobs – one for gain, one for what mode you're in (more on that later), and one for range. Every feature in the system can be accessed by adjusting or pushing on these knobs and the unit itself describes how to access each of the features on the left side of the knobs. The controls might seem a little unintuitive at first, but they're easy to get the hang of and Vexilar has an easy to follow operations video.
Features
There are a lot of features on this thing – don't let its simple appearance deceive you. Without a doubt, the best of all of them is the auto range feature. This is the most plug-and-play flasher we've used; you just put the transducer in the water, set the gain low, turn the range knob to Auto, and the FLX-28 does the rest. You'll know exactly how much water you're in and you'll get a clear display of the activity in the water on the flasher.
When you're using the automatic mode, the system will automatically detect the level of interference rejection you need. That works very well 99% of the time, but for the times it doesn't, you can adjust the interference rejection yourself.
The FLX-28 also has an Auto Zoom mode with two different settings – 6 foot and 12 foot. The Auto Zoom splits the flasher in half – on the right hand side, you're seeing everything that's happening in the water, while on the left hand side, you get the bottom 6 or 12 feet, depending on which mode you selected. This is insanely useful when you're fishing in deep water because when you're down 200 feet, most of the information you'd see in the normal view mode isn't useful. We think finding a way to make a split screen on a flasher is pretty innovative, and we're tickled with what Vexilar has done here.
Not wanting to leave shallow water anglers behind, Vexilar also created a low power mode for the device to reduce interference from the transducer as well as to conserve battery life. Low power mode with little gain will only display pretty large targets so it's really good for shallow water – in deep water, however, it means you probably won't find bottom.
The final feature worth mentioning here is the weed mode, made for when you're fishing in the weeds. This mode adjusts how the sonar works so that it doesn't clog your flasher with readings from the weeds themselves; instead, you just get to see the fish swimming among them.
Transducer
Let's talk for a moment about the Pro-View transducer. Ice fishing transducers tend to have less range than their non-ice cousins for a number of reasons. Despite this, the Pro-View still comes with a 300 foot range. There are a couple of other transducers on the market that have slightly more range for ice fishing, but the Pro-View is fantastic for almost any ice fishing scenario.
The transducer's crystal is made out of barium titanate, which Vexilar chose for its cold-resistant properties. You can expect to get years of use out of the transducer as long as you take good care of it. The crystal is also quite large which is what gives the FLX-28 its wide range of gain options. Finally, it's got the Ice-Ducer float which is what keeps everything upright in the water.
It's worth noting that some of the other ice transducers on the market have CHIRP sonar while the FLX-28 does not. This honestly isn't a huge knock against the system because the adjustable gain compensates for some of the clarity offered by CHIRP – but we would, without a doubt, love to see what Vexilar could do with CHIRP.
Packs
The FLX-28 comes with either the Pro Pack or the Ultra Pack. Both packs come with a digital depth display – not so useful for the FLX-28, which already has this feature, but great if you ever want to bring a different Vexilar flasher for a spin.
Both come with handy spots for holding your transducer (and its wires), as well as tackle boxes and a rod holder. The real advantage of the Ultra Pack over the Pro Pack is that the battery is enclosed and it has a master on/off switch while the Pro Pack's battery is exposed and must be disconnected in order to avoid drainage.
There are a couple of aesthetic differences, too. We personally like the Pro Pack just fine; we don't find the exposed battery too inconvenient. That said, if you like the design of the Ultra, it's not that much more expensive.
The Bottom Line
This is definitely one of the best flashers on the market. Instead of opting for aesthetic bells and whistles, Vexilar focused on creating a highly functional automatic mode and an incredibly durable transducer along with its handy functions like the different colour displays and the weed mode. For those who love flashers, you probably won't find a better one on the market than this one.