Trolling Motors
Minn Kota
PowerDrive V2 55 Trolling Motor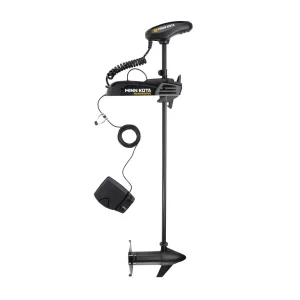 Best Price Amazon
3.2/5
Overall Rating
Thrust

Voltage

Battery Life

Speed

Noise Level
Want a bow-mounted trolling motor with no bells, no whistles, and solid construction—all at a good price?
The Minn Kota PowerDrive might be for you. While this isn't the best trolling motor we've ever used—or the best one Minn Kota has ever made—it strikes a great balance between features and price. You'll get an efficient, fairly powerful motor with excellent battery life.
There are problems—it's bulky, it's noisy, and it can only be used with a foot pedal—so we don't use it on many of our adventures. With that said, there's no perfect trolling motor for everyone, but there is a perfect trolling motor for your needs—and for some of you, the PowerDrive might just be the ticket.
Pros
Solid Construction
Powerful Motor
Relatively Simple Installation
Great Warranty
Made by the venerable Minn Kota
Easy-to-use foot pedal
Excellent battery life
Cons
Noisy
Heavy
Somewhat limited features compared to Minn Kota's other models
Operation is limited to foot pedal (no i-Pilot on this model)
Technical Specifications
| | |
| --- | --- |
| Water Compatibility | Freshwater and Saltwater |
| Thrust | 55 lb |
| Voltage | 12 V |
| Speed Control | Variable speed |
| Control Type | Foot steer |
| Mount Type | Bow mount |
| Shaft Length | 45" / 50" / 60" |
| Shaft Material | Composite |
| Propeller Type | Dual-blade propeller |
| Maximum Amp Draw | 50A |
| Warranty | 2-year |
| Spot Lock | No |
| Fish Finder Connectivity | No |
Installation
We know that a lot of our readers are visual learners—we've got the installation resources to help you get this motor mounted. Minn Kota created a PowerDrive installation tutorial that we highly recommend you watch.
You should also read the PowerDrive installation manuals.
For a bow-mounted motor, the Minn Kota PowerDrive is fairly easy to install, but it's still more complicated than installing, say, a transom-mounted motor. You'll need a few tools to install it, including:
A #2 and #3 Phillips head screwdriver

An impact drill

A 9/32 drill bit

A 7/16 box end wrench

Anti-seize lubrication

Marine-grade silicone sealant

A mounting plate (we recommend Minn Kota's

Quick-Release Mounting Bracket MKA-16-03

for ease of installation)
This motor is heavy—having a friend to help you install it is a very good idea. Those of you who have never installed a motor before should consider asking a sporting or marine shop to help you with installation; even though it's relatively easy to install, we don't want you damaging your boat.
Installing the quick-release mounting bracket
There are two plates on the quick-release bracket:
The base plate, which mounts to the bow of the boat

The top plate, which mounts to the motor
The process is super simple—remove the side plates from your Minn Kota PowerDrive using your #3 Phillips head, place the top plate of the quick-release bracket below your motor, then finger-tighten and drill everything into place. 
Your motor needs enough clearance so that the drive housing doesn't hit the bracket when it's deployed—otherwise, it won't lock into place. Match the inward-most hole in the trolling motor with the furthest hole in the bracket to avoid this.
There are 6 holes in the mounting bracket and a bunch of holes in the base plate of the motor—only four holes will line up properly. Don't panic—those four holes are all you need! 
Installing the bracket to the bow of your boat
Here are three clearance tips to avoid some common problems with where your Minn Kota PowerDrive is positioned on the bow of your boat:
Make sure the motor doesn't obstruct the movement of your bow roller.

Check to see if any sockets or other parts of your bow would obstruct the movement of the motor when the bracket is released.

Keep the motor within the gunwale of your boat to avoid posts and other hazards when docking.
Again, installation here is easy—you'll position your bracket, mark your holes, drill them (ensuring there are no obstructions or wires in the way before drilling), put some marine-grade sealant in the holes, put anti-seize on your screws and washers, and install your bracket and motor.
The marine-grade sealant isn't strictly necessary here—the bow rarely gets wet enough to affect the installation—but we like to play it safe.
From here, you've just got to follow the instructions to install the prop (it's really easy) and wire the motor to the battery. Use a 50 amp circuit breaker, and opt for a 12-volt deep cycle marine battery with an amp hour rating of at least 105.
Final thoughts on installation
The hardest part of installing this motor is moving it around—it's heavy and cumbersome, two things that forced us to dock points. You may find it difficult to maneuver even when it's on your boat —and we're going to talk about that in the next section. 
Using the Trolling Motor
There are a ton of different Minn Kota PowerDrive models on the market. The one we've opted to review today is the simplest among them. No i-Pilot. No Dual Spectrum Chirp with Universal Sonar adapter. 
We'll talk more about why we recommended this no-bells-and-whistles model in the next couple of sections, but one of the reasons we like it is its simplicity. 
You operate the Minn Kota PowerDrive with a foot pedal: Steer left by pressing on the left side of the foot pedal, and steer right by pressing on the right side. Want to go backwards? Steer left or right until the motor does a 180°. 
To get the motor moving, you press down on a switch at the heel end of the foot pedal—to turn it off, you take pressure off the switch. You can also switch the motor to constant mode. There's a dial for speed on the side of the motor.
All in all, we like the way the foot pedal works. We're a little more accustomed to the heel-toe style (this one involves rocking your foot from side to side), but we found steering easy enough to get used to. 
There's no i-Pilot in the model we're recommending, and that means no remote control for steering—but we think it's worth it for the lower price. You might not feel the lack of remote anyway—the waterproof cord on this thing is 18', which lets you steer it from pretty much anywhere on the boat (though we recommend not going too far).
This trolling motor isn't all sunshine and rainbows, though—even with its great electric foot pedal. We've mentioned how heavy it is—even with the deploy-assist lever, you might find it hard to stow and deploy. When it comes to removing it from the quick-release bracket to avoid, say, theft—you're in for a bit of a haul.
Finally, we're in this business to catch fish—a lot of fish. Loud motors are always a problem for us—we don't want to scare the catch of the day away. While Minn Kota advertises the motor and its Power Prop as offering "cool, quiet power", we've used similar motors that make less noise—and scare away fewer fish. 
Comparable trolling motors
 

Minn Kota Terrova:

Another bow-mounted trolling motor in Minn Kota's line, the Terrova is basically the PowerDrive on steroids. More shaft lengths, Spot-Lock + Jog, great fish finder compatibility, and i-Pilot included—all with the great Weedless Wedge prop. The Terrova is why we don't recommend the i-Pilot version of the PowerDrive—if you're going to pay the extra, you might as well go all the way and buy the Terrova.

Haswing Cayman Black & White:

These bow-mounted trolling motors by Cayman are quite similar to the PowerDrive, with 55 lbs of power, foot pedal steerings, and few bells and whistles. The Cayman models are generally less expensive than the Minn Kota, but the warranty is worse—and the construction may be a little less sturdy. 
What Sets the Minn Kota PowerDrive V2 55 Apart From Comparable Motors
There are a few key features that might make the PowerDrive the right trolling motor for you: 
The Digital Maximizer™:

A fancy way of saying that the PowerDrive offers great battery life and stable battery usage.
Relatively low cost:

Compared to Minn Kota's other bow-mounted trolling motors—and indeed, compared to most bow-mounted trolling motors—the PowerDrive is quite affordable when you choose this model, stripped of bells and whistles.
Excellent warranties:

The motor itself has a warranty of two years. The "Indestructible Composite Shaft" is guaranteed for life. That's Minn Kota for you—they know how to build sturdy stuff. 
Other Features
We've intentionally reviewed a model stripped of bells and whistles. The push-to-test battery meter is the only thing we haven't included in the review—it's great! The display makes checking your battery life easy and helps ensure you'll never get stranded out on the water. 
Conclusion
The Minn Kota PowerDrive isn't the best bow-mounted trolling motor, but it does offer an excellent balance between two things we love: Great construction and a great price. For anyone who is looking for a simple, affordable bow-mounted trolling motor from a brand they can trust, the PowerDrive is an excellent choice. 
FAQ
Is the PowerDrive V2 a bow mount or transom-mount motor?
The PowerDrive is a bow-mounted motor—a bit trickier to install than a transom-mounted motor, but well worth the extra effort.
How quiet is the PowerDrive V2?
Not the quietest—but not the loudest, either. The dual-blade design limits noise to a certain degree, but it's still loud enough that it might scare some fish away. 
Does PowerDrive V2 offer integration with onboard fish finders?
The model that we're presenting here does not integrate with onboard fish finders. For fish finder integration, we'd recommend moving up a step to a model like the Terrova. 
What is the difference between PowerDrive V2 and other Minn Kota lines?
Compared to Riptide or Terrova models, the PowerDrive is less expensive but less feature-dense, lacking handy tools like Spot-Lock.
What propeller material does it use?
The propeller is made of a composite plastic material—this makes it more portable than metal props and more resistant to the elements. 
Is the PowerDrive V2 recommended for pontoons or larger boats?
The PowerDrive is great for pontoons and many other boats—with 55 lbs of thrust, it can move a boat weighing up to 2500 pounds and up to 21' feet long with ease. Any bigger, and you'll want a model with more thrust.