Trolling Motors
Newport Vessels
L-Series Transom Mount Electric Trolling Motor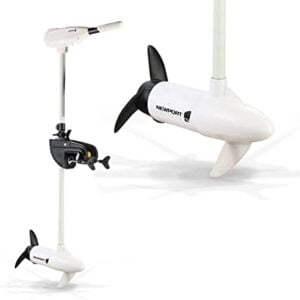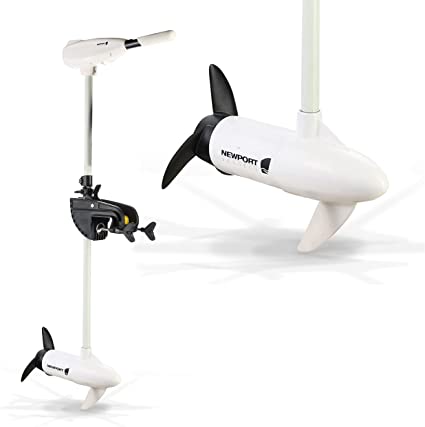 Best Price Amazon
4.2/5
Overall Rating
Thrust

Voltage

Battery Life

Speed

Noise Level
Newport isn't one of the most well-known motor manufacturers on the market (that title would probably go to Minn Kota or Evinrude), but it's impressed us with its affordable, easy-to-install, well-constructed motors.
That's why we've created this Newport Vessels L-Series review. We're reviewing the two transom-mounted trolling motors in the L-Series; one with a thrust of 62 lbs, the other with a thrust of 86 lbs. Both of these motors offer some improvements over other Newport Vessels motors. The long shaft and extendable handle make the L-Series motors easy to control, and installation is a breeze.
This isn't the most feature-filled motor you'll find on the market, but if you're looking for a solid, powerful, but quiet trolling motor at an incredible price, the L-Series might be for you. 
Pros
Lightweight
Inexpensive
Durable shaft
Quite powerful
Simple installation
Cons
Few features
Less durable than some transom-mounted trolling motors
With an adjustable handle for hand-steering, great construction, and excellent power for the cost, there are a lot of reasons to love this trolling motor. Let's get right into the technical specs!
Technical Specifications
Water Compatibility
Freshwater, saltwater, and brackish
Thrust
62 lbs
86 lbs
Voltage
12 V (62 lbs)
24 V (86 lbs)
Speed Control
5 forward
3 reverse
Control Type
Hand-steer
Mount Type
Transom
Shaft Length
40"
Shaft Material
Fiberglass
Propeller Type
3 Blade (large)
Battery Capacity
Variable (50+ Ah recommended)
Maximum Amp Draw
58A (62 lbs)
48A (86 lbs)
Warranty
2-year limited warranty
Spot Lock
No
Fish Finder Connectivity
None
Installation
Installing an L-Series Transom Motor is a relatively straightforward process. Newport Vessels has included a transom mount on these motors; you simply line up the transom screws with the spot where you want to place the motor, then loosely tighten them (you may need to loosen them first so that you can place them on the transom).
Before you do that, however, Newport Vessels recommends you wire the circuit breaker and install the propeller. While doing both of these things is simple enough, Newport Vessels has a guide dedicated to helping you install the propeller and circuit breaker. We highly recommend reading it.
With all of this setup, you can get out into the water, press the Tilt Lever, then slowly tilt the motor into the water. Once the motor is in the water, with the shaft fully vertical, you can use the Depth Adjuster Collar; aim to have the motor sitting at 6" to 12" below the waterline.
Once the motor is at a suitable depth, and you don't risk hitting any obstacles with it, you can fully tighten the transom screws. From there, you can connect the transom to your 12 V or 24 V battery setup (depending on your motor's thrust).
With that, you can start using the trolling motor! 
Using the Trolling Motor
Whether you get the 62 lbs model or the 86 lbs model, when you turn on the motor, this thing goes. 
Turn the telescopic adjustable handle clockwise to go forward (there are three forward settings), and turn it counterclockwise (There are two backward settings) to go backward. Even on the lowest of its 3 forward settings, you can expect quite a bit of kick from the motor on an appropriately sized vessel. The top speed on either model is extremely impressive for the cost.
Remember to always stop your motor before moving from forward to reverse, especially when moving between the max speeds on either. Aside from the mechanical wear and tear and potential propeller damage, you'll also give your boat quite a shake, and you might lose control.
One thing we love about this trolling motor is how easy it is to adjust. You can increase or decrease steering tension on the fly, and the telescoping handle is easy to extend and retract. Great for when you have a few different people who want to use the motor, and handy to find the settings that make you most comfortable without spending too much time out of the water.
Comparable Trolling Motors
Minn Kota Traxxas Series
One of the closest analogies to the L-Series is the Traxxas series by Minn Kota. It's another transom-mounted, hand-steered trolling motor, and it comes in 70 lbs and 80 lbs thrust models. What we like about the Traxxas models is that they have a few extra features (like a quick-lock depth adjuster), and they're built more solidly (the shaft has a lifetime warranty from Minn Kota).
The downside of the Traxxas series? It's much more expensive. Additionally, the 70 lbs thrust model requires a 24 V battery, while you only need a 12 V for Newport Vessel's 62 lbs L-Series motor. Finally, it's freshwater only, putting it at a serious disadvantage. 
Haswing 65 Lbs
The 65 lbs thrust Haswing is very similar to the 62 lbs L-Series motor; it uses a 12 V battery, it's transom-mounted, and it can be used in fresh and saltwater. The motor is incredibly lightweight (lighter than the L-Series), and it has a tiller that tilts 180°.
Our biggest gripe with the Haswing is that it's quite loud—compared to the quiet L-Series, it's night and day. We hate scaring fish, so silence is golden in our books. The construction also seems a bit less solid to us, and the motor is a tad pricier. 
MotorGuide R5 Series
The R5 series is very similar to the Traxxas series—it's transom-mounted and hand-steered, but freshwater only. This series also operates on 24 V batteries and comes in 70 and 80 lbs thrust models (with a 105 lbs thrust model available at 36 V). The aluminum and steel construction make this quite a durable motor.
The downsides? The R5 series is pretty heavy and, as we mentioned, can only be used in freshwater. 
What Sets the Newport Vessels L-Series Apart
There are really four features that set the L-Series apart: Power, noise levels, affordability, and ease of installation.
When it comes to power, the L-Series is very impressive. To find an engine with 62 or 86 lbs thrust at this price point is next to impossible, but Newport Vessels got it done. We think you'll be really impressed with this thing; it's got a lot of kick on an appropriately sized vessel.
Next, the noise levels. Compared to similar models, we've found this motor to be deathly quiet. Our website is dedicated to helping anglers catch more fish; when you scare them away with your motor, it's a problem. At 6" to 12" below the surface of the water, this isn't going to disturb too many fish, and you'll be able to enjoy a quiet day full of fishing.
The ease of installation of the Newport Vessels L-Series motors is a huge benefit. Securing your motor to your transom is as easy as tightening some screws, and the Tilt Lever system and the Depth Collar are a breeze to use. 
Finally, the price of the unit is almost impossible to beat; so far as we've found, this is the highest quality transom-mounted trolling motor available at its price point. Don't let Newport Vessel's lack of fame fool you; this is a high-quality, low-cost product. 
Other Features
Three words: Battery Meter Reading.
On top of the motor, right by the motor controls, you'll find a meter that tells you how much battery life you have left. When you've got 10 bars, you're fully charged. At 3 bars or less, however, the motor is drawing fewer than 9.5 V from the battery. At that point, it's best to turn off and disconnect the motor.
This feature makes it exceedingly easy to check battery life, something many motors are lacking. The position of the meter makes it easy to read while you're operating the motor; we're big fans of this relatively simple feature. 
Conclusion
We absolutely love this freshwater and saltwater trolling motor. You can use it out on the lake or on the ocean. The unit is relatively lightweight and incredibly easy to assemble and install. It offers the ideal balance between quality construction and price, and it's ghostly quiet. It's also incredibly powerful for the price.
When we use this on a fishing boat, it always works great, and we never find ourselves scaring off fish. If you're trying to decide on a good motor for your fishing boat and you don't want to spend a lot of money, we highly recommend the Newport Vessels L-Series. In terms of power, noise, and ease of installation, this is the best trolling motor for the price on the market.
FAQ
How long does the battery last on a single charge?
The motor doesn't come with a battery, so this depends on a number of different factors:
The type of battery you're using

The speed and frequency at which you use the motor

The weather conditions when you use your motor

And more
With a 58A (62 lbs) and 48A (86 lbs) amp draw, you can expect the 62 lbs motor to last for a little less than an hour with a 50 Ah battery, and the 86 lbs motor to last for about an hour. Remember, however, that you'll want to charge your battery as soon as it hits less than 9.5 V (3 bars on the battery meter).
Another important thing to keep in mind is the type of battery you'll want to use. We'll answer this in the next question of the FAQ, but remember that this motor operates on deep-cycle batteries, not regular lithium batteries. 
What type of battery is recommended for use with this trolling motor?
Newport Vessels recommends deep cycle batteries for its motors; you'll need a 12 V battery for the 62 lbs motor and a 24 V for the 86 lbs motor. It recommends batteries with a rating of at least 50 Ah.
It's very difficult to find an actual 24 V marine battery (and they're quite a bit more expensive); in practice, you'll almost always need to wire two 12 V batteries together in order to get the voltage you need. Be sure to choose two batteries of the same make and model so that you don't run into any issues.
Newport Vessels sells batteries that are built to be compatible with its motors; you can find cheaper batteries elsewhere (check Walmart), but if you want to be 100% sure of compatibility, that's a good place to start. 
Does the trolling motor come with a mounting kit, or is it sold separately?
We wouldn't describe what the trolling motor comes with as a kit; it's basically a clamp with screws that you can tighten onto your transom. That's what makes the motor so easy to install; just clamp, tighten, and tilt, and the whole thing is mounted.
So far, we haven't had any problems with this system. The mounting system is stable even at max speed and in adverse weather conditions. 
How does the trolling motor perform in windy or choppy conditions?
We've had, essentially, no problems with the motor in windy and choppy conditions. A lot of this has to do with pairing the right motor to the right fishing boat; if your boat is too big, you'll find that problems with movement are exacerbated by chop.
The one warning we'll give you is that even the slowest forward setting on these motors draws a lot of power. In windy, choppy, and stormy conditions, the motor can drain your battery very quickly. Keep that in mind, and stay safe out there!