Trolling Motors
Minn Kota Endura C2 Transom-Mount Trolling Motor Review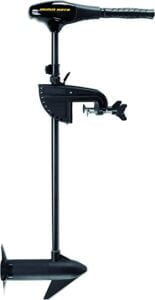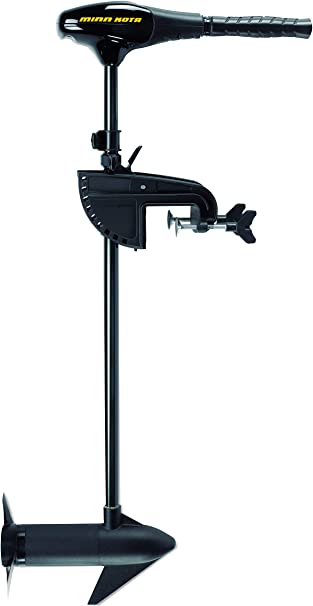 Best Price
4.4/5
Overall Rating
Thrust

Voltage

Battery Life

Speed

Noise Level
When you're out to catch the big one, the last thing you want is for the fish to know you're coming. And that's exactly why trolling motors exist: To give you the upper hand and help you propel yourself through the water quietly and with precision.
Since the invention of the first electric trolling motor in 1934, fishers around the globe have been taking advantage of the stealth and ease of these little power sources. Trolling motors are typically mounted in either the bow of a boat or on its transom (stern) and are battery-powered to reduce noise. They generally range between about 0.5-2 horsepower.
Minn Kota (parent company Johnson Outdoors) was founded by O.G. Schmidt shortly after he invented the first trolling motor near the Minnesota/North Dakota border (thus the name Minn Kota). Nearing its 90th year in business, the brand is dominant in the world of trolling motors and offers a wide selection of cutting-edge products for boats of all types and sizes.
One of Minn Kota's most popular small boat trolling motors is the Endura C2, a favorite with those who enjoy fishing from a canoe or kayak, or small fishing boat. Below, we'll take an in-depth look at the pros, cons, specs, and features of the latest Endura C2 models and finish off with some frequently asked questions. By the end, you should have a good sense of whether or not the Endura C2 may be the right trolling motor for you.
Let's dive in!
Pros
User Friendly
Adjustable Speed Settings
Durable and Powerful for Its Size
Quiet Power
Affordable
Cons
Freshwater Only
Not Necessarily Suitable for Larger Boats
Limited Passengers
Lacking Advanced Features
Technical Specifications
Water Compatibility
Freshwater only
Thrust
Maximum thrust 30-55 lbs. depending on the model
Voltage
12 volt
Speed Control
5 forward speeds, 3 reverse speeds
Control Type
Hand
Mount Type
Transom mount
Shaft Length
30", 36", 42"
Shaft Material
indestructible composite shaft
Propeller Type
Power prop (includes washer, nut, and prop pin)
Battery Capacity
110AH recommended
Maximum Amp Draw
30-52 amps/hour, depending on the model
Warranty
Limited lifetime warranty on composite shaft
limited two-year warranty on entire product
Spot Lock
No
Fish Finder Connectivity
No
Installation
Before installing the Endura C2, it's important to make sure that you've selected the right model for your boat. Consider the weight of your boat, the number of passengers you'll regularly be carrying, and the speed you hope the boat will travel at. When purchasing an Endura C2, you can opt for any one of 5 different thrusts (30-55 lbs.) and 3 different shaft lengths (30"-42"). Keep in mind that you should estimate at least 2 lbs. of thrust for every 100 lbs. of boat weight (more in rough water).
Congratulations! You've decided on the Endura C2 model with the right specifications for your needs, and you're ready to install it. What next?
Fortunately, the Endura C2 is relatively simple and straightforward to install, but do keep in mind that it's a transom-mount trolling motor intended for freshwater usage. (It should never be mounted in the bow or used in saltwater.)
Follow the manufacturer's instructions in determining where to mount the Endura C2 so that it's properly submerged for trolling, and install the lever lock bracket accordingly. Wiring the motor to a single 12-volt deep cycle marine battery is the final step, and then you're ready for action.
Using the Trolling Motor
Using the Endura C2 is simple and several features add to the comfort of the experience. First of all, it's easy to turn on and control the speed settings and direction of travel from the tiller with just a rotation of your wrist (there are 5 forward speeds and 3 reverse speeds). Secondly, the telescoping tiller allows for comfortable steering from a standing or seated position for boat drivers of any height. Thirdly, the lever lock bracket has 10 different positions and 180-degree rotation capabilities. Its quick release allows you to conveniently remove and reattach the motor as necessary.
Though the battery should last several hours if the Endura C2 is used according to specifications, it's never a bad idea to have a spare battery available in case of unforeseen circumstances. In addition, the battery should be recharged after every fishing trip.
Comparable Trolling Motors
Goplus Electric Trolling Motor for Freshwater
The Goplus electric trolling motor for freshwater is another budget-friendly option for small watercraft. It's similar to the Endura C2 in many regards, but doesn't come with indestructible composite shaft technology. It does, however, come with a battery indicator and reinforced nylon mounting bracket. The Goplus Electric Trolling Motor operates using a 24-volt battery.
Watersnake Asp Saltwater Transom-Mount Trolling Motor
Lightweight and affordable, this 24 lb. thrust motor is perfect for saltwater trolling in a kayak, canoe, or small boat. Like the Endura C2, it operates on a 12-volt battery and could be a great option for fishermen wanting to get out into brackish water or saltwater on a regular basis (not an option with the Endura C2).
What Sets the Minn Kota Endura C2 Apart
When you purchase a trolling motor, you've got a wide selection of brands and models to choose from. So, what specifically sets the Minn Kota Endura C2 apart from the competition? In our opinion, there are three main features to highlight. Let's take a look:
Indestructible Shaft –

The Endura C2's composite shaft is exclusive to Minn Kota. It's stronger than steel yet more flexible, making it extremely resistant to breakage or corrosion. The indestructible shaft also comes with a lifetime warranty.

Power Prop –

If you encounter weed beds or other vegetation, the Endura C2's power prop will increase power to get you through the thick of it. This is a standout feature for fishers who enjoy maneuvering to within easy reach of exactly where the fish are hiding.

Lightweight –

If you own a smaller boat, you don't want to be burdened with a heavy, cumbersome motor. The Endura C2 is light to load, install, and remove as needed. It provides flexibility for your changing needs out on the water or in transit.
Other Features
In addition to the highlights above, the Endura C2 also has several other features that make it a great choice for trolling. These include:
Telescoping Tiller –

Makes for comfortable steering from a variety of positions

Lever Lock Bracket –

10 different positions allow you to control the angle of your propeller with ease.

Variable Transmission –

5 forward and 3 backward speed settings make for proactive and precise handling.

Quiet, Energy-Efficient Motor –

The Endura C2 is designed to reduce friction and decrease noise. The fish will never even know you're coming!
Conclusion
To conclude, the Minn Kota Endura C2 is a solid trolling motor option for fishermen looking to up their game without breaking the bank. Minn Kota's reputation for excellence is upheld in the overall function of the Endura C2 and in standout features like its indestructible composite shaft, power prop, and quiet, energy-efficient design. If you're seeking a lightweight yet reliable trolling motor that's easy to install and offers you superior control on the water, the Endura C2 may be the perfect choice!
FAQ
Who makes the Endura C2?
The Endura C2 is manufactured by Minn Kota (parent company Johnson Outdoors). Minn Kota is a well-established brand in the trolling motor industry that has been around since 1934.
Who is the Endura C2 designed for?
The Endura C2 is ideal for boating and fishing enthusiasts who want to add a bit of speed to their smaller boat without breaking the bank. If you enjoy quiet fishing from a kayak, canoe, or small fishing boat and want a motor that will reliably get you to and from all your favorite spots, the Endura C2 could be a great fit.
What is the diameter of the propeller?
The Minn Kota Endura C2 propeller measures 9.2" across.
Is there a battery indicator for the Minn Kota Endura C2 electric trolling motor?
The standard Minn Kota Endura C2 doesn't come with a battery indicator, but an exclusive model sold only by Bass Pro Shops and Cabela's does have one included. You can also purchase a Minn Kota battery meter that will allow you to keep tabs on the state of charge of any 12-volt battery.
Do I need to install a circuit breaker when I wire my C2 electric trolling motor?
Putting a circuit breaker on the positive wire is recommended best practice to prevent damage to your trolling motor in case of a power surge or wet/crossed wires.
How long are the leads to connect to the battery?
The leads are 60" long. If you require longer leads, ensure you take the proper American wire gauge (AWG) into consideration.
What is the overall weight of the Minn Kota C2 electric trolling motor?
The Minn Kota Endura C2 electric trolling motor weighs about 15.4 lbs. It's one of the lighter trolling motors in its class.