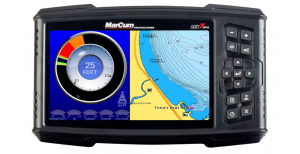 Best Price
4.7/5
Overall Rating
Imaging

Design

Quality

Price
We love ice fishing, and we love sonar/GPS combo units, so you'd better believe we were excited to get our hands on MarCum's new MX-7GPSLI. MarCum is one of the biggest names in ice fishing tech, along with its rival, Vexilar. And while other companies, like Humminbird, have come up with ice fishing fish finder/GPS combos, we were really excited to see what MarCum could come up with.
Aside from a few fumbles, we were not disappointed.
And it's no surprise there were some fumbles – this is MarCum's first foray into the world of sonar/GPS combos. Those faults aside, if you're looking for a powerful GPS unit that can help you ice fish with minimal interference and next-to-no lag, the MX-7GPSLI is for you.
A quick note before we start: the LI here stands for Lithium, and if you buy this unit you'll get a Lithium Shuttle with the fish finder. You can find versions without the Lithium Shuttle, but if you're on the ice for as long as we are, you're going to want it.
Pros
Fantastic sonar
Excellent interference rejection
Lagless, bright display
Great display options
Minimal setup
Cons
Subpar mapping out of the box
Takes a while to learn to navigate
Screen is smaller than the LX-7
Only one operating frequency
Technical Specifications
| | |
| --- | --- |
| Max Depth | 300 ft |
| Transducer | Dual Beam 8/20 Degree Ice Transducer |
| Frequency | 200 khz |
| Screen | LCD |
| Screen Size | 7" |
| Resolution | 800 x 480 pixels |
| GPS | Internal, High Precision |
| Memory Card Slots | Micro SD |
Display and Interface
Don't let the MX-7s relatively small screen size fool you – this unit has an excellent display. There are four things that make it great: the speed, the display options, the zoom options, and the luminance.
First, the speed. The time between an echo reaching the transducer and the change to your screen's display is less than .02 seconds. That's almost as fast as the human eye can see. This means that you'll be able to react to even the fastest moving fish – screen lag will never be an issue with this model.
Next, the display options. The classic options are all here: you can change the background display color, and try out different color palettes for the various sonar displays. You can also change how space is allocated between the GPS and sonar functions.
What really makes the display options shine is the variety of different sonar displays you can use. You can go old school with the flasher option. You can choose a vertical display. You can opt for a real time chart view. These display options allow ice fishers to switch things up based on preference and circumstance.
The zoom option, which you can use with both the vertical and chart displays, allows you to focus on one particular portion of the water column – great for getting unnecessary distractions out of sight, and for making the most out of the 7" display.
Finally, the luminance provides up to 1000 nits of light. That brightness means you can use the MX-7 in pretty much any condition – whether the sun is shining right on you, or you're fishing in the dead of night, you'll be able to read the display at a glance.
When it comes to the interface – it's nothing special. You navigate using a touchpad . We prefer touchscreen/touchpad combos, but those do tend to add to the price of a unit. Navigating the various screens can be challenging on a first run, so we recommend reading the manual if this is your first time using a MarCum unit.
Keys include a waypoint marker, zoom keys, and a key for adjusting sensitivity, another for adjusting interference rejection, as well as the menu and navigation keys.
On the plus side, the MX-7 takes virtually no setup, so you may not ever need to use the interface. It's as plug-and-play as it gets – connect the power, deploy the transducer, and you're ready to fish.
Sonar
Those of you who have used fish finders with a million different frequencies may wonder why we're so excited about a single frequency sonar. You cannot adjust this sonar – 200 kHz is all you're getting. No imaging. No CHIRP. So why do we love it?
It's made for ice fishing.
There's virtually no latency – when an echo gets received by the transducer, that information is transmitted to (and processed by) the display with incredible speed. There are also 12 different steps of interference rejection on this thing, so you'll be able to cut through the noise and find those fish.
You can use both 20° and 8° cones with the transducer – both use the same 200 kHz frequency. That means depth penetration is the same with either cone, so you'll be using the 20° most of the time. The 8° is mostly used when you want to eliminate distractions or when you're fishing steep breaks.
The best part about the transducer is that it offers ½" target separation. That's excellent precision for an ice fishing transducer. There's a lot that can mess up your sonar below the ice, and we appreciate the work MarCum continues to put in to offer anglers great accuracy.
Features
There are 3 features that we want to talk about – 2 of them are wonderful, and one is definitely lacking.
The first is the unit's depth finding. There are three options for depth finding: manual, automatic, and dynamic.
The manual option is for when you know exactly how deep the water column goes. You can choose ranges from 0, 20, 40, 60, 80, 120, 180, 240, and 300 feet.
The auto depth finder uses the transducer to determine the depth of the column you're fishing. The ranges of depth it displays are the same as in manual mode.
But our favorite option is the Dynamic option, which only displays the column you're fishing. That means it's not displaying in 20 foot increments – the column is accurate down to the foot. That maximizes the utility of the 7" screen, because you're never displaying more than what you're fishing.
The second "feature" is more of a trait – the construction of the unit. While we haven't had it for a very long time, it seems built to last. The Lithium Shuttle means the unit can last for about 36 hours of continuous use – more than even the most insomniac ice fishers will ever need.
The transducer's cord is reinforced with Kevlar. The case is well-constructed, and the unit seems like it could take a beating and keep on ticking. We haven't gone out of our way to abuse it, but you can feel the quality.
Now for what's lacking. This is a GPS unit – that means you can create routes and waypoints. On that front, the unit's perfectly serviceable – comparable to GPS units created by companies like Garmin.
The problem is the lack of onboard maps. The Basemap that comes with the unit doesn't even provide contours. In order to get new contour maps (or, as we love to do, create contour maps ourselves) you need to buy the Navionics+ card – which is sold separately.
We wish they'd just bundled it into the box. Yes, the price would have increased slightly – but it feels bad to buy a GPS unit out of the box and find yourself unable to create contour maps, something that's default in pretty much every other combination GPS/fish finder.
Conclusion
For a first go at a GPS/ice fish finder, MarCum has done an excellent job. Their ice transducer remains one of the best in the business, and the speedy, accurate, clear display is a boon.
The lack of sophisticated mapping options without a Navionics+ card is a real downer, however. We feel like if you're going to pair GPS with your iceducer, you should go all the way to avoid disappointing anglers who expected a more feature-dense product.
All in all, however, the high-quality construction, Lithium battery, and excellent ice transducer make this a great buy for anglers who want a fish finder/GPS combo they can use on the ice.