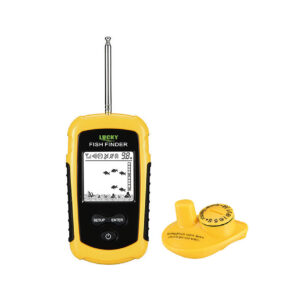 3.88/5
Overall Rating
Imaging

Design

Quality

Price
Lucky is one of the smaller fish finder manufacturers on the market and carved a niche by making simple, portable, and beginner-friendly models. Its products generally come with few bells and whistles—and that means they tend to be very affordable.
The FF1108-T is its most affordable model. Part of Lucky's "Iconic Display" line of products, it's one of the most affordable fish finders we've ever seen. 
We've changed our usual technical specs section for the Lucky FF1108-T. Our reasoning is simple: This unit doesn't have imaging, mapping, networking, or other features. You'll use it to find fish
—
and that's all.
As such, we've laid out the information we believe is most relevant to the folks who are likely to buy this unit
—
people who are looking for a portable fish finder. The FF1108-T is small and portable. While it doesn't come with an internal battery, you can rig it up to be rechargeable
—
more on that later. 
This is an extremely simple unit
—
at an unbelievable price. 
Pros
The most affordable fish finder we know of
Extremely portable
Cons
Black and white display
It finds fish - but it doesn't do much else
Technical Specifications
| | |
| --- | --- |
| Max Depth | 328 Ft |
| Transducer | Sonar |
| Frequency | 200 kHz |
| Transmit Power | N/A |
| Screen | N/A |
| Screen Size | 2.4 in |
| Backlit | Yes |
| Imaging | Black and white |
| GPS | N/A |
| Max Waypoints | N/A |
| Memory Card Slots | N/A |
Display and Interface
Let's start with the display. It's quite small—no surprise, given the size of the unit. With a screen that's 2.4" in size, this is a fish finder built for individual anglers, not groups. The FF1108-T features a black-and-white screen, though a color model is available (the FF1108-C). As we'll soon discuss, the FF1108-T doesn't actually have a traditional sonar chart, so the lack of colorways doesn't sting as much as it might otherwise.
As far as the interface goes—well, there's not too much to talk about! The device is incredibly simple, and navigation takes place with only three buttons: Setup, Enter, and Power. Despite this simplicity, the sonar actually has more options than some other portable sonars on the market.
Navigation of the settings works like this: You hold the setup button, then the Sensitivity icon will start to flash. From here, you can press the Setup button to move to any of your settings. There are four settings on the Lucky FF1108-T:
Sensitivity (5 levels)

Battery Save On/Off

Fish Alarm On/Off

Backlight On/Off
Press the Setup button to move from setting to setting, and press and hold the Enter button to toggle a setting (or through the setting's options). Pretty straightforward!
As far as different modes go—there aren't any. You boot the unit up, and it starts scanning for fish. Indicators will tell you how much battery life you have left. Simple stuff.
That brings us to an interesting question: How do you use the unit? This model uses a transducer that attaches directly to the fish finder via a cord. You'll plug the transducer into the Lucky FF1108-T. Above the transducer (along the cord), you'll see a float. That float needs to be about 8"-9" away from the transducer for it to work properly. Once everything's connected, you just drop the transducer and float into the water, and start fishing!
The unit is powered by 4 AAA batteries. We recommend using rechargeable AAA batteries—they'll save you a lot of money in the long run if you plan on using your FF1108-T regularly on your fishing expeditions. 
Sonar
We've made it pretty clear that the Lucky FF1108-T does one thing, and one thing only: Helps you find fish. We're happy to report that, while it doesn't have a fraction of the features that most modern fish finders offer, it does have a decent sonar system.
Emphasis on decent—certainly not exciting, and nowhere near the top of the line, but functional. The transducer emits a 200 kHz frequency that offers a depth of up to ~330 feet. That's incredibly impressive for a fish finder at this price point.
Is it CHIRP sonar? No. Does the unit offer imaging? Absolutely not. Again, this is a unit focused on portability and price—and considering how well Lucky has managed on both those fronts, we're amazed that we're getting 330 feet of depth.
There's only one sonar display option: Fish icons. On your display, you'll see a depth meter—below it, there will be a bunch of little boxes forming a rectangle. To the left of that rectangle, you'll see a bunch of blank space—or, if you're lucky, a few fish icons! You'll also see weeds and rocks toward the bottom.
A few things to know about the sonar interface:
If the water column is more than 100 meters deep, you won't get a depth reading.

Measurements are in meters, so you may need to translate from metric to imperial.

The squares forming the rectangle on the right-hand side represent the total depth divided by 10. They're used as a visual queue to tell you where fish are in the water column.

The icons move from right to left in time, not space

—

fish furthest to the right are those that were detected by the fish finder long ago, while those to the left were only recently detected. The icons move every 5 seconds.
While there are a number of features we would love to have, like traditional sonar charts, we're relatively happy with how the unit performed—and delighted, given the price point. The Lucky FF1108-T can also be used for ice fishing—though there is no flasher mode. There are also five levels of sensitivity—and we really appreciate adjustable sensitivity in our fish finders. 
Other Features
There's a fish alarm! You can set it to beep when the unit detects fish. There's a power-saving mode! You can turn the backlight on for low-light conditions!
That's…really it. Hopefully, you weren't fishing for too many features with this unit.
The Bottom Line
The Lucky FF1108-T is incredibly inexpensive, it's highly portable, and it has a decent sonar system. This is the type of unit that you can go shore fishing, kayak fishing, and ice fishing with. Best of all, if something happens to it, you won't have to cry about losing it—it really is that affordable.
There are other portable fish finders that do more. They have more powerful sonars or even (gasp) color screens. None of them, though, are as affordable as the FF1108-T—and that's why it ranks among our top portable fish finders in 2022.