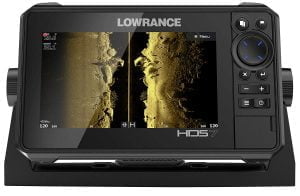 Best Price
4.7/5
Overall Rating
Imaging

Design

Quality

Price
Lowrance, the much revered fish finding innovator, is back again with the newest line of their well loved HDS series. The new models have a lot to like, from easy-to-use interfaces, gorgeous, high resolution displays, compatibility with some of those most ingenious transducers on the market, and loads of features. The HDS-7 LIVE is the smallest of the bunch, but that doesn't mean it's not packing an incredible punch; this finder is perfect for anglers who might be low on space, but want the highest end technology.
Pros
Waterproof
Dual Channel CHIRP Sonar
Active Imaging 3in1
LiveSight Compatible
Great Resolution
Fast (Dual Core Processor)
Clear, Bright, Backlit Display
Top of the Line Networking (Wireless, Bluetooth)
8 GB Internal Storage
High Precision Internal GPS
Works in Salt/Fresh/Brackish Water, Deep or Shallow
EasytoAdjust Gimbal Mount
Loaded with Features
Cons
A bit less range than comparable fish finders
A bit pricey (it's for enthusiasts)
Technical Specifications
The HDS-7 LIVE is a pretty remarkable fish finder; they've packed a lot of features into its smaller size. We recommend purchasing it with the Active Imaging 3-in-1 transducer, and there are other transducers you can purchase as well (we'll take a look at those in a later section). Assuming you get the 3-in-1 transducer along with it, the specs for your HDS-7 Live will look like this:
Max Depth
1,000 ft.
Transducer
Active Imaging 3-in-1
Frequency
Medium and High CHIRP 83/200kHz + 455/800kHz
Screen
HD LED
Screen Size
7"
Resolution
1024 x 600 pixels
Backlit
Yes
Imaging
150 ft. Down/Per Side (800 kHz)
300 ft. Down/Per Side (455 kHz)
GPS
Internal, High-Precision
Max Waypoints
3,000 (100 routes, 100 tracks/10,000 points)
Memory Card Slots
2 Micro SD
Display and Interface
Back in the day, fish finder displays were terrible; they looked like those old Game and Watch games, fish appearing as 8 bit blips on a colour-deficient, badly lit screen. Assuming that's the worst it ever got, Lowrance's HDS Live series may be the opposite as it's the pinnacle of display and interface among high-end fish finders. Even with its 7 inch screen, the HDS-7 remains a marvel.
The screen on this thing – wow! The technology behind it is SolarMAX, and what you get is a truly high definition fish finding experience that's going to pair really well with some of the features we're gonna describe in subsequent sections. As you can imagine, the screen is incredibly customizable – it's easy to adjust the contrast, brightness, colour, zoom, and more. That means it's easier to find fish. As well, you can adjust these settings on the fly, so no matter what time of day it is, you'll be able to read the screen with ease.
We've discovered that this finder can be used in all kinds of conditions – we're talking foggy, rainy, dark, whenever. That's in part because of the qualities of the screen. It's sharp images also mean you can look at it from a ton of different angles and still read it clearly. The other nice thing is something that's become relatively standard in new generation fish finders, the backlit display. Backlighting is what lets you use the fish finder no matter what the weather is without glare, and the HDS-7 has a good one.
Size matters, and the HDS-7 has exactly what's promised – a 7 inch display. There's no doubt that this type of display is a compromise of sorts as a larger display is always nice, but not all setups can accommodate a 16" screen. The 7 still manages to display images clearly and crisply, all while fitting into smaller setups.
7" isn't a ton of space, but it is enough to allow us a split screen. That means you can view multiple different views simultaneously in combination. For instance, you might use a contour map along with SideScan, or any other duo you may like.
The screen is fantastic (as you just read), but what really blew us away about the HDS series is the innovative interface. Fish finder interfaces are not known to be user friendly. There's a lot to learn when you're using one for your first time and it can take some time to get all your settings figured out. Most fish finders don't make this any easier with their navigation as it's usually all keypad, which can present quite a learning curve.
The HDS LIVE series is different. They use a combination of keypad and touchscreen, which is really smart. We've all experienced touchscreens that weren't working properly because they got wet, especially out on the water so having a keypad backup alleviates this trouble. Navigation is a breeze too and right away, you're greeted with a number of different views you can select from, with easy-to-read icons.
Finding a fish finder this user-friendly is really rare. We wish finders at a lower price point had interfaces this easy to navigate because it might get more anglers into the fish finding game. The UX designers at Lowrance clearly looked at successful Android and Apple tablets to get inspiration, then adapted the best of that world to suit the specific needs of anglers out on the water. The HDS series has what we consider to be the best interface on the market, and we can't recommend you try it out enough. We hope other manufacturers will follow Lowrance's lead on this one.
CHIRP Sonar
The origins of sonar, like so many amazing technologies are based in military technologies. These technologies are exclusively, and quite secretly, used by the military for years. Once the military has developed something better and the costs of the tech have gone down, the technology trickles down to us, the people, the anglers. When we got sonar, we thought it was the best the military had to offer but it turned out they had something better – Compressed High Intensity Radiated Pulse (CHIRP) sonar.
So what's the difference between regular sonar and CHIRP? Well, regular sonar emits a ping at a particular frequency – let's say 200 kHz. CHIRP, on the other hand, emits a sweeping range of frequencies, for example, a 140-200 kHz range. The extended range has a lot of advantages for anglers. First, you get better target separation; more wavelengths means more information, and more information means more accuracy. Second, CHIRP can be used to see objects closer to your boat, and in many cases, farther from your boat!
Here's something you should know about sonar: the frequency of the ping you're sending out affects what you can see in very predictable ways. The lower the frequency, the more depth penetration and range you'll get, but the less clear the objects will be. The Active Imaging 3-in-1 transducer allows for some incredibly low frequency sonar, which is what allows you to get up to 1000 feet of depth. The CHIRP element means that you'll get more accuracy than you would with non-CHIRP sonar with the same lowest frequency.
Mapping
You're looking into fish finders with a GPS – if you weren't, you wouldn't have made it this far in the review (if we're wrong, shoot us an email). Here's the big question: why are you doing that? Why not just get a GPS and a fish finder separately? There could be a couple of reasons like cost or size. The biggest reason that stands out to us, though, is that chart plotter/fish finder combos do things that you couldn't do with a fish finder and a GPS alone.
One of the things that your HDS-7 LIVE can do is chart depth contours, bottom hardness, vegetation, and more as you move about the water. This is accomplished through C-Map Genesis Live, technology that uses your transducer and GPS in tandem in order to create contour maps so accurate, you can get contours spaced as little as one foot apart. As C-Map reports on their website, a lot of maps use government data and just guess to fill in the blanks. With your HDS-7 LIVE, you create the maps yourself – something that appeals to our sense of adventure and something we think will appeal to yours, too.
One of the coolest things about Genesis Live is that you can upload your map to their SocialMaps site. This means you can benefit from maps other users have created, and that other users, in turn, can benefit from the fruits of your explorations. There has always been a social element to fishing, and this takes it to the next level – go on there now and zoom into your area, and we can almost guarantee there are lakes that have been mapped. If there isn't, well hey – you've got the opportunity to be the first!
Genesis Live is amazing for new, uncharted territory, but you may find you want some maps that are premade until you've created your own. The HDS-7 comes with a map containing thousands of US inland lakes and if that doesn't float your boat (excuse my pun), then there are a number of other maps you can purchase from C-Map; just insert them into the Micro SD slot and away you go.
There are a number of other potential mapping features depending on how you set up your bridge.The networking options in this series are pretty incredible. We'll talk about some of the devices you can use to improve your mapping experience in the next section.
Networking
In modern fish finders, great networking capabilities are a must. Not only does good networking allow you to connect fish finder to fish finder, it can also allow you to connect to your PC, your laptop, or even your phone. The HDS series is no slouch when it comes to networking; in fact, it's one of the only fish finders on the market to have wireless networking and Bluetooth capabilities. That leads to some pretty cool features.
One of the features this enables is something we like a lot – notifications on your smartphone. Let's say you're out on the water, and you're feeling a bit sleepy – you start dozing off. All of the sudden, your phone vibrates in your pocket. It's the HDS Live, and it's telling you that fish that are the size you're looking for are swimming near your boat. Just like that, you're able to catch fish that you might have missed otherwise.
This connectivity is great if you have some other compatible devices, too. You can, for example, hook your HDS-7 LIVE up with your MotorGuide Xi5 Trolling Motor so you can guide your boat to exactly where you want to be.
NMEA2000 compatibility means that the HDS-7 can hook up with a lot of different marine technologies so you get an accurate picture of what's going on in the water around you.
All of this connectivity through wireless puts the networking of this device ahead of its competition. We hope more finders will come with this kind of networking standard in the future.
Active Imaging
The Active Imaging 3-in-1 transducer comes with three ways of finding fish: CHIRP Sonar, which we already discussed, SideScan, and DownScan. Imaging technology is really interesting, and we highly recommend you try it out if you haven't yet.
We've already talked about how different frequencies affect the clarity and accuracy of how objects are interpreted by your transducer. Using 800 kHz, Active Imaging allows your HDS-7 to actually display very clear images on your screen. You will be able to see trees, boats, and other structures beneath the water, giving you an excellent idea of where the best fishing spots are.
There are two forms of imaging: Down and Side. Using the 800 kHz option, you get 150 feet per side and down, which is more than enough to accurately scout out your surroundings in most cases. When that doesn't do, you can switch to 455 kHz. The images at the lower frequency won't be quite as accurate, but it's still really clear, and you get 300 feet per side and down.
Other Features
We mentioned at the beginning of this article that the HDS-7 is jam-packed with features, and we meant it. Transducer compatibility is one of them, and we're especially excited about Lowrance's new LiveSight technology. LiveSight lets you literally watch fish react to your bait in real time; it's the closest we've come to having an underwater video camera attached to your fish finder.
Another nifty Lowrance transducer that this finder is compatible with is the StructureScan 3D. StructureScan is pretty nifty because it renders your view in 3D so you have a better idea of where fish and structures are in relation to your boat.
The feature we're most excited about on the HDS-7 has got to be FishReveal. The advantage of DownScan is that it's excellent at rendering structure; it does not excel, on the other hand, at rendering fish. For a long time, anglers have had to use split screen functionality to use their CHIRP Sonar on one screen and their DownScan on the other to get a complete picture of the water. FishReveal combines the two on one screen, using the CHIRP rendering of fish and overlaying it on the DownScan , so you know exactly where the fish are in relation to you.
That means if you have a StructureScan transducer, you can have FishReveal DownScan on one screen and the StructureScan on the other screen, allowing you to get an excellent picture of the water. You can also use the split screen for a LiveSight/FishReveal DownScan combo, or SideScan and DownScan. There's a lot of fun to be had! We hope that one day, there will be FishReveal SideScan. Lowrance loves to invent new technology, so we don't doubt it's coming.
Conclusion
This fish finder is absolutely fantastic. We're blown away by all the features on the HDS-7 considering its size. It's worth knowing that this fish finder isn't quite as powerful as some of its larger cousins in the HDS Live line. Check out our reviews on the 12 and 16 to see the extra features you get when you get a fish finder that's almost (or more than) twice as big.
We love how easy it is to navigate through the menus of the HDS-7, we love FishReveal, we love how beautiful the screen is – Lowrance have really outdone themselves with this series. We highly recommend this to anyone who wants a fish finder that will fit into a smaller setup, and those who are ready to try a high powered fish finder without completely breaking the bank. Give this thing a try; we're sure you'll be just as impressed as we are.