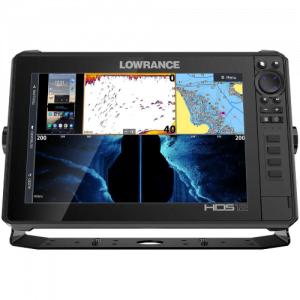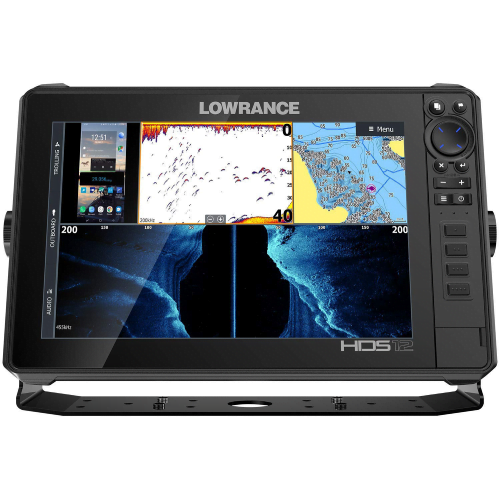 Best Price
4.7/5
Overall Rating
Imaging

Design

Quality

Price
The new models of Lowrance's well-loved HDS series are here, and we couldn't be happier to be reviewing them. We were big fans of the HDS Carbon series, so getting our hands on the LIVE suite was really exciting. In particular, we were excited to take a look at the HDS-12 and HDS-16. The HDS-12 absolutely delivers on our expectations – the incredible high definition screen we've come to expect from the series is here, along with an incredible interface, a lot of customizability, great transducer compatibility and some next level features.
Pros
Waterproof
Dual Channel CHIRP Sonar
Active Imaging 3in1
LiveSight Compatible
Fantastic Resolution
Really Fast (Quad Core Processor)
Clear, Bright, Backlit Display
Top of the Line Networking (Wireless, Bluetooth)
8 GB Internal Storage
High Precision Internal GPS
Works in Salt/Fresh/Brackish Water, Deep or Shallow
EasytoAdjust Gimbal Mount
Loaded with Features
Cons
A bit less range than comparable fish finders
A bit pricey (it's for enthusiasts)
Technical Specifications
This is one big fish finder, and Lowrance have found ways to put that space to good use. Chief among them is a quad-core processor, one of the more powerful processors we've seen in a fish finder. There's a lot of cool features that we're going to delve into as well as great transducer compatibility. For the purposes of the specs listed below, we're assuming you purchased the recommended Active Imaging 3-in-1 transducer.
Max Depth
1,000 ft.
Transducer
Active Imaging 3-in-1
Frequency
Medium and High CHIRP 83/200kHz + 455/800kHz
Screen Size
12"
Resolution
1280 x 800
Backlit
Yes
Imaging
150 ft. Down/Per Side (800 kHz)
300 ft. Down/Per Side (455 kHz)
GPS
Internal, High-Precision
Max Waypoints
3,000 (100 routes, 100 tracks/10,000 points)
Memory Card Slots
2 Micro SD
Display and Interface
We were excited to try these units out from the get-go because we're big fans of the HDS screens. The Carbons had a wide viewing angle, the displays were clean and crisp, and you could use the screen in all kinds of weather conditions. We're happy to report that the HDS-12 has a screen that's just as good as the preceding generation – not necessarily improved, but fantastic nonetheless.
The SolarMAX screen is high definition so it can be used when it's foggy out, when it's nighttime – pretty much whenever. The screen is easy to read and it's pretty big at 12". This means that even if you've got a few anglers in your boat with you, everyone will be able to see the screen clearly, so everyone will have more luck catching fish.
The best thing about having a 12" screen, though? That's got to be the split screen. Split screen have been super common in fish finder/GPS combos as of late, because they let you take in more information. Need a map and sonar? Split screen. Want DownScan and SideScan displayed simultaneously? You got it! That kind of feature usually only gives you a few different combinations as every view can only be paired with one other view. The 12" screen, on the other hand, gives you six split screens – that's a LOT of different view combos, and it's the most information we've seen displayed on a fish finder.
We'll get into a discussion of the different combinations you might be able to use as we delve into other features, but for now you should know that this is pretty incredible. Depending on how you like to fish, buying a pricier fish finder like this could actually save you money because you're getting more information displayed at once. This device can display the same amount of information as 3 two split screen fish finders.
Okay, we've talked a lot about the screen at this point and you get the idea – it's great, you'll like it. The thing that really blew us away, though, is the user interface. A lot of fish finders have, at best, mediocre user interface. There tends to be a lot of features that are difficult to navigate through. The HDS-12, on the other hand, has a very well considered, easy to use interface – one that we think will encourage a lot of anglers who are new to the technology that it's worth their time.
That's in part because the HDS-12 has a combination touchscreen and keypad for navigation. That's huge. Touchscreens are always plagued by problems out on the lake. They're fine in ideal conditions, but when inclement weather hits, your touchscreen can get wet, and then be difficult to use. Keypads, on the other hand, are usable in any condition, but they can make navigating a real pain as you have to slowly scroll through menus press by press, and you can only go up, down, left and right.
The layout of all the menus is well thought out, too. The main menu is a series of icons that show you exactly what you're opening. The images are distinct and easy to read and that makes the whole system a lot more intuitive. We're pretty sure the folks at Lowrance took inspiration from the best-selling smartphones and tablets on the market for the interface here, and the only real shame is that the device is probably a bit too expensive for anglers who aren't already deep in the hobby. The simple, elegant interface makes this perfect for someone who has never used a fish finder before.
Another handy feature on the HDS-12 is its programmable keys. You can, for example, program the keys to immediately switch to a split screen view that you're fond of. If you have settings you really like, programmable keys save you a lot of time navigating the interface.
CHIRP Sonar
Now that we've talked about the control head, it's worth talking about the transducer we recommend you get with it. The HDS-9 Live is actually compatible with a number of different transducers, but the Active Imaging 3-in-1 that we're looking at gives you CHIRP Sonar. CHIRP differs from regular sonar in a few key ways as it's military technology that's been used for decades but is only now starting to trickle down to the consumer level. Luckily for us, it's started to find its way into fish finders. To understand why it's so good, you need to know a bit about sonar.
Traditional sonar works pretty simply: a frequency is sent out into the water, at say, 160 kHz. That frequency then bounces off of objects and back to the transducer which interprets the information in tandem with your fish finder. CHIRP, which stands for Compressed High-Intensity Radiated Pulse, sends out multiple frequencies simultaneously – that gives us a couple of great advantages. The first is that everything is much more accurate because as you're getting more information back, so there's more data to interpret. The second is that you can see objects that are closer to your boat than you would be able to otherwise.
One last thing you should know about sonar before we get into the next sections: how low or high the frequency is has a consistent effect on the results you'll get. It's pretty simple – the lower the frequency, the more range you're getting, while higher frequencies give you more accurate representations of objects. We love the Active Imaging 3-in-1 transducer, because it can give you frequencies as low as 83 kHz and as high as 800 kHz; that's a lot of range on one end, and a lot of clarity on the other.
Mapping
Combination fish finder/GPS devices have become more popular as the years go by, and it's worth understanding why that's the case, after all, you could just buy a fish finder and then use a GPS that you already have, or even buy a GPS separately. There are two reasons they're so often combined. The first is pretty obvious – you're saving space by having less devices, which, as we've discussed, is one of the reasons we love the 6-in-1 split screen. The other reason is that you can use your GPS and your transducer in tandem to create some pretty interesting technology.
The HDS-12 takes advantage of this through a bit of software called C-MAP Genesis Live. Here's how it works: information from your transducer is sent to your HDS-12 in order to create 1 foot depth contours. This information is also used to map out things like bottom hardness and vegetation. The underwater environment is then overlaid on the map using your GPS so you get a complete underwater map of the area you're in that you can use again and again. That's a whole lot better than a traditional map. We love this feature, and similar features we've seen on other high end fish finder/GPS combos – it really appeals to our sense of adventure, a sense we think is shared by most anglers.
One of the things that sets Genesis apart from other contour mapping technology is that they've incorporated a social element, one that we really like, and that we think you might like too. SocialMaps allows you to upload maps that you've made to a global, shared map so other people can access them. In return, you get access to the contour maps made by other anglers. There are probably maps of all kinds of lakes around you, and if there aren't, you're in luck – you get to be the first to map those spots!
Your HDS-12 comes pre-loaded with a map that includes 4000 US Inland lakes. That's a few less maps than some of its competitors at a similar price range, but you can argue it makes up for that with the SocialMaps feature. Nevertheless, you can always buy more maps from C-MAP. They actually have a ton of different map types available, though we haven't had the chance to play with all of them yet.
In terms of setting routes, you've got thousands of waypoints and quite a number of routes and tracks that you can record onto your HDS-12 and we've found it to be more than enough for our purposes.
Your GPS can also work in tandem with a number of different devices and you can share maps with friends and family, as well as other information. That's due, in part, to the device's excellent networking capabilities, which we're going to delve into next.
Networking
Fish finders have been a bit behind other technologies when it comes to networking, and that's been a bit of a drag for techy anglers like us. We want to have something that looks like a sophisticated bridge: radar, fish finders, GPS, laptops, smartphones, transducers, autopilot and more all hooked up together. High end fish finders in recent years have been including networking – a lot of it is Ethernet, which is nice, but also a bit cumbersome.
With the HDS-12 LIVE, we're happy to report the networking features are fantastic. Chief among them are Bluetooth and wireless connectivity, which means you can hook this thing up to your smartphone. You can use that in order to get notifications from your finder onto your smartphone. You can set it to ring you when there are fish near your boat, for example. On these units, you can also plug in your phone, using a converter and an HDMI cable. Then, you can use any of the apps on your phone – Netflix, Facebook, whatever – while you're out on the lake. We've used it for Google Maps, which can be handy for getting another view of the water.
There are a lot of other devices you might be able to hook this up with – your laptop, devices like the Power Pole, certain MotorGuide motors, and a wide variety of other marine technologies. That's due in part to it's NMEA 2000 standard compatibility, and in part because of it's excellent networking features. We're really fond of how easy it is to hook up the HDS-12 with all kinds of other technology!
Active Imaging
You've got this transducer called 3-in-1 Active Imaging and you may have noticed that, so far in the review, we've only covered one kind of imaging and it hasn't exactly been active. Fear not, dear angler, we're finally in the imaging section.
Those of you who haven't used imaging, be prepared to be blown away. DownScan and SideScan can seriously add a lot to your fishing game, because you get extremely detailed views of the bottom and of structures, be they trees, ships, rocks, or anything else.
The DownScan and SideScan usually run at 800 kHz. As we mentioned in the CHIRP section, that high of a frequency is going to get you exceptionally clear detail, but at the cost of some range. At 800 kHz, you get 150 feet per side and 150 feet down, good enough for some pretty decent fishing. Need a little bit more range? You can set it down to 455 kHz. You'll lose out a bit in clarity but you'll be able to scout the area more easily. You can toggle between the two really quickly.
Other Features
We've talked a lot about the 6-in-1 split screen functionality because we really like it. Lowrance has done more than that to ensure you're seeing as much information on-screen as possible. They've created a piece of software called FishReveal, and we absolutely love it. Here's how it works: you're using your DownScan, and you can see structure in startling detail, but fish aren't that easy to track. You turn on FishReveal, and you get the CHIRP sonar overlaid on the DownScan, so you can see fish moving around as well as structure. That saves you a screen because you might have otherwise had to have CHIRP on one view and DownScan on another. Instead, you can have DownScan with FishReveal, SideScan, contour maps, and more on display at the same time.
There are a couple of other nifty transducers you can hook your HDS-12 up with, too. You can get StructureScan 3D which gives you a complete 3D picture of the area around your boat so you know precisely where you are in relation to structure and fish. You can also get the LiveSight transducer, which is the closest you can get to having a video camera watching fish in real time under the water. Get all of this working together on your multiple split screens and you're going to be catching trophy fish day and night.
Conclusion
This is one incredible piece of technology. It's really fast thanks to the quad-core processor, and we've found we can have multiple screens open at once while still getting rapid responses when selecting options. There are a ton of features and customizability, and that means a lot of older devices are redundant. If you can only have one piece of technology in your setup, the HDS-12 certainly fits the bill. The biggest knock against this thing is that it's expensive, but if you're an enthusiast, it's well worth the money.