Lowrance
Lowrance Elite FS 7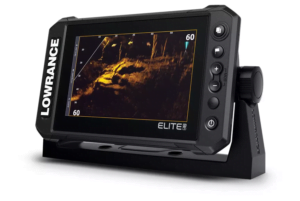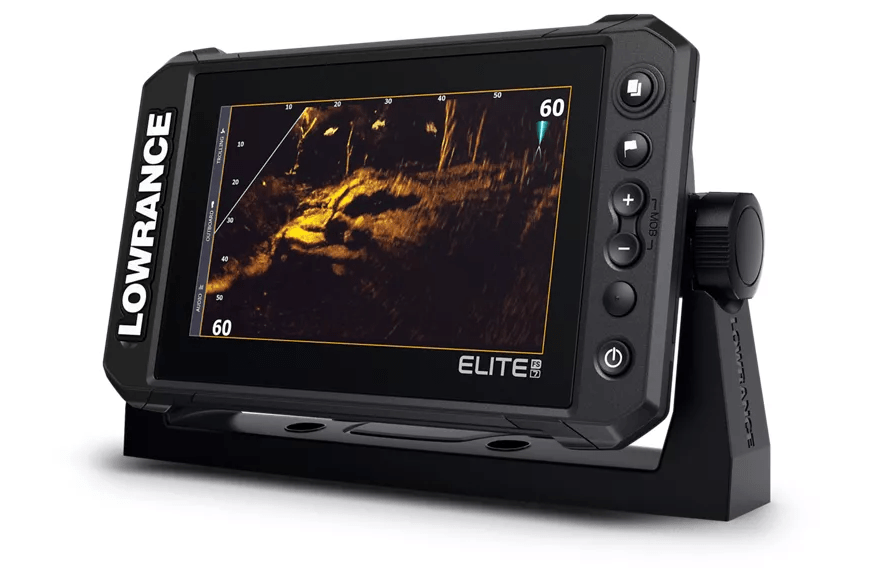 Best Price
4.13/5
Overall Rating
Imaging

Design

Quality

Price
Lowrance released the Elite FS Series at the end of 2020, and we're thrilled to be reviewing the most affordable model of the series, the FS 7. There are a lot of great features on this unit, and while it may not be doing anything revolutionary (except, arguably, for ActiveTarget compatibility), it's a feature dense unit with exceptional networking capabilities and some wonderful features.
Pros
Great imaging
Excellent mapping out of the box
Fantastic networking
Feature dense
Affordable
ActiveTarget compatible
Cons
No in-dash mount included
The included transducer is a bit weak compared to similar models from other brands
As always, we're going to start by taking a look at what's under the hood. Note that the operating frequencies supported reflect the unit's capacity with the included transducer - this goes for the imaging depth, as well. The Elite FS 7 has some pretty great specs - let's take a look:
Technical Specifications
| | |
| --- | --- |
| Max Depth | 1000 ft |
| Transducer | Active Imaging 3-in-1 Transducer |
| Frequency | CHIRP 83/200/455/800kHz |
| Screen | 800x480, HD, backlit, 7" display |
| Imaging | 300 ft side, 300 ft down |
| GPS | Internal, high precision |
| Max Waypoints | 3000, 100 ,100 (10,000) |
| Memory Card Slots | 1 microSD (32 Gigs) |
Display and Interface
The display here is what we've come to expect from Lowrance's high end chartplotters – a beautiful, backlit, high definition screen that makes it easy to read your sonar and imaging.
The backlight is extremely handy because it means you'll be able to use the unit day or night, rain or shine, and even in light fog. When you consider the chartplotting features of the unit, that means you'll never be lost out on the water – and you'll always be able to find fish.
Another handy display feature is the split screen – again, this is more or less standard in fish finders of this caliber, but it's always nice to have. You can split the screen between two or three panels – that means you can monitor sonar and imaging simultaneously, or keep your chartplotter up while you use sonar to scout. 
The 7" display hits the sweet spot for a lot of anglers – it's small enough that it can fit in a lot of different vessels and setups, but large enough that it can be viewed from a variety of different angles. That means the unit can be used by several different anglers on the same vessel – and with all of its features, it may be the only unit you'll need on your boat.
Now let's talk about the interface. The menus on the Elite FS 7 are extremely well laid out – as we've come to expect from Lowrance. Navigation is done via touchscreen, which we love. We do, however, wish there was a joystick as well – when touchscreens get wet, they can be hard to use.
The main menu is split between "apps", including sonar, Downscan, Sidescan, and charts. You can add more apps. On the right hand side, you can choose between a variety of split screen views – and you can create your own. On the left there's a variety of handy tools, including system settings and alarms.
There's also a data overlay that tells you what time it is and the depth of the water column you're fishing in. That overlay can also be used to show your GPS coordinates. 
While most navigation is done via touchscreen, there are a few handy buttons for ease of use. You can set waypoints with the touch of a button, zoom in and out of the water column, and set MOB waypoints by pressing both zoom buttons simultaneously. 
There's also a power button that doubles as a method to cycle through backlight brightness. Finally, there's a page button that lets you run through your favorite views without having to navigate back to the main page.
We're always impressed with Lowrance's interfaces, and the Elite FS 7 is no exception. The ease-of-use of this model makes it great for intermediate and experienced anglers alike, and the interface here is one of the most impressive things about the model.
Sonar
A unit's sonar is only as good as its transducer – and likewise, a transducer doesn't do much without decent sonar display options. Fortunately, the Elite FS 7 delivers on both fronts.
For starters, the unit has CHIRP (Compressed High-Intensity Radiated Pulse) sonar compatibility right out of the box. The idea behind CHIRP is simple – instead of sending out a single frequency, the transducer sends out a pulse of varying frequencies. This leads to much better target separation and clarity.
CHIRP is basically industry standard on fish finders at this price point, but it's always worth mentioning – if only so we can single out units that don't have CHIRP more effectively.
The maximum depth on this unit of 1000 feet will do fine for pretty much any anglers who spend their time in lakes and rivers. There are some deep sea anglers who would need a better transducer, however.
As for the sonar display, it's pretty standard. It does come with FishReveal, which replaces your regular fish arches with fish icons. That's handy for anglers who don't know how to read sonar charts yet, but most anglers who are buying technology at this price point won't use it very often.
In terms of display options for sonar, all the hits are here. You can use split zoom on a particular section of the water column while still displaying the full column. You can adjust the range, the sensitivity, the colorline, and the frequency that you're using – on the fly.
There are all kinds of interference rejection settings for the sonar as well. You can adjust noise reduction if there are multiple transducers in the water. You can adjust surface clarity to cut down on noise from choppy waters. You can swap color palettes, or even swap to flasher mode for ice fishing.
All in all, there's nothing revolutionary about the sonar here, but it's incredibly solid, and it comes with all the features you'd want and expect. There's no reason to change a good thing, after all. 
Mapping
We always expect great mapping from Lowrance devices, both in terms of what comes out of the box and in terms of overall compatibility with different maps.
The Elite FS 7 does not disappoint.
For starters, the unit comes with C-MAP Contour+ – one of the best out of the box maps we've seen. Not only does it include over 15,000 U.S. lakes – it also includes over 9400 Canadian lakes. The maps are hyper detailed, including 1-foot contours. For many anglers, the map pack that comes with the unit is the only one they'll ever need.
The unit is compatible with all C-MAP charts – which is great, but expected. It's also compatible with all Navionics charts – even better. That means that if you've got maps for your other fish finders, they may well be compatible with your Elite FS 7.
If you've read our other reviews, you'll know how much we love being able to create and share our own charts – the spirit of adventure is strong with us. 
You can, of course, create your own maps with the Elite FS 7, using one of our favorite chart creation programs, C-Map Genesis Live. You can also share those maps online.
That means you can help other people by sharing the charts you've created – but it also means you can download tons of free charts, created by other anglers. We love the sense of community charting provides – and we especially love how quickly it can increase your repertoire of charts.
These charting tools, including the ability to set waypoints and routes, make the FS 7 an excellent option for anglers who are looking to pre-fish a lake before a tournament. Fantastic mapping tools, as usual, from Lowrance. 
Networking
When it comes to networking, the FS 7 has basically everything you could need. Ethernet port? Check. Wi-Fi? Check. Bluetooth? Check. NMEA 2000 compatibility? Check.
That means you can use the FS 7 as something of a control hub for all of the other toys you have on your boat – and we'll talk about some of those toys in the "Other Features" section. 
There isn't a lot more to say about the networking – it's got basically everything you could want in a unit of this size. Hats off to Lowrance for understanding how tech-savvy anglers use devices in the 21st century. 
Imaging
With both DownScan and SideScan, the imaging on the Lowrance Elite FS 7 is exactly what most anglers need. You get 300 feet down, and 150 feet per side. By using the split screen, you can see what's going on all around your boat – and use the traditional sonar or a chart of the lake, too.
Lowrance's imaging is great, but we'd stop short of saying it's fantastic. You can absolutely get clear, crisp images, and the detail is more than enough for most anglers – but you're capped at 800 kHz sonar. There's other imaging software and transducers out there – chiefly available in Humminbird devices – that allow you to get imaging into the mHz range. That means clearer images.
Nonetheless, the imaging on the FS 7 is very good. You can use it to easily find bottom structure, and figure out where the fish are hanging out. We always recommend using imaging for scouting, and using traditional sonar charts for your actual fishing. Some anglers disagree – that's just what we prefer. One of the nice things about having a unit this feature dense is that you can pick what works for you and stick with it. 
Here's another handy feature – you can overlay your SideScan onto your map, a feature that Lowrance calls StructureScan. While we don't use this feature very often, we know a lot of anglers love it – just another example of how powerful and customizable the FS 7 is. 
Other Features
We use the "Other Features" to talk about handy tools that don't neatly fit into the other categories – and wow, does the FS 7 have a lot of them!
Let's start with ActiveTarget compatibility. ActiveTarget offers live sonar – it's very similar to if you had a camera under the water, actively recording how fish are moving. If you've ever used Garmin's LiveScope system, this is Lowrance's equivalent. They tried something like this before with LiveSight, but it didn't go over that well. With ActiveTarget, they've nailed it.
You can see what's going on in front of your boat, below your boat, or a hybrid of both with the scout mode. Buying ActiveTarget comes with a heavy price tag – around $1500 – but for many anglers, it's worth the cost. 
Then, we have compatibility with the PowerPole anchor and Ghost trolling motors, as well as a wide variety of other devices. That means you can use the FS 7 to auto-pilot to points or along tracks you've created – incredibly handy if you've got the right equipment.
There's so much more about this unit we haven't covered – you can use it as a radio! You can connect it to radar! There are honestly too many features to cover – one of the great things about getting a high tier chartplotter/fish finder like this. 
The Bottom Line
We really like the FS 7 – truly we do – but anytime we see a fish finder like this, an important question comes up.
How does it compare to the Helix series from Humminbird?
We know that Lowrance fans might chafe at that question, but when you look at the specs – the Elite FS 7 is an excellent unit, but it's out of the box transducer and imaging fall short of what the Helix 7 can do. 
We're still going to give the unit very high marks – it's feature dense, it has great specs, and it's easy to use. But outside of what some might consider to be a better layout, and brand loyalty, we think most anglers might be better off with the Helix series. Nonetheless, the FS 7 is one of the best fish finders for the price.