Humminbird
SOLIX 10 Review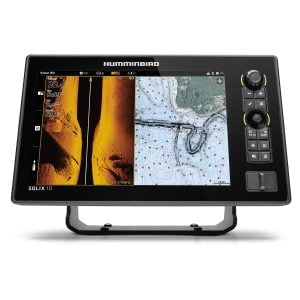 Best Price
4.7/5
Overall Rating
Imaging

Design

Quality

Price
If you've read our HELIX reviews, you know we're big fans of Humminbird's high-end fish finders. We were, of course, absolutely thrilled to get our hands on a SOLIX 10.
Wow.
We're going to say right out the gate – this thing is expensive. But what you're getting for the price is one of the best fish finders on the market. Honestly, there are few competitors who can put up a fight against this thing. The SOLIX has some of the best imaging we've ever seen. It's got incredible range. It's got loads of features.
And, finally, thankfully, it's got something we want to see on every fish finder from here on out. It has a touchscreen AND buttons controls and – get this – a joystick.
Yes, the innovation that Nintendo masterminded on the N64 has finally reached the world of fish finders.
You'll see in the pros and cons that the only real knock against this thing is that it's pricey, and that it doesn't come bundled with more maps. Prepare for a glowing review:
Pros
CHIRP Sonar
MHz, HD Imaging
Top-tier user interface
Highly customizable
Incredible frequency/transducer support
Great networking and device compatibility
Loaded with features
Cons
Expensive (built for enthusiasts and pros)
Only one map available in the bundle
Technical Specifications
| | |
| --- | --- |
| Max Depth | 1,200 ft (standard transducer), 3,500 ft (optional Airmar CHIRP) |
| Transducer | XM 14 HW MSI T |
| Frequency | 50/83/200/455/800 kHz & 1.2 MHz |
| Screen | backlit |
| Screen Size | 10.1 |
| Resolution | 1280 x 800 HD |
| Imaging | Down Imaging: 125 ft (800 kHz), 250 ft (MEGA), 400 ft (455 kHz) Side Imaging (Side to side): 250 ft (800 kHz), 500 ft (MEGA), 800 ft (455 kHz) |
| GPS | Internal, High-Precision |
| Max Waypoints | 10000, 50, 50 |
| Memory Card Slots | 2 SD slots |