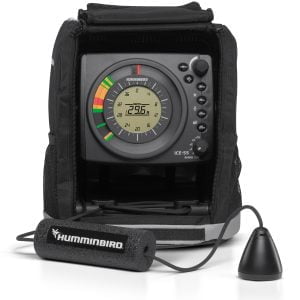 Best Price
4.7/5
Overall Rating
Imaging

Design

Quality

Price
Snow has just fallen where we live; we're looking outside and seeing blankets of white stuff along with felled trees from an unseasonably early winter storm. We wonder if writing reviews of flashers brought on the weather; we hope not, because here's another one. The Humminbird ICE 55 is the best flasher Humminbird has ever come up with and one of the best flashers on the market. It's loaded with nifty features, it's got a great display, and there's a pretty decent transducer to boot. All of this for a very reasonable price, too. This is the most impressed we've been with a Humminbird flasher and we're happy to get out on the ice with it, even if it does mean early winter storms.
Pros
Bright, LED Backlit Display
Digital Depth Display
Many Colour Schemes
Auto Range
Dynamic Zoom
Target Line
Dual Frequency Sonar
Cons
No CHIRP
Limited Transducer Options/Depth
Technical Specifications
Ice transducers and flashers are a bit outside of Humminbird's regular wheelhouse; they're more known for finders like those in the HELIX series, made for mounting to a boat and featuring dual core processors and sophisticated graphics. That all said, they've done a fantastic job creating a flasher that, while less powerful, remains technically impressive. We always say that looking at the specs is the best way of knowing if you're getting your money's worth, and while the ICE 55's specs didn't blow us away, they're certainly quite good for a flasher.
| | |
| --- | --- |
| Max Depth | 200 ft. |
| Transducer | XI 9 19 |
| Frequency | 240/455 kHz |
| Screen | 526 Segment, 6-color fiber optic, LCD center |
Display & Interface
The ICE 55 has quite a good display, one of the better ones we've seen on a flasher. That's in part because of its six-colour 526 segment display, which gives you excellent target separation. One of the things we like the most about the 55 is that it has an LCD screen within the perimeter. This screen provides you with valuable information like digital depth display as well as numeric indicators of where targets are in the water, in either feet or meters.
The unit comes with three different colour displays. The first display is a pretty standard Green-Yellow-Red affair, not at all dissimilar from Vexilar units, where green is the weakest signal and red is the strongest. The next colour option turns some of the returns white, while the third colour option adds blue for the weakest returns. You'll notice that we've only talked about five colours – the sixth colour will come into play when we discuss the target line in the Features section.
The last element of the display we want to talk about is the backlight. When it's dark, you can turn on the backlight so that you can keep reading the flasher with ease. Pretty straightforward! It's worth mentioning that it's a flat screen, unlike some older flashers, so you can see what's happening from a bunch of angles – very handy when you're fishing with a few buddies.
The interface on the ICE 55 is a bit complex for a flasher, though that's in part because of the many features Humminbird packed into this thing. There are two knobs, which we'll discuss more in the Features section: the gain knob and the range knob. There's also a gain button that seems pretty redundant to us and we're pretty sure Humminbird could have saved some real estate here.
The rest of the buttons allow you to change your colour scheme, activate the target function, activate the zoom function, toggle through noise reduction, or change the cone angle. You can also hold buttons to get to certain functions: hold gain to activate the backlight, hold the noise button to flip from feet to meters, and hold the angle button to check your battery life. There was definitely a more efficient way of creating this interface (see the Vexilar FLX-28 for a really spartan interface on a flasher with a lot of features), but it works quite well and is pretty uncomplicated compared to, say, a HELIX unit.
Features
We described all the features briefly when we described the interface, so let's take a deep dive starting with the target function. When you hit the target button, a purple line appears on the unit. You can then adjust where the purple line appears on the flasher. Let's say you know there's a weed bed at around nine feet; you can put the target right above the weed bed, then keep your lure where the target line is. This is also really handy if you're fishing with newbies who might need a bit of extra guidance; place the target line where you're seeing a lot of fish, and let them know that's the sweet spot!
The zoom function on this unit is actually pretty unique and it's one of the biggest selling points for us. In other flashers, the zoom creates a split screen; you'll often have half the screen zoom on the bottom few feet of water, and the other half represent the entire water column. The 55 has an adjustable zoom, so you actually get to select exactly where on the water column you want to focus which is really useful if you're looking for suspended fish. The whole column is still represented and you get to focus where you want to – just press the zoom button and adjust where you want it with the gain knob. Really handy.
The noise reduction function is useful if you have other people around fishing with Humminbird units; they're on a different frequency than Vexilar and MarCum systems so you generally won't need to use it when people are fishing with other brands. The noise reduction on this only comes in ten steps, which is a bit lower than we'd like. We imagine Humminbird will give twenty steps of reduction in later models.
The last feature we want to talk about is the ability to change the cone of your transducer, but that's best saved for the next section:
Transducer
This unit comes with the XI 9 19 transducer which is the only ice transducer Humminbird manufactures. The range on it, up to a maximum depth of 200 feet, is fine for most ice fishing scenarios, though it's unremarkable. You'll also get a floatation device attached to the transducer that keeps it upright during your fishing expeditions.
The transducer can emit two different cones – 9° and 19°. The 9° cone is great for if you already know where you want to catch fish; it projects a signal that reaches quite far down and shows targets with clarity. The 19°, on the other hand, has a signal that doesn't reach quite as far down and doesn't show targets as clearly but allows you to see further out. This is handy if you're not seeing a lot of fish in the hole you made and you want to know where you should drill another hole.
The Bottom Line
This is a really wonderful high-end flasher for the price of some mid-range units. There are a lot of features, a decent transducer, a great display, and some newbie-friendly display options. While it doesn't have some of the features of the highest end transducer on the market, it's ease-of-use and cost make it a wonderful pick and we'd say you can't go wrong with an ICE 55.
Oh, and we forgot to mention, it comes with a carrying case! Nice.