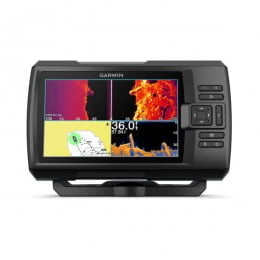 Best Price
3.75/5
Overall Rating
Imaging

Design

Quality

Price
Here at Fish Finder Tech, we have a bit of a love/hate relationship with Garmin's Striker series. There's a lot of love – the unit fulfills an incredibly important niche. This is one of the most affordable fish finders you can get with high-quality imaging. For under $500, it's remarkable what Garmin has managed to include with the Striker series – the transducer alone makes up more than half the price of the unit.
The hate – well, maybe hate is too strong a word. The reason we'd often choose other fish finders over the Striker Vivid is because it doesn't come with maps. Worse yet, you can't add maps. Despite that, the unit does come with a high precision GPS, and it is a chartplotter.
Lots of pros, a few cons – but this unit is a very worthwhile buy for a certain type of angler. And for that type of angler, we'd argue this is pretty much the best fish finder you can get. Read on. 
Pros
Incredibly inexpensive
Great out-of-the-box transducer for the price
Sharp imaging
Some of the best color palettes on the market
ActiveCaptain
Cons
No touchscreen
No built-in maps
No way to expand memory
No way to add maps
So-so networking
The pros and cons here make it pretty clear - this is a unit designed for anglers who don't need maps or a lot of memory. For those anglers - especially those looking for sharp imaging - the price of this unit makes it an absolute steal.
Technical Specifications
*
Note that this transducer, and the specs provided here, are for the Vivid 7sv. The Vivid 7cv is less expensive, but comes without SideVu, and thus has a different transducer.
| | |
| --- | --- |
| Max Depth | 800 ft |
| Transducer | GT52HW-TM* |
| Frequency | 50/77/200 kHz, CHIRP 83/200 kHz, ClearVu/SideVu 260/455/800 kHz |
| Screen | HD, backlit |
| Screen Size | 7" |
| Resolution | 800x480 |
| Imaging | ClearVu 500 ft, SideVu 500 ft (250 ft per side)* |
| GPS | Internal, high precision |
| Max Waypoints | 5,000, 100, 50 (50 000) |
Display and Interface
To our knowledge, there are no awards for "best display on a low cost fish finder" – but if there was such an award, we might have to give it to the Striker Vivid 7. Maybe we should start our own fish finder awards show!
For starters, the screen is bright and backlit. It's incredibly easy to read from a variety of different viewing angles. It can be used rain or shine, day or night, and even in light fog. That makes it an almost all-weather device – though you'll need a case to keep it warm if you want to go ice fishing with it.
The Striker Vivid 7 allows for combination screens – and if you've read our other reviews, you know how much we love combo views. They're one of the killer apps of a good fish finder because it means you don't need multiple devices to check down imaging, side imaging, and sonar simultaneously. The Vivid 7 allows for 3 views to be displayed at the same time, in a whole assortment of different patterns.
We'll talk about the display in greater detail when we get into the sonar and mapping sections, but know this: the display options are fantastic. They called the unit "Vivid" for a reason.
When it comes to the interface, on the other hand – well, there's a lot to be desired. Don't get us wrong, it's serviceable – but it's touchpad only, which is incredibly clunky compared to the touchscreen (or better yet, touchscreen and joystick) navigation available on higher tier units.
Now, the buttons do everything you need them to – there are arrows for navigation, a button to set waypoints, a power button that opens and closes menu, and a button to select things. It's easy enough to change the brightness of the backlight and toggle through options. The menus are well laid out.
But the interface is unremarkable – we know that fish finders can do better. On the flip side, this unit is so remarkably inexpensive that Garmin had to make cuts somewhere – those are in the interface and in the lack of maps. 
Sonar
When it comes to sonar – the Vivid 7 is incredibly tough to beat for the price. It's astounding that there's sonar so good packaged with a device this inexpensive.
There are two elements that make for good sonar – a great transducer, and a unit that provides a lot of different options for how the readout from that transducer is displayed. The Striker Vivid 7 offers both – let's start with the transducer.
CHIRP High Wide is the style of traditional sonar this unit offers. CHIRP (Compressed High-Intensity Radiated Pulse) is the style of sonar we expect from high end fish finders at this point. Instead of sending out a single frequency, CHIRP transducers can send out a range of frequencies in a pulse. In this case, that range varies from 150-240 kHz.
Technical info aside, what this means for the average angler is that you're going to get sharper readouts with better target separation. And with the Vivid 7's excellent sonar display options, that means it's going to be easy for you to find and catch fish.
The traditional sonar chart is ready to use out of the box – zoom and range are set to auto. But as you'd expect from any high-quality fish finder, you can adjust the zoom and range, and you can even lock onto the bottom. You can use split zoom to have one panel zoomed on one part of the water column, while the other shows the entire water column.
You can set the unit to flasher mode for ice fishing. You can adjust the sensitivity. Basically, you can do anything you would expect when it comes to sonar options.
So what makes the Vivid 7 stand out? The color palettes. There are 7 different color palettes you can switch between. That's a huge boon for accessibility – palette swaps are incredibly helpful for folks with color vision deficiencies. It's also a point of customization – you can find the palette that works best for your needs.
All in all, we love the sonar on this unit. Truly incredible for the price – Garmin outdid themselves.
Mapping
We've already talked about how this unit doesn't support maps or SD cards, and how sad that makes us. You'd think this mapping section would be pretty short.
But, take hope, reader! There's a silver lining in the gray, mapless clouds. And that silver lining has a name: Quickdraw Contours.
Quickdraw is the reason the unit contains a GPS – you can use your transducer and the GPS in tandem in order to create maps of the bodies of water you're fishing, featuring 1' contours.  That means you can use this unit to pre-fish lakes, to create routes and waypoints – everything you'd expect from a unit that can make use of pre-made charts.
Things get even better when you consider ActiveCaptain, which we'll discuss in greater detail in the "Other Features" section. You can easily share the maps you create, and you can download charts created by other anglers for free – and that can help you navigate new waters, even on a unit that doesn't come with maps.
So while the mapping on the Vivid 7 is severely lacking, Quickdraw Contours does some work in making up for that flaw. 
Networking
Now let's talk about networking – something that the Vivid 7 does, but doesn't do particularly well. 
The networking capabilities of the device are restricted to Wi-Fi and Bluetooth. No NMEA support, no Ethernet ports – the unit can connect to your phone, and not a lot else. That's because Garmin wants you to use the ActiveCaptain app – which, as we'll discuss in "Other Features", is quite solid.
Technically, you can connect this device to other compatible Garmin devices by using a Data Sharing Cable or simply by connecting blue and brown wires in the devices together. Garmin explains how to do it pretty simply in the manual, and it's not that complicated a process – but it could be done much more easily with a bit more networking functionality.
This is about the level of networking that you can expect from a device of this price – maybe even a little better than you might expect. It's nothing to write home about, though.
Imaging
One of the most spectacular things about the Vivid 7 is how good the imaging is for the price. Is it the best imaging on the market? No. But you are getting high-quality, clear, crisp down and side imaging in a unit that retails for under $500. That's a very good thing.
For those who haven't used imaging, this unit will make a believer out of you. You'll get excellent detail of bottom structure, and you can even see where fish are hiding out. And with the split screen functionality of the unit, you can check for structure and use your traditional sonar simultaneously.
You're getting excellent range, too – with 250 feet per side and 500 feet down, this unit is useful on even fairly deep bodies of water. Best of all, the included transducer allows you to toggle between 455 kHz and 800 kHz frequencies – use the 800 when you want more clarity, and the 455 when you want more range.
It's all CHIRP, too, which gives you even more clarity. And you can swap color palettes, just like with traditional sonar. All in all, this unit has incredible imaging for the price. 
Other Features
ActiveCaptain is the big feature we haven't talked about, so let's discuss it. This is an app created by Garmin to tether your smartphone to your fish finder. Using it, you can receive notifications from your smartphone on your Vivid 7 – and while we don't love texts from our partners popping up on our fish finders for all to see, some people really love this feature. 
The app will also provide you with a map of the area – not a contour map, but a map of points of interest on land and near the water. Marinas, anchorages, and even marine-related businesses like lakeside B&Bs are all displayed on ActiveCaptain.
Best of all, there's the map sharing – which we already discussed in the mapping section.
Another feature worth mentioning is Ultrascroll. This speeds up your sonar chart to make it usable even when your boat is moving at higher speeds. You'll sacrifice some detail, but it can be helpful if you want to move fast while scouting an area. 
The Bottom Line
Here's the million dollar question: who is this unit for? It's got powerful imaging and sonar, lots of great features, and even chartplotting – but it doesn't come with any maps, and you can't buy new maps. You're also stuck to using ActiveCaptain as your "storage" device if you want more storage.
The answer? It's for anglers who, for whatever reason, don't need maps or networking. For those that don't mind using keypads. That means this unit is great if you already have a GPS device on your vessel, or if you simply don't feel the need to do any sophisticated chartplotting. It could also be perfect for anglers who don't mind putting in the time and effort to create their own charts.
If that sounds like you, we wholeheartedly recommend this unit. For what it lacks, you're getting a steep discount – other units with the same imaging and sonar capacity can retail for double the price. 
So if you're looking for a solid fish finder that doesn't come with charts, networking, or too many bells and whistles, the Vivid 7 could be the perfect fit. The great display, excellent sonar, and wonderful imaging capabilities make it a fantastic unit for the price.
Looking for something a little different? Check out the rest of our best-rated fish finders.