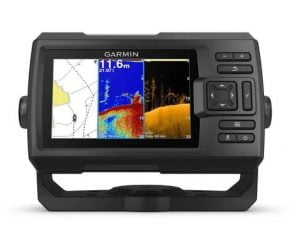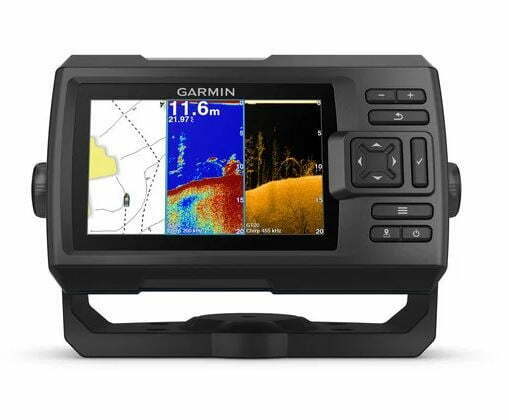 Best Price Bass Pro
Best Price Amazon
4.7/5
Overall Rating
Imaging

Design

Quality

Price
Let's cut straight to the chase. The Striker Plus 5cv is not innovating the way we think about fish finders. It's not Garmin flexing their muscles, showing us the latest cool tech their R&D department has cooked up. If you're looking for a bleeding edge, top-of-the-line fish finder, this isn't it.
On the other hand, if you're looking for a high-quality, affordable fish finder, Striker Plus 5cv might just fit the bill. At around $300, this unit is within the price range of most anglers. And with a wonderful out-of-the-box transducer, you can use the Striker Plus 5cv almost anywhere you want to fish.
Pros
Incredibly inexpensive
Great out-of-the-box transducer for the price
Sharp imaging Compact (good for small setups)
ActiveCaptain
Cons
No touchscreen
No built-in maps
No way to expand memory
No way to add maps
Technical Specifications
One thing we absolutely want to hammer home: this is not a chartplotter. There's a built-in GPS, but there are no maps, and you cannot add any maps. You will need a separate chartplotting device if that's what you're looking for. The device does, however, have some mapping features - we'll discuss those in the mapping section. And as a fish finder, it's really quite good - not mind blowing, but high-quality. Let's take a look at the specs:
| | |
| --- | --- |
| Max Depth | 750 ft |
| Transducer | GT20-TM |
| Frequency | Traditional: 50/77/200 kHz, ClearVü: 260/455/800 kHz |
| Screen Size | 5" |
| Resolution | 800 x 480 pixels |
| Imaging | ClearVü |
| Max Waypoints | 5000 |
Display & Interface
Let's begin, as always, with the display. You get a surprising amount of bang from the 5" screen on the unit. The screen is bright and backlit, meaning it can be used rain or shine – as well as in fog and darkness.
One feature we were thrilled to find on this unit is combination screens. Now, combination screens are more or less standard in fish finders at this point in time – but they're generally found on larger, more expensive units. You can display up to three panels simultaneously, and you can give priority to the most important one.
That means you can have your traditional sonar chart as your main view, while you have ClearVü and your contour map as your secondary views. Very handy!
Despite its relatively small size, we found that anglers could quickly pick up information at a glance from various points on our vessel. Vital information, like water temperature and depth, are constantly displayed in an overlay. Of course, it's not quite as easy to read as a larger model, but it does the job.
The interface on this device, on the flip side, is middling. Are the menus well laid out? Absolutely. Do the buttons work? No question about it. You have every button you need: arrows for navigation, a button to set waypoints, a power button that opens and closes menu, and a button to select things.
At this stage in the game, however, that's certainly not the most elegant design. We've seen touchscreens. We've seen joysticks. We've seen combination touchscreen/joysticks. We're well past the "pushing buttons" stage of the game.
That said, we can forgive Garmin for the middling interface on this fish finder because it's just so darn inexpensive. Touchscreens? As it turns out, they can be pretty pricey.
SONAR
Sonar always depends on the transducer you use with your fish finder. In the Specs section, we listed the unit's sonar depth at a maximum of 1900 feet. That's with the in-the-box transducer – with a different transducer, its depth capability will change.
And, of course, it'll change depending on the salinity of the water you're fishing in.
We mention all of this because, for a unit of this price, the transducer is an absolute steal. The GM-20 alone costs about $150, so you're only paying $100 for the fish finder control head itself.
With the GM-20, you get frequencies of 77/200 kHz. You also get CHIRP sonar.
CHIRP (Compressed High Intensity Radiated Pulse) is a military-grade technology that recently became available for commercial use. The long and short of it? You get a pulse of different frequencies instead of one single frequency. That leads to more accurate readings.
There are also plenty of nifty features you can use to customize your sonar chart. There's the standard stuff:
A split-zoom view so you can zoom in on one portion of the water column while keeping an eye on the column as a whole
Auto Gain to control sensitivity and noise
Adjustable depth line
The ability to mark waypoints from the sonar screen
Then there are some nice extras. Want to go ice fishing? You can go into flasher mode. New to using sonar charts? You can use the fish symbols feature to more easily locate fish on your sonar
Nothing here is new, but it is good. In other words, the sonar here isn't innovative, but it is very powerful for the price.
Mapping
We mentioned at the top that the Garmin Striker Plus 5cv doesn't come with any maps. In fact, it's not compatible with maps at all.
It's not a chartplotter. There are no charts.
So why have a mapping section?
Well, as you've already read, you can set waypoints on this fish finder. What's more, you can set routes and tracks. They're still useful, because while you don't have a map on your unit, you can still lead your boat to the GPS coordinates of the waypoints you leave.
On-screen navigation is still available – the screen will be blank, aside from your waypoints, but it's there.
Want a more detailed map? You can get one (sort of) with Quickdraw Contours.
Quickdraw is Garmin's contour mapping feature, and it's good. Your sonar is used to trace 1' contours, giving you an easy to read map of what's going on below the water. You can set your waypoints and routes over this map. You can store up to 2 million acres of Quickdraw maps on your unit – more than enough for most anglers.
You can also share maps with the Quickdraw Community by using the ActiveCaptain app, which we'll describe in the next section.
Networking
There are not a lot of networking features to speak of on this unit. There's no Ethernet cable. There's no NMEA compatibility.
That's a real shame, because connectivity is becoming more important as time goes on. Vessels are getting decked out with all kinds of nifty gadgets, and a lack of connectivity means the Striker Plus 5cv can't synergize with other units.
The one saving grace is the ActiveCaptain app. By connecting to your phone via Wi-Fi, you can use ActiveCaptain to store and share Quickdraw Maps. You can also purchase charts on ActiveCaptain and use them on your phone, which helps make up for one of the unit's biggest weak points.
Imaging
When it comes to imaging, we're thrilled to say you get a lot of bang for your buck with this fish finder.
With the transducer Garmin includes in the package, you get ClearVü down to up to 750 feet – that's remarkable depth for a fish finder in this price range. There are much more expensive models that don't provide that range of Down Imaging.
Now if all of the images were completely muddled, that wouldn't mean much at all. But the imaging here is quite good – not stunning (it uses 455 kHz at max range), but good.
The rule for imaging is simple: higher frequencies mean less depth, but better imaging. With the GT20-TM transducer, you get the option to switch to 800 kHz – a lot less depth, but a lot clearer imaging.
And it's worth mentioning that this is CHIRP sonar, which makes the quality even better. You'll be able to see structure (and more importantly, fish) in clear detail.
Other Features
There's one other great feature on this device that we wanted to highlight: Ultrascroll.
In most circumstances, your boat needs to be at a relatively low speed for the sonar chart to display correctly. Ultrascroll increases the scroll speed of your sonar, which makes it possible to get a better idea of what's going on under the water, even at higher boat speeds. It's handy if you're moving quickly to pre-fish a lake, or to find the best spots as soon as possible.
The Bottom Line
This is a great fish finder for the price. It's not a chartplotter, and we love our chartplotters, so it lost a lot of points for that. We're also avid, tech-oriented anglers, so the lack of networking was another knock against the unit. That's why it's not in our top list of fish finders.
But what if you're not looking for networking? What if you don't care about charts, or you're okay with using your phone as a chart with ActiveCaptain?
Well in those circumstances, this is one of the best fish finders on the market. It doesn't have Side Imaging, but if all you want is great Down Imaging, great sonar, and a quality display, this is the unit for you. It's well built, so you can expect it to be long lasting, too.
Most importantly, it will help you catch more fish. And in the end, that's what fish finders are for.
For the cost, this is one of the best units you can find. If your price range is below $500, give the Garmin Striker Plus 5cv a serious look.