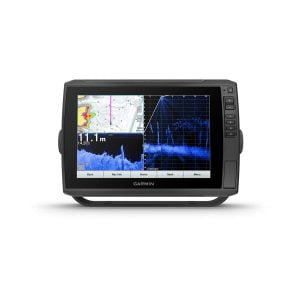 Best Price
4.7/5
Overall Rating
Imaging

Design

Quality

Price
The newest members of Garmin's ECHOMAP line are here. They boast quite a number of improvements over the old ECHOMAP line, owing to better hardware. The ECHOMAP Ultra 102 is bigger, with a screen that displays more clearly and in higher definition. The transducer is much improved, too. Moreover, a lot of the features that made Garmin's old models winners – namely ActiveCaptain, their easy to use software, the plethora of features, and great wireless connectivity are all here. Unfortunately, not everything we have to say about the new series is positive – our biggest problem with the old ECHOMAP series is still present in this one, and that's a bit of a downer. Many anglers will still love the ECHOMAP Ultra – at it's price, there's no question that this is a model for enthusiast fishers, but for those who are looking for Garmin's unique features, it can be well worth the price.
Pros
Waterproof
High Frequency Range CHIRP Sonar
SideVü
ActiveCaptain
Fantastic Resolution
Fast
Clear, Bright, Backlit Display
Wireless Networking
High Precision Internal GPS
Works in Salt/Fresh/Brackish Water, Deep or Shallow
EasytoAdjust Bail or Flush Mount
Great Depth/Range
Lots of Features
Cons
ClearVü (more on that later)
Pricey (it's for enthusiasts)
Technical Specifications
This review is pretty detailed, and we hope you take a lot away from it - the biggest takeaway, though, should be in this section, because you can apply it to everything in your life. Look at the spec sheet. Compare the actual hardware in your fish finders, or the materials in your mattress, or the construction of your cabinets. Make sure you know what's going into what you're buying - aesthetics and features are nice, but only if they last. The ECHOMAP Ultra series is a pretty big step up from the technology that was featured in the ECHOMAP Plus series, putting Garmin in line with its competitors offering finders at similar price points. We've compiled the specs here: they assume you're using the recommended GT54UHD-TM transducer that you can purchase in a bundle with the Ultra 102.
Max Depth
Freshwater: 2,300 ft.
Saltwater: 1,100 ft.
Transducer
GT24UHD-TM
Frequency
CHIRP High Wide (150-240 kHz)
UHD ClearVü CHIRP 800 kHz (760-880 kHz)
UHD SideVü 1,200kHz (1060-1170 kHz)
CHIRP SideVü 455 kHz (425-485 kHz)
Screen
XWGA
Screen Size
10"
Resolution
1280 x 800 pixels
Backlit
Yes (LED)
Imaging
Down: 200 ft.*
Side: 500 ft. Side (UHD Side 125 ft.)
GPS
Internal, High-Precision
Max Waypoints
5,000 (100 routes, 50 tracks/50,000 points)
Memory Card Slots
2 MicroSD
* See the ClearVü section for more information
Display and Interface
The first thing we noticed about this unit is that Garmin really upgraded their screen since the last series. Now, that's in part because we're getting an extra inch diagonally from the biggest offering they had in the ECHOMAP Plus series; screens that are too small simply can't have as high resolution as their larger cousins. The 1280 x 800 pixel grid is clear and crisp, and you get nicely defined target separation (more on that in the next section). The display is easily adjusted; you can up the contrast, zoom in and out, adjust the colours (great if you have colour vision deficiency), and change the sharpness on the fly. That makes the ECHOMAP Ultra usable in all kinds of different conditions; if you can't see the screen properly, just adjust!
The other handy thing about this screen, something we've seen become standard in most high end fish finders, is the backlit screen. The design is such that you can use your ECHOMAP rain or shine, night or day – you can even use it when it's foggy out. Even if the sun is beaming down directly on the screen, you should be able to make out what's going on quite clearly. The 10" size means you can read it from a lot of different angles, so it can be useful if there are a lot of anglers using it simultaneously. This means that it won't fit in every setup, but it should slot in nicely in most of them.
Another thing that's absolutely worth mentioning about the display is the combination views. You can see up to four different views simultaneously on the device, and you can customize exactly which views you want, placing views horizontally, vertically, or windowed – whatever works best for you. You can also save these combinations for easy access later on. Combination views have become a killer app; when you can display four views simultaneously, your device is effectively doing the work of four fish finders. You can expect similar features to come standard on high end fish finders in the future.
We were really impressed with the user experience of the ECHOMAP Plus series – the combination touchscreen/keypad made it incredibly easy to navigate, the graphics they used were easy to distinguish, and the menus were simple and intuitive to navigate. We're happy to say that this has all stayed the same with the ECHOMAP Ultra. Going through the menus, the layout was quite similar, with the home screen giving you access to combination views, sonar, charts, ActiveCaptain, and the ability to customize your homescreen. There's still a handy bar at the bottom that allows you to go back to the homescreen at any time, as well as adjust settings no matter where you are in the menus or what you're viewing.
Garmin has taken a lesson from other smartphone/tablet producers, something they'd already applied to the user experience in their ECHOMAP Plus series. The ease of navigation makes the Ultra 102 easy to navigate for new users, because it uses a lot of the language that's already second-nature to smartphone users. Here's an example: when you want to zoom in, you put two fingers together and spread them apart – do the opposite to zoom out. Those who aren't sold on touchscreens should rest assured – you're getting the best of both worlds here. The keypad is there for when the screen gets wet and touch control becomes unusable – if you just prefer keypad navigation, you can do that, but we're sure you'll find the touchscreen makes everything a lot more efficient.
CHIRP Sonar
You probably have some idea how sonar works. The best comparison we've got is something like echolocation – basically, waves are sent out of your transducer, they bounce off of an object, they come back to the transducer, and they end up as images on your ECHOMAP. You're basically turning your boat into a high tech dolphin, or some kind of bat! Why are we bringing all of this up? Well, because we're humans, and we're better than dolphins (cue comments about speciesism) – we can probably create more advanced sonar!
In fact, we have – something that was a military secret for decades. It's called Compressed High-Intensity Radiated Pulse (CHIRP) sonar, and it works like a bunch of dolphins all strapped together. What could that possibly mean? Let me explain. Normally, when your transducer is sending out a frequency, it only sends out the one – let's say 150 kHz. With CHIRP, you're sending out a sweeping frequency; that means it varies from 150 kHZ to 240 kHz, all bouncing off the same surfaces. That means more varied information comes back to your transducer, which means clearer imaging and better target separation. Strapped together dolphins would have to be pretty coordinated to pull off something like that!
Let's talk for a moment about something most anglers should be aware of, but some aren't – how frequencies affect clarity. The long and short is this – lower frequencies have better range and depth penetration, while higher frequencies provide clearer images. In some sense, CHIRP is giving you a bit of both worlds, because you're sending multiple frequencies simultaneously – it's a really big improvement over traditional sonar technology, and you can expect it to become standard very soon (it's already standard in most high end fish finders).
Mapping
Goshdarn do we ever love GPS/fishfinder combos. You're saving a ton of space by having one device that does both, and in some cases, you're saving money too. The ECHOMAP Ultra has a high-precision internal GPS, so you'll always know exactly where you are on the water – that's nice, but it's also standard at chartplotters in this price range. What you really want to know is how using the features of a chartplotter in tandem can help you catch more fish.
The first thing it lets you do is create routes and tracks that you can save in order to remember where the best fishing is – and how to get there. This is a great feature for pre fishing a lake before a tournament, and it can be good to share with your buddies when they're heading to a body of water you've already spent some time on. This device has a ton of waypoints for any given track, more than enough in our experience.
We can do even better than that, though. The ECHOMAP series, including the Ultra series, has access to Garmin Quickdraw software. Similar software is available in some other high-end fish finders; basically, the software uses your GPS and transducer in tandem in order to produce 1' contour lines so you can see exactly what's going on below the water. What's particularly nice about Garmin's software is that you can place points of interest on the contour maps that you draw – things like brush piles and docks can be marked for easy reference. We've found this seriously improves our fishing experience – we always have a bunch of relevant information on display.
When you get out on the water, you're not going to have a bunch of Quickdraw maps already loaded up (unless you use some of the networking features – more on that next). What you'll have instead is Garmin's Worldwide Marine Basemap. Honestly, this is a bit of a downgrade from the Plus series, which was disappointing. The older cousins had access to a number of map options preloaded when you ordered the bundle – why did Garmin change it? We're not too sure, but you can still access a number of different Garmin maps pretty easily; more on that in the next section!
Networking
Thank goodness we're seeing better networking on modern day, high-end fish finders. All we want is to have a "bridge" on our boat that looks like it came from the 31st century – is that too much to ask? Fortunately, the ECHOMAP Ultra delivers, with NMEA input and output ports, NMEA 2000 compatibility, and wonderful wireless that gives you access to a number of features. The most important feature you can get from the wireless? Well, that's got to be ActiveCaptain.
ActiveCaptain is one of the best things Garmin has ever developed. It's an app that allows you to save your maps on the cloud, and it turns your phone into something akin to a fish finder itself. You can transfer maps from your ECHOMAP Ultra to your phone, or to your laptop, or to another compatible Garmin device. You can do it all really easily, too, because of the wireless capabilities of this device. You can save and transfer the maps you draw with Quickdraw; you can do the same with map packs you've purchased from Garmin.
There's a couple of other neat mapping tricks you can use the networking functions for. For one, you can purchase new maps and download them on the fly from Garmin's store – no need to carry around the micro SD version of your maps anymore! Better yet, you can download a ton of maps for free – and upload them. What do we mean? Well, there's the Quickdraw Community – a group of anglers who upload their Quickdraw maps for all to see. That's great when you're on territory that hasn't been charted by the larger map packs, and it's a lot of fun if you share our sense of adventure. Chart the uncharted!
The ECHOMAP Ultra is compatible with a few different transducers, most notably the Panoptix. Now, Panoptix is an expensive transducer – purchasing one is basically going to double the price of this unit. That said, it's fantastic – the imaging is very clear, and you can literally see fish attacking your bait. For some folks, there's no question that it's worth the upgrade – it's probably the best transducer the ECHOMAP can connect with.
There's a couple other nice tools you can connect with this device, too. Things like Minn Kota motors and MotorGuide motors, taking advantage of the GPS functionality to get you exactly where you need to go. The more devices you get, the more functional the finder becomes, so feel free to experiment and pair this with some devices you might already have in your setup!
SideVü and ClearVü
Imaging is all about your transducer. Like we mentioned above, the higher the frequency you said out, the sharper your imaging is. We were a bit disappointed in the imaging on the ECHOMAP Plus models – some of the reasons we were disappointed have sadly, stuck around. The flipside of that is the SideVü on this thing – it's really incredible. You're getting frequencies in the mHz range, which gives you remarkable imaging for a fish finder of this size at this price point. Those of you who haven't used imaging fish finders yet, and even those who have, will be blown away by the clarity, the target separation, and the precision of the SideVü. Structure becomes so clear it's like looking at a video, and you still get 125 ft per side using the Ultra High Definition SideVü. This really impressed us, and it's the biggest technical improvement over it's older cousins.
Now, the bad. ClearVü is still ClearVü. What we mean by that is this: ClearVü is still not true imaging of the area below your boat – it's a composite created by using the images derived from SideVü. In other words, you're left with a gigantic blind spot below your boat – a blind spot that isn't present in other similarly priced fish finders. Those of you who are looking to get imaging beneath the boat, look elsewhere – Garmin still doesn't have the patent from rival company Lowrance, and we're not even sure if they're interested in obtaining it at this point.
Other Features
The ECHOMAP Ultra is incredibly easy to disconnect, so you can take it off your boat in a jiffy if you're worried about theft, vandalism, or any other sort of property damage.
Another handy thing about the device is that you can get smartphone notifications on it, so if you want everyone to see that your spouse is texting you to get home soon because you've been out on the water all day, well, you can! We're personally not so fond of turning that particular option on, but hey, to each their own.
Conclusion
We're very fond of the ECHOMAP Ultra 102, and we think you will be too. The device is a huge technical improvement over the Plus line – the SideVü transducer really is something to behold, the wireless is fantastic, the screen is crystal clear, and ActiveCaptain remains one of the best fishing apps we've ever seen. You can even plan your route on your phone and transfer it to your Ultra 102; this is so good, we expect a lot of imitators are going to come out of the woodwork, and that this type of app will become industry standard.
The real knock against this device remains the lack of true imaging below your boat – we still don't recommend going with Garmin if that time of imaging is important to you. That all said, this device is a huge step up from what Garmin had before, and it has us looking forward to a bright future for the company and it's chartplotters.