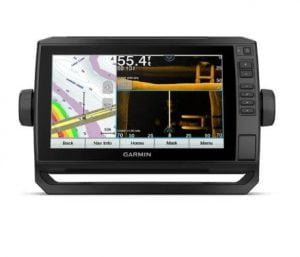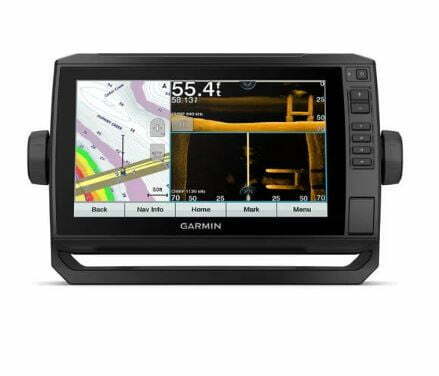 Best Price
4.7/5
Overall Rating
Imaging

Design

Quality

Price
We've always loved Garmin's Echomap series, and the UHD series, released in late 2019, is, outside of the Ultra Series, the best Echomap line they've ever released.
The Echomap UHD 93sv was built with serious, competitive anglers in mind. It may be the best fish finder you can find at its price point.
It breaks the $1000 mark if you buy it with a transducer, but for anglers who want to catch more fish, it can be well worth it. An excellent interface coupled with arguably the best imaging technology on the market make the UHD 93sv a hard fish finder/chartplotter to beat.
Pros
CHIRP Sonar
Ultra HD Imaging
Excellent mapping (and a wide variety of maps available at purchase)
Great networking and device compatibility
Loaded with features
Cons
On the more expensive side
No arrow keys can make menu navigation difficult when the touchscreen is wet
Technical Specifications
Max Depth
800 ft
Transducer
GT56UHD-TM
Frequency
CHIRP 150-240 kHz
ClearVü/SideVü 455 kHz (425-485 kHz), 800 kHz (790-850 kHz), 1000 kHz (940-1100)
Screen Size
9"
Resolution
400 x 800 pixels
Backlit
Yes
Display & Interface
Let's start, as always, with the display. The UHD 93sv provides you with a nice, large, 9" backlit display. You can use it at night, in rain or foggy weather, and when the sun is beaming down on you. This is more or less standard for high-end fish finders – it's a nice screen, but we won't dwell on it for too long.
Another common feature for fish finders at this price range is a combo screen. These screens allow you to gather a lot of data at a glance – you can, for example, pair your ClearVü and SideVü with a traditional sonar view, or pair your map with your sonar. There are a maximum of three views displayed on any combo screen. Some finders allow for four, so this is a slight knock against the unit, but we rarely found it to be an issue.
No matter which screen you're on, you'll be able to quickly glance at the data overlay to get key pieces of information. These include depth, water temperature, the time, your GPS position, and more. Again, more or less standard, but helpful.
Finally, most of the display features you'd expect on a high-end fish finder are here. You can switch the chart view of your sonar to a flasher mode. You can zoom in and out of a section of your view with the push of a button. You can adjust the color palette of the device. There are a variety of different kinds of split screen, so you can make some views bigger than others. Lots of ways to customize the device to your preferences.
At this point, some of you may be wondering about the UHD. Don't worry, we're going to get to that – but only in the Imaging section. Spoiler alert: it's really good.
When it comes to the interface, Garmin has done something we absolutely love – coupled a touchscreen with button controls. Touchscreens are an incredible asset to most fish finders. It's much easier to reach any spot on the menu with a touchscreen than it is to scroll option by option with arrow keys.
The problem with touchscreens is that they get wet, and when they get wet, they don't register inputs properly. The fix is to couple the touchscreen (for ease of access) with button controls (as an emergency stopgap when the unit gets wet). Garmin's buttons are, unfortunately, somewhat limited. There are shortcut keys to bring you to your favorite pages/split screens, there are zoom buttons, and there is a power button.
This means that there are very niche circumstances in which you'll be unable to navigate to the part of the menu you want to get to. We understand why there are no arrow keys – they take up valuable real estate. We'd like to see them on Garmin's next model, though.
The menus are simple enough to navigate once you get the hang of them, but that will take some time. This model is feature-dense. We recommend looking at the owner's manual if you get lost.
SONAR
Let's talk sonar. This unit uses CHIRP sonar, which is becoming an industry standard on high-end fish finders. CHIRP stands for Compressed High Intensity Radiated Pulse. It provides much better target separation and clearer returns than regular sonar. That's because instead of sending out one frequency, it sends out a pulse of multiple frequencies.
You may have noticed that, in the "Technical Specifications" section, there's a range of frequencies in brackets next to another frequency. The frequencies in brackets describe the range of pulses being sent out, while the frequency next to them is shorthand you can use when describing your transducer's frequencies.
As you can see, there are a lot of frequency options. That's a good thing! For those of you who don't know, lower frequencies can reach greater depths, while higher frequencies provide clearer returns. The range of frequencies available means there will be something for you no matter what water column you're fishing.
The transducer that comes with this unit, the Garmin GT56UHD-TM, is fantastic. You might, however, have a Panoptix transducer, or some other high-end ducer you want to pair with the Echomap UHD. You're very likely to be able to – this unit is compatible with a wide variety of transducers, including Panoptix. If you have a transducer that provides 77 kHz CHIRP, the sonar can hit depths below 2000 feet. Now that's range!
A couple of other nifty sonar features: you can view your sonar history, share sonar data, and even record your sonar. Garmin is taking full advantage of this unit's networking capabilities to encourage anglers to save and share their data to improve their fishing.
If you've got a Panoptix ducer, you can also enable RealVü. RealVü is basically a 3D sonar chart – it's incredibly handy, but we won't go into too much detail here. Look out for a Panoptix review – it may be coming soon!
Imaging
Alright, we know you're curious about UHD imaging, so let's get down to brass tacks. The UHD ClearVü and SideVü provide, without a doubt, the best imaging we've ever seen on a fish finder.
It's that good.
The range on the UHD is phenomenal considering the quality of the image. You can also switch off the UHD if you want more range. In most cases, however, the 125+ feet of imaging is going to be more than enough. Structure and fish are crystal clear – it's exceptionally easy to know exactly what there is to find underwater.
Those of you who haven't fished using imaging before should seriously give it a try. While you might continue to use your traditional CHIRP sonar for the bulk of your efforts to actually catch fish, imaging gives you a ton of information. You can literally see where fish are hiding and where they're moving to.
It's worth mentioning again that this unit is compatible with Panoptix, which gives you access to LiveScope. LiveScope is really incredible – it's less like imaging, and more like an underwater camera. You can literally watch fish swimming around in real time. Again, we won't go into too much detail here, but it's something to look out for if you have a Panoptix ducer.
Mapping
The key question that comes up when buying any marine device is: what does this add to my overall setup? Moreover, if you're getting a fish finder/chartplotter, what's the real use of adding a GPS? Are you better off getting your fish finder and GPS separately?
The answer, in the case of the Echomap UHD 93sv, is a resounding no. Garmin put the combination of fish finder/chartplotter to good use. First, you're saving space, since by using the split screen the map and sonar can be displayed on the same screen.
Second, you can create your own maps, and download maps from the Garmin community, using Quickdraw. Quickdraw uses your transducer to draw 1-foot contour maps, giving you a much clearer idea of what's going on underwater. You can also add points of interest to these contour maps. You can label these points of interest, which makes it easy to mark your favorite fishing spots, structure you've found underwater, and other objects of note.
This makes the Echomap UHD 93sv an excellent device for tournament fishers – it's incredibly handy for pre-fishing, since you can mark points of interest and see contour well in advance. It's also a wonderful device for those with a sense of adventure and camaraderie – sharing maps with the community is a reward in its own right.
Oh, and did we mention you can download community maps absolutely free? That can seriously expand your map repertoire.
Not that you're going to need to. There are several different map packs you can get with this device, and it comes with a few very good ones. Whether you're in Canada or the US, there's going to be a map pack well-suited to your needs.
You'll be able to set waypoints and create routes and tracks quite easily. You can even set up auto guidance with timed arrivals – this unit can automate a lot of work for you.
Networking
We'll keep this section brief – the UHD 93sv is very compatible with several kinds of devices. It's Wi-Fi enabled, so you can connect it to your phone, which enables you to use ActiveCaptain, an app we'll talk about in the next section.
The device can also connect with other Echomaps in the UHD or Ultra line. It's also compatible with NMEA 2000 and NMEA 0183 networks. That means you can connect it to all kinds of media systems, sensors like SteadyCast, and a whole lot more.
Finally, Garmin has a wireless-enabled trolling motor, the Garmin Force. When you connect that trolling motor to your UHD 93sv, it can autopilot you along any of the tracks you've made. They're going out of their way to make navigation as easy as possible.
Features
We've talked about basically every feature on this unit, but we wanted to take a brief moment to mention ActiveCaptain. ActiveCaptain is a free app that takes advantage of the UHD 93sv's wireless capabilities. The idea is simple: you can plan your routes at home on your ActiveCaptain app, then transfer the routes onto your chartplotter.
You can also receive updates for your unit on the ActiveCaptain app, then transfer them. You can even control your chartplotter from a distance – great if you want to make adjustments without moving over to the unit, or if you want to troll your friends while they troll for fish.
ActiveCaptain can also enable you to see your phone calls and texts on your Echomap. We like to use our fishing trips to get away from it all, so we don't typically activate this feature. Those of you who are expecting pressing calls and don't want to pull your phones out of your pockets for nothing, however, might find it very useful.
The Bottom Line
This is one of the best fish finders you can get for the money. In fact, it may very well be the best fish finder you can get for the money. The gripes we have with this unit are so small, and its advantages are enormous. UHD is as good as you've heard it is. The mapping is incredible. It networks with so many devices that you can make your boat feel like the bridge of the Enterprise.
This is as close to a must-buy fish finder as you can get.
Get The Best Price