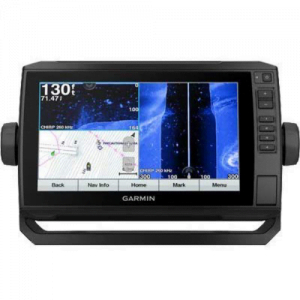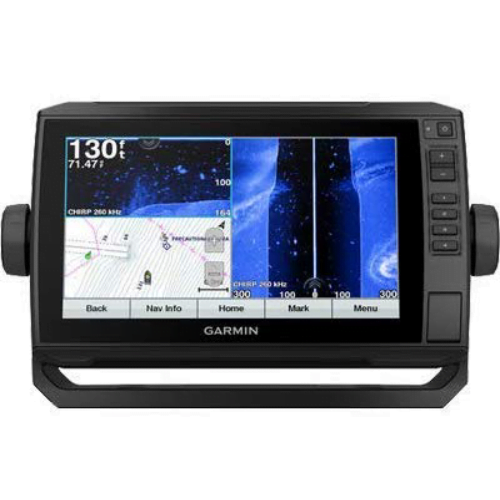 Best Price
4.7/5
Overall Rating
Imaging

Design

Quality

Price
There's a lot to say about Garmin's ECHOMAP series, much of it positive, some of it…not so much. Right off the bat, it's worth mentioning that the ECHOMAP Series was released in 2017, while the newest models of Garmin's competitors were released in late 2018/early 2019, so some of the technology is a bit older. That all said, there is a lot to like about the ECHOMAP, and anglers looking for a particular set of features will find it meets their needs perfectly. There's some incredibly well done mapping and networking software that gives unprecedented connectivity, great transducer support, and a bunch of features that make it useful for anglers of all stripes. Given its price point, there's no question – this is an enthusiast product. Let's delve into what makes it worth the money.
Pros
Waterproof
CHIRP Sonar
SideVü
ActiveCaptain
Great Resolution
Fast
Clear, Bright, Backlit Display
Wireless Networking
High Precision Internal GPS
Works in Salt/Fresh/Brackish Water, Deep or Shallow
EasytoAdjust Bail or Flush Mount
Great Depth/Range
Lots of Features
Cons
ClearVü
A tad pricey (it's for enthusiasts)
Technical Specifications
When we're perusing fish finders, we look at the spec sheet before almost anything else. The technology in these things is incredibly important - quite arguably more important than a lot of the features they might have, because having good features without the hardware to make them run smoothly isn't that big a draw. The ECHOMAP Plus 94 is quite good, if not the best on the market - there's a couple of different transducers you can get with it, but the specs we're going to list are if you get the recommended GT51 transducer.
Max Depth
Freshwater: 2,300 ft.
Saltwater: 1,100 ft.
Transducer
GT51M-TM
Frequency
Mid-band Chirp (85-165 kHz)
ClearVü/SideVü/CHIRP 260 kHz (245-275)
455 kHz (445-465)
Screen
WVGA
Screen Size
9"
Resolution
400 x 800 pixels
Backlit
LED
Imaging
Down: 1,000 ft.
Side: 750 ft.
GPS
Internal, High-Precision
Max Waypoints
5,000 (100 routes, 50 tracks/50,000 points)
Memory Card Slots
1 Micro SD (32 GB max)
* See the ClearVü section for more details
Display and Interface
Let's start by taking a look at the display. The best thing about this display is the backlighting – the screen can be used in all kinds of weather-condition. It's glare-resistant, so you can use it when the sun is beaming right down on your boat. You can also use it when it's dark out (be careful during night fishing, but have fun). Similarly, you can use it when it's foggy out, when it's raining out – whatever is going on. The unit also has a relatively high level of waterproofing, so inclement weather shouldn't cause you too many problems.
The display itself isn't incredible – other similarly sized fish finders tend to have slightly higher resolution. That said, you shouldn't have any real problems with clarity or target separation with this thing. There's a lot of ways to customize your display so that it suits your environment; you can up the contrast, zoom in and out, and adjust the sharpness in order to better read the display, depending on the lighting and what views you're using. You can also change the colour of a number of views – that's mostly a personal preference thing, but we're happy to have it!
The size of the display is well worth talking about. The display is 9" diagonally, which means it's going to be small enough to fit into most (but not all) setups. The screen is also large enough that you can use combination views while maintaining clarity. For those of you who haven't used large fish finder/GPS devices, combo views are one of the killer apps – they let you see a lot of information simultaneously. For example, you might use the SideVü, CHIRP, and a map at the same time, so you can get the best picture of the water. You can get up to four different views on screen at the same time, the combinations are customizable, and you can choose whether or not the view is placed horizontally or vertically – it's one of the better combination views on the market.
Let's move onto the interface. We're actually big fans of the work that Garmin has done here; they're using a combination touchscreen and keypad for navigation. We expect to see this on almost every fish finder in the future. Why? Well, touchscreens make finders a lot easier to navigate, and anyone who has used a fish finder/GPS combo knows that's essential; there's so many features on these things, you need a ton of different menus. The problem comes in when the screen gets wet – it's like using a cellphone in the rain, not easy at all! The keypad allows you to navigate when the unit it wet, so no matter what conditions you're in, you'll be able to adjust your settings and views.
We were also very impressed with Garmin's attention to the user experience. The home page is a grid of graphical icons, not too dissimilar from a smartphone or tablet screen; you press on one of them, and it brings you to a submenu with more icons to choose from. The presets include Sonar, Combos, Charts and ActiveCaptain, along with a Customize Menu option and some icons for optional accessories. There are also options at the bottom of the menu for going back, looking at your settings, and returning to the home screen. Even folks who have never used a fish finder before will find the ECHOMAP Plus easy to navigate right out of the box. The zoom function is also fantastic; like you would expect from a touchscreen device, you can zoom by simply placing two fingers on the screen then moving them apart from each other. We love how intuitive it is!
Garmin ECHOMAP Plus 94
I love talking about the history of sonar. Back in the day, it was a military exclusive technology – top secret, because the military didn't want enemies of the state getting ahold of it. Eventually, that tech was released to the public, which allowed for the fish finding boom we've seen. Recently, we discovered that the military had been concealing some even higher quality sonar tech from us – Compressed High-Intensity Radiated Pulse (CHIRP) sonar. The fact that the military has been allowing consumers to access CHIRP makes us wonder what types of even better sonar they have under wraps.
Here's the difference between regular sonar and CHIRP. Regular sonar emits one frequency, say, 85 kHz. CHIRP might instead send out a sweep of frequencies between 85-165 kHz. What this means is that you get the information that you would get from an 85 kHz transmission, as well as more information from the variance – more different frequencies means more information, which means clearer, more accurate information from your transducer.
At this point, it's worth getting into something that a lot of anglers already know about – the difference between low and high frequency emissions. The trade-off is simple: lower frequencies allow for greater range and depth, but less accurate imaging; the opposite is true of higher frequencies. One of the advantages of CHIRP is that it kind of gives you the best of both worlds – because you're emitting sweeping frequency, you're getting a good compromise between clarity and range.
Mapping
There's a lot of advantages to having a GPS/fish finder combo (you'll often see them called chartplotters). You're saving space in your setup, because you don't have to buy one of each – that means you're saving money, too. That's all well and good, but if you haven't used one of these devices before, you might not be aware of some of the real killer apps on the things. You can create routes and tracks that tell you exactly where to go, allowing you to pre-fish lakes before tournaments; the ECHOMAP Plus 94 comes with quite a number of points on each track, so you can get really granular with the details.
Almost every high-end chartplotter on the market today has some kind of contour mapping system; basically, you use your GPS in tandem with your transducer in order to create an underwater map. Garmin's is definitely one of the best on the market, Quickdraw Contours. You get 1' contour maps, which is pretty standard – honestly, more detail than that is probably not that important.
Now, what makes Quickdraw Contours stand out is the ability to mark points of interest on the contour maps that you create. Anything from docks to brush piles can be marked on the map, and the next time you want to fish the area, you'll know exactly where those points of interest are – a really handy feature that we expect to become standard in other, similar technologies. We love contouring technology because it really appeals to our sense of adventure – a sense we feel is shared by most anglers. After all, when all the earth is charted, the only thing left to explore is what's under the water!
Garmin is quick to point out that this technology is more effective the better your transducer is – for the best results, they recommend using their Panoptix transducer, which we'll discuss later in the review.
When you get out on the water for the first time, you won't necessarily want to rely on your Quickdraw. One of the best things about the ECHOMAP Plus series is that you can choose which map kit you want with the device when you purchase it. Most other transducers automatically come with US Inland Lake maps, which is well and good – if you live in the US. Garmin gives you access to maps in Canada and the US, and the maps help guide you to the area you want to go while avoiding obstacles with auto guidance. There's also depth and shallow water shading, so you can tell how deep water is at a glance – before you get there.
There's actually a ton of other mapping features – the mapping on this device is one of the things we were most impressed with. We'll go over the rest of them in the next section.
Networking
Let's start with what's, in our opinion, the killer app of the ECHOMAP series: ActiveCaptain. This has got to be the best smartphone app a fish finder has ever been paired with – it works seamlessly with the device because of the ECHOMAP's wireless capabilities. ActiveCaptain essentially acts as a hub for all of the maps you use across all of your Garmin devices. That means that you can upload maps to the cloud, and you can download maps that other people have created with the Quickdraw Community. Any maps you purchase can be downloaded across all of your devices, and you can easily share waypoints, routes, tracks – anything mapping related. You can also set your ECHOMAP up to display texts and alerts from your smartphone. We aren't so fond of this feature ourselves – we don't necessarily want everyone in the boat to read our texts, y'know? That said, there's no doubt the option is useful, and we're thrilled with ActiveCaptain.
Another handy tool that comes with ActiveCaptain is the ability to download updated versions of maps you've already purchased. Garmin updates their mapping pretty consistently, so as more accurate depictions of contours are brought to light, you'll have access to them. You can download them onto your phone and transfer them over to your ECHOMAP, so it's pretty easy. The on-the-cloud map storage is called OneChart; watch that link if you want advice on how to set it all up.
This fishfinder can hook up with a pretty nifty transducer, too – the one we were talking about earlier, Panoptix. In brief, this thing gives really high frequency imaging, so you can see high-detailed images of all the fish around your boat, even as they attack your lure. We might run a whole article on Panoptix – it's a really incredible piece of technology, but it does cost more than the ECHOMAP Plus and it's transducer combined, so you have to be willing to invest.
There's a lot more you can do with networking if you have enough devices – we love that the newest generation of finders has allowed us to make our boats look like the Enterprise. NMEA 2000 compatibility means you can hook this up with a ton of different devices; you can also connect it with Minn Kota and MotorGuide motors, which is great if you love autopilot.
SideVü and ClearVü
You've probably noticed that our review so far has been glowing – and for good reason! For the most part, the ECHOMAP is a wonderful fish finder, as good as it's peers in many areas, a bit worse in some, a bit better than others. When it comes to the SideVü, that's still more or less true. You get imaging pretty far out, and with pretty fantastic clarity; the 455 kHz isn't as high a frequency as some of its peers, so it's a bit less accurate, but not too much to cause problems. The real doozy, the real upsetting part of the whole thing, is the ClearVü.
This was so disappointing, we'd rather not have to write about it, and we've had to dock a number of points from this fish finder for this alone. The long and short of the story goes something like this – rival company Lowrance created technology that allows for imaging below your boat. That means you can see the fish that are under your boat. For whatever reason (it's a bit of a corporate mystery), Garmin does not have the patent for this technology, though they used to. That means their ClearVü isn't actually showing you what's under your boat – rather, it's compiling information from the side imaging and showing you the results. That means it's much less accurate at showing what's below your boat than it's rivals. Honestly, it's so bad at it the feature might as well not be there; you might find it helps you, but we'd be kind of surprised. A real shame.
Other Features
There's a few nifty features on the ECHOMAP Plus, but the one we want to focus on for this review is SailAssist. We're loving this because, even though we didn't use it ourselves, it's really rare to see any kind of fish finder software geared towards sailing. There's a wind rose displaying true and apparent winds, predictions about how the tides are going to move, and software that helps you race. Look, we're anglers more than racers, but it's just so cool that an oft-neglected community is getting some solid fish finder love that we had to bring it up.
Conclusion
We really like the ECHOMAP Plus. We're especially fond of ActiveCaptain, which we really think is the best fish finder app out there – the ease with which you can store, upload, and download maps is incredible, and the ability to add points of interest is something we absolutely love.
The connectivity is pretty good, though not the best. The same goes for the screen – we're really happy about the split screen and clarity, but we're aware that there are other fish finders on the market, available for a similar price, that have higher definition screens. The transducer is quite good for depth and range, but there are other fish finders on the market that provide better clarity.
Then there's the complete lack of real imaging beneath the boat. Honestly, if you're looking for any kind of downward view, we can't recommend getting the ECHOMAP Plus 94; it's not going to give you the accuracy of similar devices on the market. You might be able to get great imaging with Panoptix, but then you're spending more than double – that might be worth it for you, but we're not so sure.
Our pressing question is this: who is the ECHOMAP Plus for? Certainly, it's got uses for sailors. You might really love the ease of use that ActiveCaptain provides (we did) – if you're already an integrated part of that community, we can really recommend it. This software is great for people who want to adventure into the unknown and share their findings with the world.
This all said, if you're looking for really clear imaging, we'd probably recommend one of Garmin's rivals – you might have to spend a little more depending on who you're looking at, but the technology in those other devices is simply better. We said it at the top – it's the specs that really matter, and compared to some of its competitors, the specs are a bit middling for the price point. For those of you who love Garmin, the user interface, or the community, this is going to be a fantastic fish finder. For those who just care about what's under the hood, you can do better for the price.