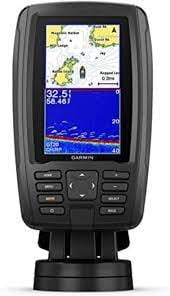 Best Price Bass Pro
Best Price Amazon
0/5
Overall Rating
Imaging

Design

Quality

Price
It may not surprise you to know, but we are huge fans of Garmin's ECHOMAP Plus series. Once again, Garmin has managed to create an affordable fish finder unit packed with remarkable features that we can't resist. How can you say no to impeccably built-in sonar capabilities, Quickdraw contours, ClearVü imaging, and Micro SD storage? The answer is you can't. These are all excellent tools to help you on your next fishing or boating trip. 
While most of the ECHOMAP Plus series is discontinued and replaced with the updated ECHOMAP UHD line, you can still find them on the market through a few retailers. Why? Because the Garmin ECHOMAP Plus 44cv might be one of the best fish finders you can get your hands on.
Pros
Affordable
Equipped with an excellent transducer
Map compatibilit
Excellent features
Lightweight and compact design
User friendly
Cons
No touchscreen
Lack of networking possibilities
No side imagine is available
Technical Specifications
| | |
| --- | --- |
| Max Depth | 1900 feet (Up to 2300 ft. freshwater and 1100 ft. saltwater) |
| Transducer | GT20-TM |
| Frequency | Traditional 77/200 ClearVü CHIRP 455 kHz and 800 kHz |
| Screen Size | 4.3-inch |
| GPS | Internal, High Precision |
| Max Waypoints | 5000 |
| Memory Card Slots | Micro SD |
Display and Interface 
Let's start with the first thing every angler notices with this unit: It's small. It's not even 5 inches, but that's not always a bad thing. For anyone that's ever been frustrated trying to fit all of their fishing gear into one small boat, this compact fish finder may be your saving grace. It's small enough to fit in a canoe or even a kayak without proving to be too inconvenient while you're fishing. 
However, because of its smaller size, you can expect a smaller display screen. The screen size will also limit what you're seeing on the display, even with the dual split screen option. Although it's tinier, the dual split screen is a handy tool to have. You'll be able to use the CHIRP ClearVü scanning sonar while also using the traditional sonar support. You can even have your own maps and scanning sonar open at the same time. What's great about the Garmin ECHOMAP is that it allows you some versatility when it comes to your display options. 
The overlay itself is fairly simple as it allows you to observe the depth of the water, its temperature, sonar frequency, and more. You can also adjust the strength of the backlight, which is a nice touch, but no matter if it rains or shines, you'll be able to read the bright screen with ease. 
Along with the backlight, you can adjust other standard features such as the color scheme, intensity, and contrast. You can also play around with the home menu and customize it. These may sound mundane to some, but having the ability to personalize your device is a bonus perk. 
The interface may not be the most outstanding aspect of this unit. The Garmin ECHOMAP Plus features twelve buttons, which may take some getting used to. This fish finder is feature-heavy, so we recommend familiarizing yourself with what this unit has to offer before you get on the water. 
There's no escaping the smallness of this device, but what it lacks in size, it makes up for in useful features. 
CHIRP Sonar 
The transducer is a GT20-TM, and the fact that it comes in the box with Garmin ECHOMAP Plus is a bonus. This type of transducer typically goes for around $150. When you're paying for this particular unit, half of what you spend goes toward the transducer alone. That's a good thing. If you're looking to get the best value, you'll get it here. The GT20-TM is a great transducer that allows you to get up to 1900 feet in water depth. 
What's really convenient about this unit is that you can zoom in on specific areas underwater or use the split-zoom and look at it next to a full column. The zoom function is adjustable and allows you to move in and out, and you can also adjust the scroll speed and depth. This fish finder can also display fish symbols on the screen instead of the traditional sonar arch when fish are detected. A handy feature is the alarm which you can set based on the water temperature, depth, and size of fish swimming beneath the surface. 
All in all, this may be a lot to take in if you're a first-timer, but this device is well-designed and features sophisticated sonar technologies that can prove useful to anglers of every caliber. 
Mapping 
The standout feature on the Garmin ECHOMAP Plus 44cv has to be the mapping capabilities. The device comes with the LakeVü g3 map, which includes more than 17,000 inland lakes, rivers, and reservoirs in the U.S. That's a lot to choose from. The LakeVü maps typically cost around $100 separately, so the fact that you get it with the ECHOMAP Plus is an excellent bonus.
Much like with the rest of Garmin's fish finders, you have access to their maps. By now, we have all come to know how incredibly accurate these maps are. You can still mark waypoints and create routes on the maps. You can also use the chart plotter to lead you toward specific destinations and find the best routes to take.  
The Quickdraw contours from Garmin are an excellent addition to this unit. With the Quickdraw contours, you can automatically create a map. In some cases, you might even be the first to chart a specific body of water. You can also share your personalized fishing maps with others in the community or view maps made by fellow anglers. 
We admit that the lack of NMEA 2000 and Wi-Fi compatibility doesn't get you much out of additional maps that you can find. You also won't have autopilot through trolling motor connections either. However, in terms of mapping features, this device comes packing.
Networking 
If you're looking for networking capabilities, the only way to get it is through "sneakernet". What exactly is that? We'll tell you. You take a data storage device and load it with whatever you want onto the device, and then you'd walk (we mainly run) to the location that you want the data to transfer to. 
As we mentioned, there isn't any Wi-Fi compatibility, and there isn't an Ethernet port on this bad boy either. It's unfortunate, but we can't complain too much about the price tag and other features you can get on the Garmin ECHOMAP Plus 44cv.
Active Imaging 
Contrary to what many may think, the ECHOMAP Plus 44cv has excellent imaging, even on a small screen. This fish finder comes with a down imaging feature called ClearVü. The CHIRP ClearVü scanning sonar can work at frequencies of either 455 kHz or 800 kHz. Why? Because it gets you way more readings and amazingly clear target separation. 
The scanning sonar can also help detect the differences between fish and underwater structures. It's incredible how this device can produce a nearly photographic image, even when using a split screen with a chart or the CHIRP traditional sonar. 
It only comes with down imaging, which may be a deal breaker for some, but for this amazing price, you get a lot out of its imaging potential. 
Other Features
As we've already covered most of the standout features on the ECHOMAP Plus, there are a few more additions we'd like to point out.
For starters, you can connect to an NMEA 0183 device for ley line purposes, set starting lines, and equip a race timer. You can also use the device for selective calls, which is helpful for distress signals. 
The traditional sonar chart can be utilized as a flasher for ice fishing expeditions, and the versatility of this fish finder can be used for kayaks or motorized boats.
Conclusion 
Some people may consider Garmin's STRIKER units over the ECHOMAP Plus 44cv. Sure, the STRIKER units have a little extra screen space, but the ECHOMAP Plus comes with so many integral features that we have to recommend this unit to our fellow anglers. 
At just $300, the ECHOMAP Plus 44cv is one of the best inexpensive fish finders you can find, especially if you're on a budget.