Trolling Motors
Minn Kota
Fortrex Trolling Motor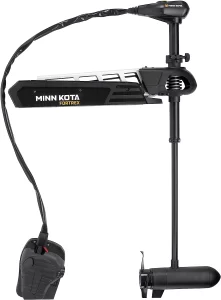 Best Price Bass Pro
Best Price Amazon
4/5
Overall Rating
Thrust

Voltage

Battery Life

Speed

Noise Level
What does a name like Fortrex evoke in your mind? Fort Knox? A medieval fortress? Whatever it is, it's probably tough as nails, durable, and long-lasting; not necessarily pretty, and maybe brutally simple, but practically indestructible.
With the Minn Kota Fortrex bow-mount trolling motor, it's all in the name. This unit is powerful, durable, and simple—and fairly affordable, considering its power. Not a lot of bells and whistles here, but if you're looking for a bow-mount trolling motor for a large boat—one that will last for years—this might be the perfect motor for you.
Pros
Durable construction
Powerful motor
Great warranty
Easy to use
Great at its price point
Excellent battery life
Cons
Very heavy
Somewhat noisy
Not as feature-dense as many modern motors
Technical Specifications
| | |
| --- | --- |
| Water Compatibility | Freshwater |
| Thrust | 80 lbs / 112 lbs |
| Voltage | 24V / 36V |
| Speed Control | Variable |
| Control Type | Foot pedal (Heel-toe) |
| Mount Type | Bow |
| Shaft Length | 45" / 52" |
| Shaft Material | Composite |
| Propeller Type | Weedless Wedge 2 (2-blade) |
| Battery Capacity | N/A |
| Maximum Amp Draw | 52A / 56A |
| Warranty | 2-years - lifetime for shaft |
| Spot Lock | No |
| Fish Finder Connectivity | Yes (optional) |
Installation
Minn Kota has an excellent guide to installing the Fortrex. We highly recommend you check it out—all of the installation manuals are also available on that page.
For our money, this isn't the easiest bow mount trolling motor to install—the motor is heavy, there are a lot of different parts, and you'll want to ensure that everything is attached securely. We recommend having an impact driver—and a friend to help with the installation.
Installing this model isn't all downside, though—unlike some trolling motors, everything you need for installation (other than tools) comes in the box, so you won't need to buy a mounting bracket separately. Take the normal precautions:
Use anti-seize on screws.

Use marine-grade sealant on holes.

Ensure that there are no obstructions when installing your motor.

Read the manual carefully before installation.

Measure twice, and drill once!
Follow the tips in the video we linked above, and if you've got experience installing motors, you should be done without too much trouble. Not confident in your motor installation abilities? Take the motor and your boat to your local marine shop—they've installed plenty of trolling motors, and they'll be able to help you.
Using the Trolling Motor
When it comes to using the Minn Kota Fortrex, there aren't a lot of bells and whistles—this is a simple (but extremely durable and powerful) bow-mounted trolling motor. 
Fortrex heel-toe foot steering
Let's start by talking about how the motor is operated when you're out on the water. A heel-toe cable-steer foot pedal is Minn Kota's weapon of choice. Not every angler is going to love this—we're in an era where remote control and even cellphone operation are common!
We love our toys here at Fish Finder Tech, but we're also quite accustomed to old-school motor operation, and heel-toe pedals are a favorite of ours. Minn Kota's is pretty ergonomic and intuitive—press your toe down to steer to the right and your heel down to turn to the left. Simple! 
There's a "momentary on" button by the toe to turn the motor on and off—hold it down to move forward and remove the pressure to stop. You can also use the "constant on" switch to keep the motor going; useful for getting to destinations but not that practical when you're actively fishing. There's also a speed knob that you can move pretty easily with your feet.
This isn't the most innovative way to control a boat, but we like that the Fortrex is simple. The name is Fortrex, after all—it's all about durability, and bells and whistles just mean more potential fail points.
Fortrex stow and deploy
We've had some bad experiences with Minn Kota's stow and deploy features before, especially on its heavier motors (why go to the gym when you can just stow and deploy your PowerDrive all day), so we were a bit leery about the Fortrex.
Fortunately, the Fortrex model's lift-assist system is much easier to use. A nitrogen-charged gas spring is used to provide lift assist, which Minn Kota claims cuts the weight of the motor in half. We're not sure it feels like quite half of its almost 70 lbs, but it makes stowing and deploying the motor easier—it's basically just a matter of gripping a handle and pulling a rope. All in all, it's not too bad. 
Our overall impression
The Fortrex won't win any prizes for features, but if all you're looking to do is move and steer your boat while trolling for fish, it's a great, durable motor. There's even a little illuminated directional indicator on the top of the motor to help guide you around, even at night. We like it! 
Comparable Trolling Motors
The Minn Kota Ultrex: This motor is a lot like the Fortrex but with a ton of extra features. It's a bow-mounted trolling motor built for larger boats, but it comes with Spot-Lock, a mobile app, and a powerful transducer—a great option if you're looking for a more feature-dense trolling motor.
The Lowrance Ghost: Another bow-mounted trolling motor, the Ghost is very similar to the Fortrex in terms of power (though it's got a bit more thrust). There's a foot pedal and a remote control, and Lowrance's own lift-assist technology—the Ghost is quite a bit more expensive than the Fortrex, however.
The Haswing Cayman B: This is a good option if you're looking for 80 lbs of thrust, but it won't be enough if you need 112 lbs. Solid construction with no frills makes this one of the best comparisons to the Fortrex, but it doesn't have Minn Kota's brand name or warranty. 
What Sets the Minn Kota Fortrex Apart From Other Trolling Motors
There are a few things that might make the Fortrex the right choice for you:
Simplicity: This is a motor without a lot of features—and that means there are fewer things that can break down and less of a learning curve. Put it in the water and turn it on and steer it using the foot pedal. 
Durability: The Minn Kota Fortrex is built to last. One of the most durable constructions we've ever seen on a bow-mounted trolling motor, the Fortrex is heavy, well-constructed, and powerful—and with the features we'll talk about in the next section and its "indestructible" composite shaft, it can take a beating and still keep chugging along.
Price: Considering its high-quality construction and the power of this motor, the Fortrex is very reasonably priced—it's hard to find a decent 112 lbs thrust trolling motor that's reliable at this price point. 
Other Features
The features we want to highlight here mostly have to do with the Fortrex's incredible durability:
The Bowguard Bracket: This bracket "breaks away" (pivots) when your motor runs into an obstacle that it can't move—this reduces the impact on the motor and guards your bow. When the motor has safely pivoted away from the object, everything comes back into place automatically.
Fantastic construction: With a mono-arm made of anodized aluminum and a counter-tension stabilizer creating counterbalancing force at all times, this motor is quiet, powerful, and nearly indestructible.
Great battery life: We've reviewed what Minn Kota calls its "Digital Maximizer" before—basically, these are variable-speed motors, and they only draw the power you need. Follow Minn Kota's recommendation for batteries, and you'll be out on the water all day. There's also an easy-to-read battery indicator, so you know when you're getting low.
The Weedless Wedge prop: We've seen this prop on a bunch of different Minn Kota motors—and we like it. Its simple, two-blade design has led us to snag on fewer weeds than some more complicated designs—it lives up to its name. 
Conclusion
You might find quieter, more feature dense, or lighter 80 lbs to 116 lbs bow-mount trolling motors on the market—but it's unlikely you'll find one that's more durable.
When you don't need bells and whistles and want to pay a reasonable price for a powerful motor, the Fortrex might just be the ticket. This thing has an incredible warranty, it's easy to use and is almost indestructible, making it one of our favorite motors in its class. 
Unsure what to look for in your ideal trolling motor? Our comprehensive trolling motor buyer's guide outlines key factors like thrust requirements, control systems, mounting, shaft length and durability. Use this to narrow down your must-have features, then see how the Minn Kota Fortrex measures up by diving into our in-depth review.
FAQ
What sizes and types of boats is the Fortrex ideal for? 
The Fortrex can handle medium to large fishing boats—the 80 lbs model is great for any boat weighing 4000 lbs or less, and the 116 lbs model works for boats from about 4500 to 5000 lbs.
Does the Fortrex offer integration with specific boat/engine brands?
The Fortrex doesn't offer any specific integrations, but it can be integrated into any fishing boat that has room; just follow the battery wiring and installation guides! 
What battery terminal types does the Fortrex use?
It comes equipped with tin-plated copper terminals that resist corrosion and provide solid conductivity at high current draws.
Does the propeller have shear pins to prevent damage if it hits objects?
The propeller is equipped with a shear drive pin—combined with the Bowguard, this pin drastically reduces the risk of damage to your propeller upon collision with an object. You can order replacement drive pins from Minn Kota. 
How does Fortrex's mount differ from other Minn Kota bow mounts?
The Fortrex mount features incredibly durable construction—the mono-arm is just one piece, which means fewer moving parts and less noise. The counter-tension stabilizer keeps the mount stable whether it's stowed or deployed, reducing wear and tear.