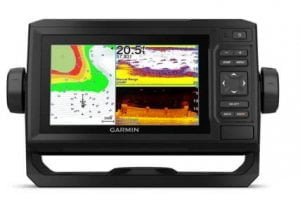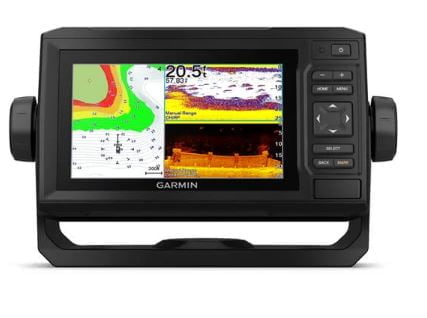 Best Price
4.13/5
Overall Rating
Imaging

Design

Quality

Price
If you've read our other ECHOMAP Plus reviews, you know we're huge fans of the series. Garmin went out of their way to create low-cost, feature-dense fish finder/chartplotters.
Most of the series has been discontinued at this point – you can still find them at certain retailers and on Amazon, but not on Garmin's page. They've been replaced with newer models, like the ECHOMAP UHD series.
So why is the ECHOMAP Plus 43cv still kicking around? It might be because it's one of the most affordable fish finder/chartplotter combos on the market.
Pros
Incredibly inexpensive
Lightweight and compact
Great out of the box transducer
Good out of the box map/good map compatibility
Loaded with features
Seriously, how does this thing cost so little?
Cons
Touchpad only
Lack of networking options (compatible with NMEA 0183, not NMEA 2000)
No Side Imaging
Lack of networking makes getting maps a bit awkward
We love this device. We love it more than the review score reflects, because we cannot, in good conscience, give it 6 stars for price. But if we could, we would. If you've always wanted a fish finder/chartplotter combo, but could never afford one, this could well be the model for you.
Technical Specifications
Max Depth
1,900 ft (up to 2,300 ft freshwater/1,100 ft saltwater with the right transducer)
Transducer
GT20-TM transducer
Frequency
Traditional 77/200
ClearVü CHIRP 455 kHz (435-475 kHz) & 800kHz (800-840 kHz)
Screen
WQVGA display
Screen Size
4.3"
Resolution
480 x 272 pixels
Backlit
Yes
Imaging
ClearVü
GPS
Internal, High-Precision
Max Waypoints
5,000, 100, 50
Memory Card Slots
1 microSD Card (Max 32 GBs)
Look at those specs! A great transducer, a great map in the form of LakeVü g3, a great display, SD compatibility - all for around $300! The transducer itself costs about half the price of the total package - how on earth they've made this thing so affordable, we do not know.
Display & Interface
As always, we begin our evaluation with the display. This is an incredibly small fish finder, so small you can reasonably fit it onto a kayak. (It might be a little big for some kayaks, but we've seen people do it, and there are tutorial videos out there so you can, too).
We mention that it's small because the size limits how much information you can display on a screen at one time. Unlike the rest of the ECHOMAP Plus series, you can only use a dual split screen on the 43cv. That's still handy – you can display ClearVü and traditional sonar simultaneously, or a map and your favorite sonar/imaging simultaneously.
At a glance, you'll be able to see the depth of the water column, the frequency of sonar you're using, the temperature of the water, as well as the time of day. Pretty standard overlays, but handy nonetheless.
On the topic of standard features, the ECHOMAP Plus has all of them. Want to change the color scheme? You can. Want to adjust color intensity and contrast? You can. Want to change what's available on the home menu? You can. The background color, the strength of the backlight – you can adjust it all.
And speaking of the backlight, you can use this unit in rain or shine, day and night. It's easy to read, even from a distance.
Now, onto the interface. It's functional, though not impressive. At this point, our favorite fish finder has a combination joystick/touchscreen. The Echomap Plus 43cv? It's got 12 buttons.
A power button (which doubles as a quick select for backlight and color mode)
A zoom in button, and a zoom out button
4 arrow keys for navigation
A select button
A back button
A mark button, to mark waypoints
A home button, which takes screenshots when held
A menu button, which opens and closes menus, and takes screenshots when held
Innovative? Absolutely not. But it's functional, and on a unit of this size (and this price), it's about all we can ask for. Touchscreens are expensive, after all.
The menus are well-laid out, but as we mentioned at the top, this unit is feature-dense. That means it's going to take a while to learn how to navigate through all the options, and it's the main reason the unit didn't get 5 stars for design (the other being the lack of networking).
All in all, the display and interface wouldn't normally be all that impressive, but on a unit of this size and price, they're well thought out and executed. High marks.
SONAR
When we evaluate sonar, we always go based on the in-the-box transducer – in this case, the GT20-TM transducer. The transducer alone makes up about half the cost of this unit (it sells for about $150 on its own).
What you're getting for that price is a very good, if not great, transducer. You can get up to 1900 feet of depth in freshwater. You can select between two different frequencies – 77 kHz and 200 kHz.
There's a simple rule for transducers – when you use higher frequencies, you get a narrower cone with less depth. In exchange, you get a clearer picture of what's going on underwater. Use the 200 kHz mode for accuracy, and the 77 kHz mode to search a wider area for fish (or if you're fishing in very deep water).
You'll note that in the Owner's Manual, it suggests you can reach depths of up to 2300 ft. at 77 kHz. This is, however, not true with the GT20-TM transducer, which has a maximum depth of 1900 ft.
Now that we've discussed the transducer a bit, let's talk about the sonar chart. You can customize the colors (as we discussed in display). You can zoom in on a certain part of the water column, or use split-zoom to display the zoomed column beside the full column.
You can also use split-frequency to show results from the 77 kHz frequency and 200 kHz simultaneously. In practice, we find that feature more flashy than useful – you'll rarely want to display both frequencies simultaneously, as they're best used in different scenarios.
There are plenty of other sonar chart-related features, too. This fish finder is handy for beginners, both because of its low cost and its ability to display fish symbols instead of the traditional sonar "arch" when it detects fish.
You can also adjust zoom, scroll speed, and depth. Basically, you can do anything you would expect from a well-built, traditional sonar chart – including the ability to set alarms based on water depth, temperature, and most importantly, the size of nearby fish.
Not a lot else to say here – this is the kind of well-designed, traditional sonar chart we've come to expect from Garmin.
Mapping
It must be said – the mapping on this unit is remarkable. High-quality maps! On a unit that costs $300! You don't see that every day.
The ECHOMAP Plus 43cv starts you off with the LakeVü g3 map. That map alone generally costs about $100, so it is a spectacular freebie. With it, you get more than 17,000 U.S. lakes, rivers and reservoirs – that's going to be more than enough for a lot of anglers out there.
The unit is also compatible with all of the other Garmin maps available – and those who have used Garmin maps know that they're incredibly accurate, featuring 1' contours, as well as useful locations like marinas and boat ramps.
You can, of course, set waypoints and create routes and tracks on the device – it is a chartplotter, after all. You can also use the chartplotter to go to a particular destination – it will automatically find the best route (though you'll want to keep an eye out for shallow water and obstacles).
Another handy feature on the ECHOMAP Plus 43cv is Garmin Quickdraw Contours. It allows you to automatically create contour maps – you can be the first person to chart a particular body of water!
Better yet, you can share the charts you create with the Quickdraw Community – and download maps other anglers have created. It's a very simple way of expanding the number of maps you have.
All in all, this unit has just about every mapping feature you might want – though the lack of Wi-Fi and NMEA2000 compatibility means you won't necessarily get the most out of those maps. No autopilot through trolling motor connection here, unfortunately.
Networking
Back in the old days, the only network we had was called sneakernet. Here's how it worked – you'd take some kind of data storage device (back then, a floppy disk, today, an SD card or USB), you'd download whatever you wanted to transfer onto the storage device, then you'd walk (or run) to the location you wanted to transfer the data to.
Want to experience the joys of sneakernet? Get the ECHOMAP Plus 43cv. You cannot network in any other way – aside from NMEA 0183 connections (which allow you to connect the two Plus 43cvs to each other, as well).
There's no Wi-Fi, which means there's no ActiveCaptain. We really wish they'd at least thrown an Ethernet port on this thing – it feels like there's room. Oh well – better clean your sneakers!
Imaging
We're flabbergasted that imaging is even possible on a device this small – the tide is turning, as they say.
Best of all, the imaging is pretty good! You get Garmin's Down Imaging, called ClearVü. It uses CHIRP sonar, at frequencies of either 455 kHz or 800 kHz.
A brief primer on CHIRP – it's Compressed High-Intensity Radiated Pulse. The long and short is that CHIRP sonar emits a pulse of various frequencies (in this case 435-475 kHz or 800-840 kHz) to get more accurate readings.
You can change the color scheme of ClearVü to read it more easily. We were really impressed with how clear the images are on such a small screen – we could easily detect structure and, more importantly, fish.
Even when using it in a split screen with a chart or traditional sonar, the ClearVü Down Imaging was quite clear.
If you've never fished using imaging before, and you want to try it, we highly recommend this device. It's the least expensive imaging technology we've ever seen for the price. Is it as clear as the devices that allow for MHz frequencies? No. But it's quite good.
Other Features
There are a ton of additional features available on this device – it's surprisingly versatile, and usable in everything from sailboats to motorized vessels.
You can, for example, use it for sailing. You can connect it with an NMEA 0183 device in order to display ley lines, set starting lines, and use a race timer.
You can also use NMEA 0183 devices to enable digital selective calling, allowing for rapid response to distress signals.
You can enable a compass. You can turn the traditional sonar chart into a flasher if you want to go ice fishing – just be sure to get a protective pack! There are all kinds of fun things this unit is capable of – it's incredibly versatile.
The Bottom Line
Here's a question – why would you get Garmin's Striker 5cv when you can get the ECHOMAP Plus 43cv? For the extra inch of screen?
For some people, size matters. For everyone else? We highly recommend getting the Plus 43cv over the Striker 5cv. For just a little extra (and a little less screen), you get a baffling number of features, plus the all-important chart plotting.
We like this unit a bit less than its bigger cousin, the ECHOMAP UHD 63cv. That unit costs about $200 more, but it's bigger, and it has way more networking. We love networking.
But at about $300, the ECHOMAP Plus 43cv may be the best fish finder under $400 on the market. It's within most anglers' budgets, it's loaded with features and – we'll say it again – it's a chartplotter, too.
A great find – it may be the best unit for the cost.