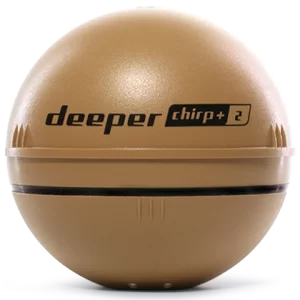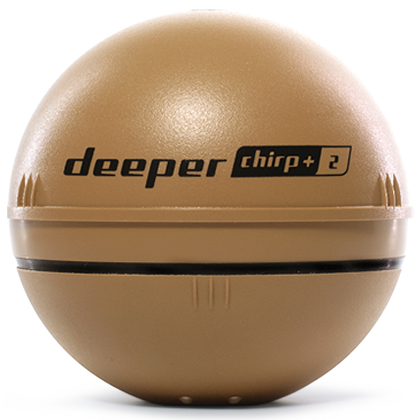 3.75/5
Overall Rating
Imaging

Design

Quality

Price
Were you as impressed as we were when playing around with the Deeper CHIRP fish finder? We can't even begin to tell you how pumped we are to be reviewing the second coming. That's right. We got our hands on the Deeper CHIRP 2. 
For those that may be unfamiliar with the Deeper CHIRP, it's a castable fish finder with CHIRP sonar technology. Yes, you read that correctly. A castable fish finder. This innovative and extraordinary fish finder has been worthy enough to receive a sequel, and we can see why. 
The Deeper CHIRP 2 has some of the finest sonar we have ever reviewed. The unit has a great casting range and durability. It's packed with excellent app compatibility and a load of additional features that can only improve your fishing trip. Before we get ahead of ourselves, let's review this incredible fish finder.
Pros
Portable
Lightweight
Quick charging
Easy to cast
User-friendly app
Crisp clarity imaging
Technical Specifications
| | |
| --- | --- |
| Max Depth | 330 ft. |
| Transducer | N/A |
| Frequency | Three-Frequency CHIRP |
| Screen Size | N/A |
| Resolution | N/A |
| GPS | In-App |
| Max Waypoints | N/A |
| Memory Card Slots | N/A |
Display & Interface
As we mentioned, your phone screen acts as your display and interface through the Fish Deeper app. The image will only be as good as your phone screen, but we can say that it's capable of displaying the crisp clarity you would want out of a fish finder. 
The Fish Deeper app itself is user-friendly. It could pose a challenge to those who aren't as familiar with mobile phone usage or those who don't have one. However, if you're going to be using the CHIRP 2, you require a mobile phone. 
After playing around with the app, we've learned that it works well in tandem with the fish finder. You can peruse the features that the app provides, such as wide sonar scanning, clear lake maps, and easy-to-use GPS. It's simple but in the best way. So many apps today are filled to the brim with too many complex options, but the Fish Deeper app keeps it strictly fishing-related, and we appreciate it for that. 
CHIRP Sonar
This Deeper unit truly delivers on the CHIRP sonar potential. Most fish finders offer single or dual-frequency sonar, and some higher-end models offer triple frequency. The Deeper CHIRP 2 has smart sonar that's capable of longer sonar pulses with varying frequencies. The result? Crisper and crystal clear images from under the surface of the water. 
We love and admire the smart sonar because it provides a lot of detailed information about the fish below, and that's exactly what you need from a fish finder. You can quickly access your target separation at extreme depths, anywhere from 6 inches deep to 330 feet from the three beam frequencies. 
Seriously, the smart sonar is unreal. You can even use it while ice fishing. It still produces strong and accurate readings that help you locate the fish hiding below the surface of the ice. Even better, you can use the split-screen function with your GPS while in Ice Fishing mode or Scan-Only mode. 
Mapping
The Fish Deeper app allows you access to over 50,000 local and global fishing spots through your mobile phone. You can download and save specific maps of your favorite fishing spots. 
Now, let's say you're looking to make a map of your own. The CHIRP 2 lets you do just that with Lakebook. Lakebook shows you the topography of the lake, hiding spots, alternate routes, and underwater highways. All the fishing data from your trips can be automatically synced with Lakebook, making it easier to access later and organize your own maps. We're giving it points for its easy accessibility and map storage. 
Networking
The CHIRP 2, fortunately, has solid connectivity when it comes to Wi-Fi. This smart sonar fish finder connects to your phone by emitting a Wi-Fi signal that your smartphone can pick up from up to 330 feet away and provides a stable internet connection. In addition, you can use your mobile data if all else fails.
You can rest easy knowing that while this fish finder relies on the app, it's completely free to download and compatible with iOS and Android devices. 
Imaging 
We know we keep talking about how vivid the imaging is with this unit, but it's seriously one of the best we've seen. You'll notice when fish are below as they show up on your screen as an arch or straight line. When you see a long arch, it indicates that a fish was in your sonar cone for a long time, whereas small groups of arches potentially mean a school of fish. It's an easy way to determine what's happening below the boat. 
The contours are extra important as they help differentiate between underwater vegetation and a prize catch. You can tell the difference quite clearly, which is something you might not always get with other fish finders. 
Other Features
A bonus feature is that you can record your own bathymetric maps while in boat or on-shore GPS mode. The recordings you make will contain the sonar modes and the sonar/bathymetric data of the map, which is perfect for future viewing. 
Another great aspect of this device is that it's portable and easy to store. The next time you're out on the water in a smaller boat like a kayak, you'll be thankful that it doesn't take up much space. This way, you have more room for your tackle box and other fishing equipment without the headache of having to mount the device. 
The Deeper line has been pretty consistent with the quality of their devices. A nice inclusion is that you have a five-year warranty which adds a little more incentive to your investment. 
Conclusion
It's safe to say that Deeper has us hooked with this particular unit. It's light, portable, easy to use, and extremely capable of scanning the depths at great lengths. There's just so much to love about this device. It's a large investment for sure, but a worthy one. If you want to increase the chances of catching more fish, you should seriously consider the CHIRP 2 as your next fish finder.