Trolling Motors
Black Haswing 12V Bow Mount Trolling Motor Review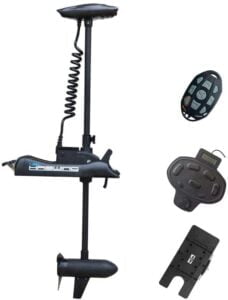 Best Price
4.6/5
Overall Rating
Thrust

Voltage

Battery Life

Speed

Noise Level
For serious fishers, trolling motors have become an almost indispensable component of fulfilling and successful days out on the water. Light and quiet, they allow for precise maneuverability that can put you exactly where you want to be without startling away the fish. Gliding noiselessly through the water with a trolling motor allows you to enjoy the serenity of your surroundings while also opening up the possibility of navigating shallower areas with ease. The only question is: Which trolling motor is the right choice for you?
Haswing is a Chinese company that's been manufacturing trolling motors since 1995. With a selection of electric motors suitable for watercraft ranging from canoes and kayaks to small fishing boats, its inventory includes the Cayman Series and the Protruar Series, plus more. Also on offer are a variety of trolling motor accessories.
The Haswing Black Bow Mount Trolling Motor, or Cayman B, which, incidentally, is also available in white, is a bestselling choice for fishers looking to invest in a solid trolling motor at an affordable price. The Cayman B has enough standout features to elevate it above some of its competitors—remote control and a battery reader, among them. It's also suitable for both freshwater and saltwater trolling, which makes it a practical and versatile investment.
If you are considering purchasing a Haswing Cayman B trolling motor and are looking for a detailed and honest review of the product, you've come to the right place. Below, we'll look at some of the motor's specs as well as its features, pros and cons, and comparable competitors. To finish off, we'll provide the answers to some commonly asked questions about the Cayman B.
Pros
Hands-free Control
Corrosion Resistant
Battery Reader
Variable Speed Trolling
Affordable
Cons
Wireless Connection Unreliable
Not GPS Compatible
Technical Specifications
| | |
| --- | --- |
| Water Compatibility | Freshwater and saltwater |
| Thrust | 55 lbs., 80 lbs. |
| Voltage | 12-volt, 24-volt |
| Speed Control | Forward/reverse electronic direct variable adjustment |
| Control Type | Wireless hand control, foot control (additional cost) |
| Mount Type | Bow mount |
| Shaft Length | 48", 54", 60" |
| Shaft Material | Cast aluminum |
| Propeller Type | 3 blade prop, 2 blade prop |
| Battery Capacity | 105 AH |
| Maximum Amp Draw | 45 amps/hour, 55 amps/hour |
| Warranty | Limited 2-year warranty |
| Spot Lock | No |
| Fish Finder Connectivity | No |
Installation
The Black Haswing 12V Bow Mount Trolling Motor comes with everything you need to install it on the bow of your boat. The motor is fixed by six 6mm screws, which are provided.
If you prefer a quicker installation solution that will allow you to remove and replace the trolling motor with ease, or even transfer it between multiple boats, you may want to consider upgrading to the quick release plate.
Follow the manufacturer's instructions to ensure that the propeller is adequately submerged, and finish off by connecting to your 12-volt marine battery (there's also a 24-volt option). Now you're ready to get trolling!
Using the Trolling Motor
The Cayman B is quite intuitive to use. We suspect that you'll have the operation side of things down pat within your first hour or two on the water with it.
Ensure that your battery is fully charged and that you've adjusted the motor appropriately for the height of your bow and the depth of water you're in. After that, it's basically just a matter of experimenting with speed and steering using your remote control or foot controller (if you've invested in one). Remember to keep an eye on your battery usage, and you should be quietly scooting around all your favorite holes with advanced precision in no time flat.
Comparable Trolling Motors
MotorGuide Bow Mount Trolling Motor
The MotorGuide Bow Mount Trolling Motor is a durable alternative to the Haswing Cayman B. With an aircraft-grade aluminum mount and composite shaft surrounded by a stainless steel outer shaft, it boasts variable ratio steering options and is straightforward to install and use. Suitable for freshwater only.
Minn Kota Edge Bow Mount Trolling Motor
Like the MotorGuide Bow Mount Trolling Motor, the Minn Kota Edge Bow Mount Trolling Motor is not the right fit if you're looking for a trolling motor that can handle saltwater. Beyond that, however, it's a solid troller from a well-respected brand in the industry. While the Edge lacks wireless control options, its indestructible composite shaft and powerful motor and propeller set it apart in other ways.
What Sets the Black Haswing 12V Bow Mount Apart
Wireless Hand Control –

The Cayman B has not one, but two, hands-free control options. The wireless hand remote can be worn around your neck for ease of use and can connect with the motor from up to a 164 ft. distance. If you prefer not to rely solely on wireless technology on the water (because even the most flawless wireless system can occasionally experience glitches), you can opt for the

wired foot controller

in addition.

Versatility –

The Cayman B is equally suited for freshwater or saltwater usage, which is a huge advantage for fishermen who enjoy variety in their sport! In addition, it's also easy to move from one watercraft to another (especially if you invest in the quick-release plate—footprint 4.7" x 7.9" when not in use) and can be used with or without wireless capabilities. If you're looking to customize your trolling needs each time you hit the water, the Cayman B is a great option.

Energy Efficient –

With variable speed capabilities, the Cayman B is engineered to run quietly while providing superior precision and improved control on the water. You can dial in your desired speed and save energy in the process, increasing the longevity of your day out on the water.
Other Features
Battery Meter –

Not all comparable motors come with a battery meter; it's a handy feature for keeping track of your power reservoir so you can always gauge your usage accordingly.

Quick Release Plate –

The quick release plate isn't included with the Cayman B but, in our opinion, it's a worthwhile (and affordable) add-on that can allow you to remove or transfer your trolling motor as needed.

Spare Propeller –

Hopefully you won't need it, but it's nice to know you've got a spare in case your propeller ever breaks or sustains serious damage.

Quiet Yet Powerful –

Considering the Cayman B's substantial thrust (55 or 80 lbs., depending on the model), it's a remarkably quiet trolling motor.
Conclusion
To conclude, the Black Haswing 12V Bow Mount (Cayman B), is an affordable and functional option for serious fishers looking for a versatile trolling motor that comes with some extra features. Remote control and variable speed capabilities along with a battery meter, encapsulated electronics, and that it's suitable for both salt and freshwater excursions set the Cayman B apart from the competition. The fact that the wireless hand remote may occasionally disconnect can be mitigated by investing in the additional foot controller. Overall, the team at Fish Finder Tech believes that the Black Haswing Cayman B is a solid trolling motor option that won't disappoint.
FAQ
How long does the battery last on a single charge?
That depends on a variety of factors including the amperage capacity of the battery, the amount of power being used, the wind and water conditions, and the weight of your boat. As a base reference, the Haswing Australia website suggests that a 105AH battery can provide 25 amps of power for about 4.2 hours before it needs to be recharged.
What type of battery is recommended for use with this trolling motor?
At Fish Finder Tech, we recommend using a 105 AH deep cycle marine battery (12 or 24-volt, depending on the model) to power the Cayman B. With the built-in battery meter, you should be able to manage your usage appropriately to avoid running out of power. Nevertheless, having a spare battery or two with you is always a great choice!
Does the trolling motor come with a mounting kit, or is it sold separately?
A standard mounting kit is included when you purchase a Cayman B trolling motor. That being said, many customers choose to upgrade to a quick-release plate, which can make it much more convenient to quickly install and remove the motor or even transfer it between boats as needed. The quick-release plate is sold separately.
How does the trolling motor perform in windy or choppy conditions?
The Cayman B performs adequately in windy or choppy conditions. The propeller's clutch function means that it clutches automatically against strong resistance, so you can trust that it will handle waves and currents. Of course, the motor will draw more power in adverse conditions, so keep your battery levels in mind when you head out.
Can the tilt angle of the motor be adjusted to fit different water depths?
Yes, the Cayman B has a tilting system that allows you to adjust the angle of the propeller. It also makes for quick and convenient lifting out of the motor from the water entirely.