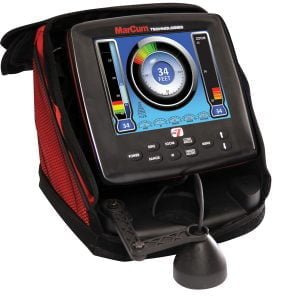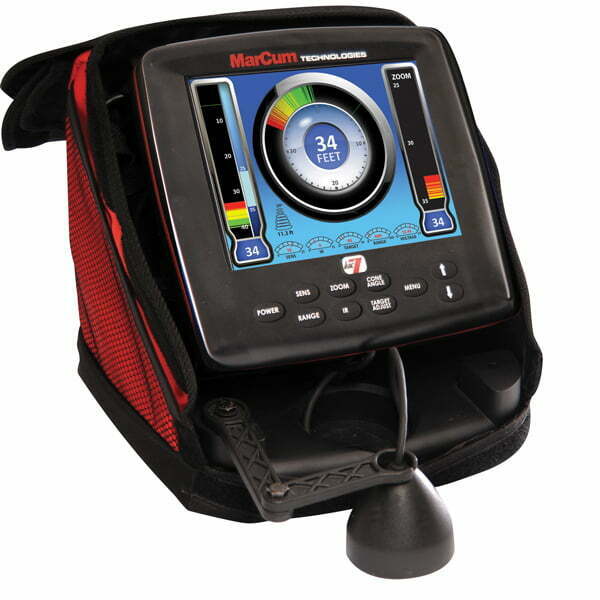 Best Price
4.7/5
Overall Rating
Imaging

Design

Quality

Price
MarCum is one of the newest players on the flasher market; the company was created by two military engineers who loved fishing and sonar. They've been working hard to make a name for themselves in the flasher game and they've done a tremendous job so far by giving their main competitors, who have been established for decades, a run for their money. The LX-7 is their flagship flasher and they've made it stand out from the competitors with a number of innovative features. From the scrolling graph display to the all digital readout, the LX-7 does things that no other flasher on the market does and that makes it worth taking a close look at if you're in the market for a new flasher. Our review does just that, so read on!
Pros
1/2" Target Separation
Auto Range
Dynamic Range
Auto Zoom
Dual Angle Transducer
Multiple Views
6 Colour Display
Cons
No CHIRP
Screen Prone to Glare
Those of you who have read some of our other reviews know we care a lot about specs. While having a feature-loaded, ultra functional fish finder is wonderful, if you don't have the hardware to back it up, it doesn't mean much. We've found that flashers generally have much lower specs than traditional fish finders owing in part to how difficult it is to design a device that operates efficiently under the ice and in temperatures far below zero. The LX-7 isn't mind-blowing on the technical front but it is pretty well as good as any of the other flashers you can get on the market. The transducer is quite good and we haven't had any problems with sluggishness when navigating the menus so we'd say the specs are perfect for what it is.
Technical Specifications
| | |
| --- | --- |
| Max Depth | 300 ft |
| Transducer | LX-Series Dual Beam 8/20 Degree Ice |
| Frequency | 50/200 kHz |
| Screen | LCD, Backlit |
| Screen Size | 8 |
| Resolution | 800x400 |
Display & Interface
We've got a lot to say about the display because it's an area where the LX-7 excels and also where one of its few pitfalls lie. Let's start by taking a look at how the device uses its screen space in innovative ways we haven't seen on any other flasher:
The center of the screen is, more often than not, taken up by the flasher. MarCum provides six colors for their flasher, which is quite nice. The strongest signals are red, then orange, yellow, light green, green, and blue, which is the weakest signal. This makes it quite easy to pick targets and find bottom. In the middle of the screen you'll see the depth you're fishing in, while on the inner perimeter, you'll see numbers to tell you how many feet of water the signals you're receiving are in.
At the bottom center of the screen, your settings will be displayed. The device will tell you the unit's current sensitivity, interference rejection, how large targets are on your screen, the range you've selected, as well as voltage. We've found this pretty handy because we can know at a glance which settings can be adjusted if we're not getting the data on screen that we want.
On the left and right hand sides of the screen you can get columns that represent what's happening in the water. One column is the entire water column, from top to bottom, while the other is a targeted zoom on whatever section of the column you'd like to focus on. This is a pretty innovative way of doing a zoom function without having to do a split screen like traditional flashers have – a huge advantage of a digital display.
Another nifty feature on the device is the ability to change your circular flasher display to a scrolling "graph" display. This display is really handy because you can see the history of your fishing activity as it scrolls – you can watch your jig move in almost real time! When a fish shows up, you'll be able to see it, and adjust to its movements. You can also use all of the information you're getting to adjust your fishing style.
The one drag about the display? It's a bit prone to glare! That's almost surely a consequence of using LCD instead of LED as a display; you get the perks of a digital display, but sometimes the sun can cause problems. You can adjust the brightness and the backlight, which helps some.
Now onto the interface… The LX-7 operates entirely by touchpad which isn't unreasonable in and of itself. Where things get tricky is how feature-loaded the LX-7 is; they didn't find a way to put all of the features on individual buttons. As a result, you have buttons for a lot of the features you'd want easy access to (zoom, range, interference rejection, cone angle, target adjustment, and sensitivity), a button to power the unit on/off, and a menu button. These buttons are accompanied by an up and a down arrow. You'll use this up and down arrow to scroll through the menus and to adjust values like range. All in all, this is by no means the most user-friendly flasher on the market; the menus are well laid out, but there are no programmable buttons and the menus can get pretty dense. We'd honestly love to see a touchscreen or even a knob for adjusting values; we've seen feature-dense flashers that let you access everything you need with far fewer buttons, so we know it's possible.
FEATURES
We've been talking about how feature-loaded the LX-7 is this whole time, so let's dive into it: One of the most impressive features on the unit is the Auto Range function which we imagine is going to start coming standard on most flashers (we've seen it on most of the flagship units). Instead of having to determine the bottom depth of the body of water you're fishing yourself, the LX-7 does it for you. There's also a manual range option if, for whatever reason, the auto isn't working for you. The unit can go to depths up to 300 feet which we'll discuss in greater detail in the Transducer section.
Another handy feature related to range is the Dynamic function. The goal of the Dynamic setting is to take up as much of the flasher as possible; the setting will extend the range beyond bottom in order to maximize space. Normally, this is done automatically but if for some reason you want to change the Dynamic setting from its automatic mode, there is a Manual Dynamic setting. So far, we haven't needed the manual setting but it could be worth checking out!
We discussed the Zoom function in brief during the Display section; it appears as a vertical bar. The device has an Auto Zoom setting, which automatically zooms in on the bottom. You can adjust where exactly you want to zoom in, in a couple of ways. First, you can set how far off bottom you want to zoom in – five feet off the bottom, ten feet, or all the way up to 40 feet. You can then adjust the zoom window so that you zoom in, say, 20-30 feet off the bottom. The adjustability of this zoom function is something we'd like to see in more flashers. We found it really handy because you can zoom in on suspended fish while still viewing the entire water column.
The other features on the device we've touched on in the Interface section but it's worth taking a quick look at each of them again. The Target Adjust allows you to increase the size of what's being displayed without increasing the sensitivity – this is handy for fishers who have a hard time seeing.
There are twelve steps of interference rejection on the device which is great if you're fishing with a bunch of pals who all have transducers in the water as it will reduce the noise from those other transducers.
Most of you are probably familiar with sensitivity, which is sometimes called gain. Turn it up in order to get more information on your screen and turn it down when there's so much junk information that it's clogging up your ability to differentiate between targets.
Transducer
The transducer on the LX-7 is pretty great! There's a dual beam that goes either to 8° or 20°. You'll use the 8° when you're fishing particularly deep waters or when you want the clearest readouts possible. Conversely, you'll swap to the 20° when you're fishing shallow waters or you're looking to do a bit of scouting. The wider angle can help you find where you should drill your next hole.
It's worth noting that there's only one transducer the LX-7 is compatible with – it's the well-named LX-series Ice Transducer. Going down to 300 feet is actually quite good for a transducer and we appreciate it on a dual beam very much.
The Bottom Line
We're really impressed with the LX-7; it shows that MarCum isn't afraid to innovate, and innovation is something we love wholeheartedly. Yes, some work could be done on the interface, and yes, the screen glare can be annoying at times, but the work they've done to create a flasher with as much information on the screen as possible is to be applauded because it helps us catch more fish. We think this might be what flashers will look like in the future, so if you're looking for a forward-thinking, information-dense flasher that's going to help you catch fish, you can't go wrong with the LX-7.
See the rest of our ice fishing fish finder reviews and ​Best fish finder